The 10 Best Superhero TV Shows Of The Decade, Ranked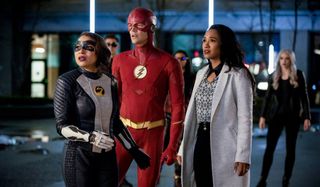 Prior to the 2010-2019 decade, the best examples of superhero television amounted to barely more than the '60s Batman series, the animated shows from Paul Dini and Bruce Timm (Batman: The Animated Series, Freakazoid, etc.) and specific seasons of Smallville and Heroes. How times have changed, from the advent of Netflix's Marvel connection to The CW's embrace of an entire multiverse to DC getting its own streaming service. These days, comic book superheroes are as common on TV as doctors, cops and lawyers.
That super-powered proliferation of vigilantes, mutants and metahumans has certainly made it a lot harder to pull together a shortlist of the small screen's best and most impactful hero-driven series. I've gone ahead and done it anyway, with the very clear knowledge that everyone's tastes differ, and barely anyone in the world will have the exact same rundown as mine. This is, after all, about celebrating and embracing all the superhero shows that studios are now finally comfortable creating.
So put on your fanciest cape and cowl, grab an ornate cane or eyepiece, and join me in celebrating the best decade for TV superheroes yet. (Note that all of the entries below are live-action series.)
10. Doom Patrol (DC Universe)
Right up until DC Universe put in the series order, Doom Patrol felt like a comic that would never see the light of a TV screen. Thanks to a highly intriguing test pilot during the first season of Titans, however, fans everywhere got to watch the bonkers-bananas first season of Doom Patrol with wide eyes and dropped jaws. With such often-obscured stars as Brendan Fraser, Matt Bomer and Alan Tudyk, Doom Patrol delivers a squad of powered-up outcasts whose missions are as much about digging through their mental traumas as saving the world.
While Season 2 may hit DC Universe in 2020 with disappointing results, Season 1 was fun, smart and definitely unique enough to secure the bottom rung on the list. Come for the kooky costumes, but stay for the surprisingly humane storytelling.
9. DC's Legends of Tomorrow (The CW)
Unlike Doom Patrol, if Legends of Tomorrow only had its first season up for consideration with this list, the Arrow-verse's biggest ensemble would have been stuck back in time somewhere. However, Legends' creative team loosened its reins with each successive season, embracing the inherent wackiness of time-traveling conceits, mythical creatures and some of the weirder corners of DC Comics' history.
From Woodstock to Indiana Jones to Jane Austen, nothing is off limits for the Waverider's crew, especially not the big blue god Beebo, one of the greatest entities that any superhero TV show has ever introduced. Legends of Tomorrow is just plain fun any way you look at it, and the ever-changing casting lineup keeps the adventures and on-screen dynamics fresh. (That said, Caity Lotz's Sara should never leave.)
8. Legion (FX)
In many ways, Noah Hawley's Legion is like the anti-superhero TV show, partly because it bucks just about every convention within the comic adaptation process. The heady drama takes place on various planes through David Haller's life and mind, where fights and battles are waged not always through painful physical contact, but through as assortment of unpredictable and visually splendiferous methods, with music sometimes involved.
While Legion could certainly get stuck inside its own sprawling headspace at times, the Marvel drama is vastly unlike anything else in the genre, and eventually offers a one-of-a-kind look at an "X"-tremely important comic character. The fact that Hawley ended things mostly on his own terms only adds to its cyclical cohesion, though it's unfortunate that fans might never get a project quite like this within the MCU proper.
7. The Flash (The CW)
Where many DC Comics projects have embraced their darker sides in the modern era, Barry Allen has remained a beacon of hope, and The Flash star Grant Gustin has perfectly embodied that semi-naive optimism across The Flash's run thus far. With over five seasons in its wake, The Flash has sometimes been guilty of spinning narrative wheels and offering up repetitive story beats, but when you're dealing with endlessly fascinating comic elements such as time travel, the Speed Force and multiple Earths, double-dipping is inherent to its newspaper-altering formula.
The Flash regularly inspires some of the most enjoyably batshit theory-conversations of any TV show, and it has also utilizes star Tom Cavanagh like no TV series before it. As the most-watched drama within The CW's Arrow-verse, The Flash remains a red-hot commodity, no matter how much ice Killer Frost brings to the table.
6. Gotham (Fox)
One could argue that Gotham isn't a superhero show, and when someone else would counter that by saying Gotham is the greatest super-villain show, Robin Lord Taylor's Penguin and Cory Michael Smith's Riddler would swoop in and rob everybody blind. Despite a slow start, Gotham embraced its pitch-perfect comic sensibilities pretty early on, introducing wacky AF iterations of classic characters such as Dr. Hugo Strange and the Scarecrow.
Even without Batman ever being front and center, the Fox drama succeeded thanks to genuinely earnestness from David Mazouz's Bruce Wayne and Ben McKenzie's James Gordon. However, Gotham goes down cackling in TV infamy for Cameron Monaghan's mind-boggling multi-season arc as Gotham's fractured take on The Joker. To me, Monaghan's Jerome and Jeremiah Valeska grinningly stand toe-to-toe with just about any villain in DC Comics long history, giving Gotham that much of a ghoulish advantage.
5. Arrow (The CW)
Once considered a long-shot for The CW, Arrow managed to launch a massive superhero universe spanning network television, streaming and comic books. The brainchild of Marc Guggenheim, Greg Berlanti, and the now-ousted Andrew Kreisberg, Arrow strove for grittier storytelling than its network predecessor, Smallville, and luckily landed fan-favorite balls of charisma in stars Stephen Amell, Emily Bett Rickards, David Ramsey and Katie Cassidy (among others).
Dealing in equal parts emotional turmoil and physical badassery, Arrow's soaring highs largely make up for its unfortunately apparent lows, especially considering The CW's relatively limited budgets for its extended seasons. Arrow closing out its eight-season run alongside a live-action "Crisis on Infinite Earths" crossover is a Top 5 feat alone, and none of it would have happened without Oliver Queen's flashbacks and questionable hairstyles.
4. Marvel's Agents of S.H.I.E.L.D. (ABC)
Following the box office success of The Avengers, Marvel finally set up its TV universe (sort of) with ABC's Agents of S.H.I.E.L.D., headed up by the always watchable Clark Gregg, Ming-Na Wen, and Chloe Bennet (along with many others). Minus those dreadfully boring pre-Winter Soldier episodes that kicked the show off, Agents of S.H.I.E.L.D. has been remarkably consistent over time, setting up various longform arcs dealing with Inhumans, outer space, robotic decoys, and other threats that could destroy the planet. Not to mention the small screen's first live-action Ghost Rider.
One can only assume Agents of S.H.I.E.L.D. might have been an even bigger hit for ABC had Marvel actually gone forward with fully interconnecting its TV and cinematic universes, rather than keeping things largely separated after the Hydra twist in Winter Soldier. But even without tangential cameos from Mark Ruffalo's Hulk or Scarlett Johansson's Black Widow, S.H.I.E.L.D. packs in quality writing and acting, and would still probably make this list even if its seventh and final season is a bust. (Extra points go to S.H.I.E.L.D. for inspiring Hayley Atwell's Agent Carter spinoff.)
3. The Boys (Amazon)
Amazon's The Boys was primed (no pun intended) to rattle audiences' expectations with its brutality, since recognition for Garth Ennis and Darick Robertson's hyper-violent superhero satire wasn't as high as that of, say, Green Arrow or The Flash comics. Created by Supernatural's Eric Kripke (with help from Seth Rogen and Evan Goldberg), The Boys envisions a too-recognizable world where superheroes' path to truth and justice got upended by "the American way," i.e. power-hungry capitalism.
Through Jack Quaid's Hughie, Karl Urban's Billy Butcher and Erin Moriarty's Starlight, The Boys also envisions a world where non-supes find it within themselves to fight back against the corrupted, though globally beloved, heroes, with its release correlating with both the #MeToo movement and Superhero Cinema Fatigue. Somehow, The Boys delivered a shockingly perfect combination of bloody hilarity, fast-paced action, comic-friendly plot twists and A+ performances all around. Let Homelander himself strike me down if Season 2 isn't up to insanely engaging snuff.
2. Daredevil (Netflix)
Without delving into the various issues that plagued Marvel's partnership with Netflix, let's instead celebrate its biggest success story, Daredevil's three-season run. In bringing these New York City superhero adventures down to street-level, Daredevil was able to employ hyper-technical fight choreography as opposed to an endless stream of CGI-driven action, and is arguably king of the brutally badass mountain. (The Punisher obviously has an argument to make there.)
Even beyond the impressively exhausting fight sequences, Daredevil is a winner for humanizing Charlie Cox's Matt Murdock in his plight to bring criminals to justice both in and out of the courtroom, and for introducing the world to Vincent D'Onofrio's chillingly oppressive Wilson "Kingpin" Fisk. (Still a Top 3 live-action Marvel villain in my book.) Though Daredevil's second season stumbles over its supernatural-esque plight involving The Hand, that's where we first witnessed Jon Bernthal's can't-be-beat performance as Frank Castle. Plus, the drama then course-corrected for a fantastic third season that not only cements its place far above his fellow Defenders' standalone series, but also in the upper echelon of Superhero TV in general. Now if only we could see it return at some point.
1. Watchmen (HBO)
With only nine episodes in its first (and possibly only) season, Watchmen theoretically wouldn't be in the same conversation as shows like Arrow and Agents of S.H.I.E.L.D. that have aired over 100 episodes, especially as a sequelized quasi-adaptation of the greatest comic book/graphic novel of all time. However, it speaks to the years of creative dedication from spearheader Damon Lindelof & Co. that Watchmen immediately stood out in ways that not only won over viewers, but also legitimately compared to Alan Moore and Dave Gibbons' original work.
In fact, I dare say the modern-day setting allowed the TV show to transcend the comic in terms of thematic impact, as far as superhero media, racial and xenophobic tension, and traumatic PTSD are concerned. Rather than just telling a "What Happened Next" story, Lindelof's team crafted a season that perfectly reflected the visual and narrative flairs of the comic, from the big and obvious to the small and easter-eggy. (Eggs!) If the exquisite direction, set design and costumes weren't enough, Watchmen is also anchored by fantastic performances from Regina King, Jeremy Irons, Jean Smart, Yahya Abdul-Mateen II and literally everyone else. Regardless of what happens to follow-up seasons on HBO or elsewhere, Watchmen Season 1 is THE perfect season of superhero TV, and likely will be for many decades in the future.
I think we can all equally appreciate the fact that we all live in a world where comic book superheroes are mainstream entities as opposed to side-note oddities, but did everyone agree with this list, or are there changes to suggest? Let us know in the comments, and tell us your favorite superhero show of the decade in the poll below.
This poll is no longer available.