Manifest And 4 Other Shows That Surprisingly Didn't Get Cancelled This TV Season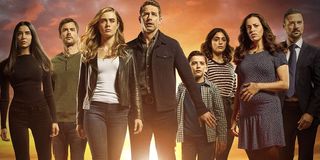 The metrics we used to use to measure television have gone by the wayside as network TV has stopped being the only game in town and streaming TV has mostly withheld its viewership numbers from fans and journalists alike. Though ratings don't determine renewals completely anymore, a strong fanbase, good digital viewership impressions, quality, filling a niche and, yes, still ratings do help determine whether or not a bubble show such as Manifest will live to see another day.
This year, there were a few shows that waffled back and forth on the bubble list due to several of those factors outlined above. While there were more shows on the bubble than the ones listed in this article prior to the NBC's, CBS' and other networks of the world handing down renewal orders, those highlighted in this article were the ones that surprised me the most.
Zooey's Extraordinary Playlist
The very definition of a bubble show, the quirky NBC series was one that endeared itself to fans early on. During the night it aired – Tuesdays – it was one of a handful of middling programs in the ratings. Its saving grace has been its fanbase, which is exceptionally invested, and the fact NBC streamed the show everywhere for a month, which helped the series hit with young audiences who aren't watching traditional TV these days.
Pros: A killer cast, good music and a passionate fanbase definitely factored into this decision. Also, young people like it, so you can thank the coveted 18-49 demo this got renewed.
ABC's mixed-ish
A cute spinoff of black-ish, ABC's mixed-ish celebrated its first season on the air this year and it was one of only a few brand new comedies that did get a renewal for Season 2. But while the show has been well-reviewed by critics, audiences seem to like it less. None of that would matter if the ratings were great for the series, but to me the biggest reason I was surprised about mixed-ish getting renewed had to do with the comedy bleeding viewers between Episode 1 and Episode 23. Still the show ticked up a little during quarantine and I hope it will hold steady into the new year.
Pros: Diversity on a network that could use more diversity, it has a good general premise and mixed-ish ratings, plus it is Kenya Barris' last show with the network before he shifted to Netflix.
The Sinner, USA
Let's hop away from network TV for a minute and talk about USA's The Sinner. Cable shows don't need nearly the ratings networks do to survive, but there was a huge drop in viewership between Season 2 and Season 3 of The Sinner, which might I add, aired partially during quarantine when ratings ticked up for a healthy majority of shows. I thought for sure this was a goner, but it will be back for Season 4.
Pros: Cable ratings can be a little lower, Bill Pullman is great, USA recently cancelled a bunch of other programs and I guess wanted to keep this one.
CBS' S.W.A.T.
CBS is the king of the hour-long drama and right now the network has a lot of them, some of which are lower rated than the Shemar Moore-led S.W.A.T. However, I was still surprised to hear about this renewal, given it's almost the lowest rated CBS series that didn't get cancelled. That's a little confusing to contemplate, but basically it means of the stuff that didn't get chopped by the Eye Network, only Evil is lower-rated but was renewed early and thus saved from this list. Seal Team, another prospect for this list, also sees some lower total viewers, but does slightly better than S.W.A.T. in the 18-49 demo.
Pros: Shemar Moore is a well-liked and stable TV lead who previously headlined Criminal Minds, S.W.A.T. isn't exactly a spring chicken but it's not an old series either, CBS' "low-rated" shows, at least in total viewers, are still higher-rated than a lot of other network shows.
Manifest, NBC
Unlike a lot of shows on this list, Manifest is a good performer for NBC. However, it was on the bubble for much of the season simply due to being a Warner Bros. TV production rather than a show coming from Universal, as for example, Good Girls is. (A similar argument could be made for the WB TV series Prodigal Son on Fox which actually sees lower ratings than Manifest, though Fox has different expectations than NBC.) Between the fact the show isn't in house coupled with Season 2 drawing out some of the drama in Season 1, I wasn't sure if Manifest would get a deal done for Season 3. But it did and fans who stuck around for the Season 2 cliffhanger should be happy.
Pros: Cool premise, constant mysteries, lots of cliffhangers, plus it does decent ratings. I'm glad this one got a deal done, but if it hadn't it would have likely been due to not striking a deal with the production company.
There are plenty of shows that were surprising cancellations this year. See: Man with a Plan and God Friended Me. There are also still a few shows that have been held in limbo between cancellation and renewal for longer than expected. See: Katy Keene. However, one thing is for certain, as ad rates grow more coveted and audiences for series expand beyond the traditional models, it becomes harder and harder to predict what will move forward and what won't. That's particularly true with streaming in which we have even less of a gauge of what people are watching or why.
In some ways that's exciting, but in other ways it means cancellations for network programs like God Friended Me (again) or on Netflix shows like The OA are sometimes cancelled seemingly out of nowhere. It's also worth mentioning there were a slew of other shows that could have been listed here, those these had me on the edge of my seat the most. So, I gotta ask, which series were you most excited got the greenlight for the 2020-2021 TV season?
This poll is no longer available.
Amazing Race & Top Chef superfan with a pinch of Disney fairy dust thrown in. If you've created a rom-com I've probably watched it.
Your Daily Blend of Entertainment News
Thank you for signing up to CinemaBlend. You will receive a verification email shortly.
There was a problem. Please refresh the page and try again.