Lauren Graham And Zoey's Extraordinary Playlist Cast Respond To Season 2 Renewal News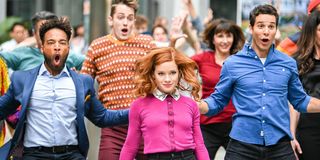 It's that time of year again when network execs decide what shows will be renewed and what's getting the axe. For over a month, fans of Zoey's Extraordinary Playlist have been wondering when, and if, NBC would renew the musical dramedy. After being on the bubble for a while, Zoey's Extraordinary Playlist was finally renewed for Season 2 and the series' stars have reacted to the news.
Filled with fantastic musical numbers, emotional beats, and an ability to balance heart with humor, Zoey's Extraordinary Playlist garnered a lot of passionate fans over the course of its first season. Now that it's been renewed for another season, Gilmore Girls vet Lauren Graham shared her excitement for the news on Twitter. Check out her post below:
Lauren Graham and I are on the same page, as I "love these people so much," too! At the end of Season 1, Lauren Graham's Joan was promoted to head of SPRQ Point, the tech company where the titular character works. How that might impact Joan and Zoey's work relationship and friendship remains to be seen. That said, Season 2 will likely explore all the storylines left hanging at the end of Season 1.
Lauren Graham wasn't the only one who shared her feelings to social media after the Season 2 renewal announcement. Jane Levy, who plays Zoey Clarke, also posted her reaction following the big news. Levy's reaction sounds exactly like something Zoey herself would say:
Luke Cage alum John Clarence Stewart also joined in on the social media celebration. The actor, who plays Simon and one of Zoey's love interests on the show, thanked the fans for watching:
Jane Levy seemed extra happy because she commented on John Clarence Stewart's tweet with "Yipeeee." I can't blame her, since the news of Zoey's Extraordinary Playlist renewal is, well, extraordinary and well-deserved.
Finally, Mary Steenburgen, who plays Zoey's mom Maggie, also reacted to the renewal news, posting the same Season 2 art that some of her other cast members shared. Her happiness regarding the news was conveyed by way of several exclamation points:
Mary Steenburgen also retweeted an excited fan reaction that included a sweet gif of Maggie and Peter Gallagher's Mitch dancing happily.
Unfortunately, Peter Gallagher probably won't be in Season 2 of Zoey's Extraordinary Playlist because his character died at the end of Season 1, unless he appears in flashbacks. The musical's sophomore season will likely focus on the grieving process in the wake of his death and how Zoey and her family will move on.
For now, the cast and fans are just very excited that Zoey's Extraordinary Playlist is returning for Season 2, as they should be. Season 2 doesn't yet have a scheduled release date, but stay tuned to CinemaBlend for updates. In the meantime, fans can rewatch Season 1 on Hulu.
Your Daily Blend of Entertainment News