5 Reasons Why Zoey's Extraordinary Playlist Needs To Be Renewed For Season 2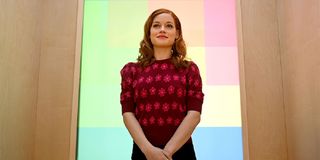 Zoey's Extraordinary Playlist Season 1 was a revelation. The NBC series premiered at midseason and its feel-good nature and thoughtful exploration of heavy storylines and themes made it a standout. Oh, and the characters bursting into song while Jane Levy's Zoey Clarke watched them perform their feelings made an already strong show all the more worth watching.
Season 1 ended on a somber note, but there were plenty of storylines left unresolved and a whole lot of potential plots that could be developed next season. Unfortunately, Zoey's Extraordinary Playlist hasn't officially been renewed for Season 2. Showrunner Austin Winsberg is hopeful that NBC will move forward and greenlight Season 2, but the musical drama's future is up in the air for now.
It would, honestly, be a shame if the series wasn't given another chance, seeing as how strong Season 1 was. So, here are five reasons why Zoey's Extraordinary Playlist needs to be renewed for Season 2.
The Show's Handling Of Grief
Season 1 of the NBC musical show saw Zoey coping with the fact that her father, Peter Gallagher's Mitch, wasn't long for this world. After being diagnosed with Progressive Supranuclear Palsy (PSP), Mitch's health deteriorated rather quickly. The series took the time to explore the storyline slowly and with a deep sense of care. What's more, Zoey's friend Simon also got a chance to sort through his complex feelings in the wake of his own father's suicide.
Grief is a universal part of our life experience. Losing a loved one is never easy, but rarely do television shows tackle the subject matter as thoughtfully as Zoey's Extraordinary Playlist did in Season 1. If the first season was about facing the inevitable death of a parent, then Season 2 could likely tackle the impact Mitch's death will have on Zoey and the rest of her family. There's a lot more story to tell about grief and the aftermath of loss and the show is just getting started.
The Unresolved Love Triangle
So much of Zoey's Extraordinary Playlist Season 1 was spent on the love triangle between Zoey, Max, and Simon. Zoey was very into John Clarence Stewart's Simon, her colleague and emotional confidante. Then there's Max, played by Pitch Perfect alum Skylar Astin, Zoey's ever-loyal best friend. Despite Zoey getting to the point of nearly sleeping with both of them (not at the same time), the love triangle remained open-ended by the end of Season 1.
Jane Levy had some thoughts about the Team Max vs. Team Simon debate, while showrunner Austin Winsberg explained why the Season 1 finale didn't resolve Zoey's predicament. A potential Season 2 could finally provide us with an answer, or draw out the love triangle drama a bit longer. Either way, Zoey has a lot on her plate and the Season 1 finale set it up so that viewers will want to find out how this particular storyline will play out.
The Outstanding Musical Numbers
One of the most enjoyable aspects of Zoey's Extraordinary Playlist has been the musical numbers. It's certainly a unique storytelling style, with the performances witnessed from Zoey's perspective while occurring inside other characters' heads. Every song is chosen to accompany the feelings of the character(s) singing and it's quite incredible to watch how well executed and poignant (or funny) each performance can be.
There are so many standout performances, such as the American Sign Language production of Rachel Platten's "Fight Song" or the seven-minute long rendition of Don McLean's "American Pie" in the Season 1 finale, which served as the first collaboration involving the entire cast. Zoey's Extraordinary Playlist should be renewed for Season 2 so that viewers can get even more of these moving and memorable performances.
Zoey's Character Development And Growth
Zoey is honestly one of the most likeable characters on the show and she's been through the ringer. But, one of the best things about her is her perseverance in the face of uncertainty, fear, and grief. Even when she's out of her depth regarding how to solve other people's problems, she understands that she can't do everything on her own.
Throughout Season 1, Zoey came to realize that hearing everyone's "heart songs" — a phrase she coined to reflect the songs the other characters sang to depict their innermost feelings — helped her understand herself and her loved ones much better. She forged an everlasting friendship with her neighbor Mo (the outstanding Alex Newell), which likely wouldn't have happened otherwise, and decided to use her newfound abilities to help others. A potential Season 2 would be worth it just to see Zoey develop even further.
Joan Got A Promotion. What's Next?
Gilmore Girls vet Lauren Graham played Joan, Zoey's boss at a high-profile tech company. Joan overcame quite a few hurdles in Season 1, including a divorce, a brief and irresponsible fling with an employee and a rivalry with another director. In the Season 1 finale, Joan was offered a major promotion to temporarily oversee the entire company while its CEO was being investigated.
Season 2 has the potential to explore what that promotion looks like for Joan and how her new gig affects Zoey and the rest of her staff. What's more, Joan and Zoey became good friends in Season 1 and the promotion could impact their relationship in small, but meaningful, ways. Lauren Graham is also booked to star in The Mighty Ducks series for Disney+, but she's definitely set to return should Zoey's Extraordinary Playlist be renewed for Season 2.
Zoey's Extraordinary Playlist Season 1 is currently available to stream on Hulu. Stay tuned to CinemaBlend for updates. For more on what to watch in the coming months, be sure to check out our 2020 summer TV premiere guide.
Your Daily Blend of Entertainment News