Why One Grey's Anatomy Alum Had To 'Go Toe-To-Toe' With The Producer and Writing Staff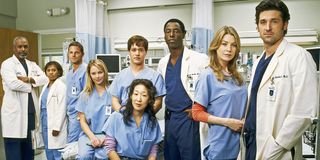 The Season 10 finale of Grey's Anatomy marked the end of Sandra Oh's run as Dr. Cristina Yang. However, spending that long of a time with a character would make any actor invested, and Oh was very passionate about Cristina and her storylines. So much so that she recently admitted that she would "go toe-to-toe" with the writing staff and producer of Grey's Anatomy.
Sandra Oh is no stranger to starring in high-profile television series, from Killing Eve to American Crime and more. However, Grey's Anatomy was the longest-running show Oh had starred on, so cultivating a relationship with the writers over her ten-season stint was important.
During an interview with Scandal's Kerry Washington Variety's Actors on Actors, Oh discussed her experience confronting the Grey's Anatomy writers and mega-producer Shonda Rhimes about Cristina's storylines and why she felt it was necessary. Here's what she told Washington:
Sandra Oh didn't specify which of Cristina's stories she spoke with the writers about, but she did bring up the fact that Grey's Anatomy avoided discussing race on the show during her run. When Cristina married Burke in Season 3, Oh brought it up to the writers that there was a lot of story to mine with regards to the characters' Asian and Black mothers, respectively, showing up to their wedding. However, Oh said they "didn't want to touch it for whatever reason."
Looking back on her time doing Grey's Anatomy, however, Sandra Oh admitted that one of her biggest accomplishments was in not giving up with regards to fighting for Cristina, despite it being "challenging." Oh was clearly protective of her character, and the actress really respected "all the writers there who rode it out" with her during her ten-year run on the show.
The Grey's Anatomy alum currently stars in the AMC spy drama Killing Eve. The series recently wrapped its third season and has been renewed for Season 4. I'd wager that Sandra Oh is equally as protective of Eve Polastri as she was with Cristina Yang, and I hope she's been able to speak with the Killing Eve writers about her character's trajectory as well.
Grey's Anatomy is expected to return for Season 17 this fall on ABC, though no premiere date has been announced yet. Stay tuned to CinemaBlend for updates. For more on what to watch in the coming months, be sure to check out our 2020 summer TV premiere schedule.
Your Daily Blend of Entertainment News
Thank you for signing up to CinemaBlend. You will receive a verification email shortly.
There was a problem. Please refresh the page and try again.