Grey's Anatomy: 10 Behind-The-Scenes Facts About The Hit Medical Drama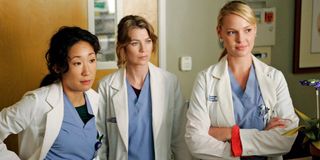 Back in 2005, Grey's Anatomy was simply a mid-season replacement for ABC, premiering in late March in the station's early spring line-up. Now, over 360 episodes later, the medical drama is one of the network's longest-running series, and it's not hard to see why. The popular series, created by Shonda Rhimes, combines sex, drama, and medical emergencies with a diverse cast and high-stakes writing. While several cast members have left, the show continues going strong, with the sixteenth season recently concluded (earlier than anticipated due to the coronavirus) and 17th season on the horizon. Grey's Anatomy isn't slowing down yet. Despite all its turmoil and shake-ups, it still retains a massive fanbase. While the drama program has provided many drama moments throughout its long-standing run, there are a lot of surprising, interesting events and details that've happened behind-the-curtains too. Let's take a look at 10 behind-the-scenes facts about Grey's Anatomy.
The Inspiration For Grey's Anatomy Came From... The Discovery Channel?
Inspiration can come from a number of different places. It often arrives organically... and from unsuspecting places. When it comes to Grey's Anatomy, creator Shonda Rhimes admits the inspiration for the hit series came from an unlikely source. Specifically, she was inspired — at least, in part — to make Grey's Anatomy after watching The Discovery Channel. As the showrunner said in an interview with Oprah Winfrey, Rhimes and her sister would call each other and talk about operations they saw on the station. She claims there's something "fascinating about the medical world," like how you "see things you'd never imagine," like how "doctors talk about their boyfriends or their day while they're cutting somebody open." Therefore, when she was asked to write another pilot for ABC, the OR seemed like "a natural setting" for a drama series.
Ellen Pompeo Didn't Audition To Play Meredith Grey
Oftentimes, the audition process is an extensive, exhausting experience. It'll take weeks, even months, for the casting process to come into place, and it requires many tough decisions. While Grey's Anatomy's audition process might seem challenging (and it might've been altogether), the decision to cast Ellen Pompeo as the title character came pretty easily, apparently. In fact, according to Pompeo, she didn't even audition to play Meredith Grey. As she noted in an interview with Backstage, she was offered the role early on by Shonda Rhimes and the network. Back in the early '00s, as casting came along, Pompeo starred in Moonlight Mile with Dustin Hoffman, Susan Sarandon, and Jake Gyllenhaal, which opened a few doors. When this opportunity arrived, Pompeo's agent told her to do it and make some money because "these things never go." Well, sure enough...
Isaiah Washington Almost Played McDreamy, According to Ellen Pompeo
While it might be hard for fans to imagine Derek Shepherd, i.e. "McDreamy," being played by anyone other than Patrick Dempsey, there was a point in the show's inception where Isaiah Washington, who played Dr. Preston Burke, was cast in the role of Derek instead. That's according to Ellen Pompeo, who said in a New York Post article that Washington was being sought to play her boyfriend in the show. She notes that Shonda Rhimes "really wanted to put a black man in the mix." But Pompeo notes that she wanted to see Patrick Dempsey in the part instead. Alas, Pompeo claims once Washington didn't get the role, it "backfired" — possibly referring to his controversial derogatory comments against homosexuals which found the actor fired from the series.
Grey's Anatomy Consults Real-Life Medical Advisors
While Grey's Anatomy can be dramatized in a few key areas, the show doesn't mess around when it comes to its medical accuracy. According to UW Medicine, the series employs real doctors and medical advisors to make sure they've got the details right. They'll provide feedback to make it seem more realistic to what it's like to spend your days working in an intense, high-stakes hospital. But when it comes to the script-writing process, they have a way to write around the jargon. As producer Shonda Rhimes notes in her 2016 memoir, Yes of Yes, the writers will put "medical medical" as a placeholder until they get the right terminology. So, for instance, "I need a medical medical to medical!" is typed in until the right phrases are included.
Ellen Pompeo Claims Grey's Anatomy's Work Environment Was "Really Toxic" For The First 10 Seasons
There's been a lot of drama in Grey's Anatomy —both in front and behind-the-camera. While the series has stayed on television for close to 20 years, Grey's Anatomy's cast has faced their share of difficulties throughout the drama's prolonged run. Certainly, Ellen Pompeo knows that first-hand. In an interview with Taraji P. Henson for Variety, Pompeo admits that the series had a "really toxic work environment," with "serious culture issues" and "very bad behavior." Pompeo doesn't elaborate on what exactly that means, but she admits that, while the first ten years of the series had their difficulties, it "became no longer about" her when she had kids. From that point forward, Pompeo notes her focus ultimately shifted towards providing for her family.
The OR Schedule Board Is Filled With Crew Members Names
If you ever took a peek at the OR schedule board seen in the background of several Grey's Anatomy shots and thought to yourself, "Hey, that names looks familiar...," this might be the reason why. Beyond the names of our characters, the OR board is also often filled with the names of assorted crew members who work on the popular program. It's a nice, fun nod to all the folks behind-the-camera who help to keep Grey's Anatomy up-and-running.
Cow Organs, Chicken Fat, And Jello Are Used For The Surgery Scenes ... Ew!
As noted earlier, Grey's Anatomy prides itself in making the medical aspects appear real and accurate. One way they do that is by making the surgery scenes look as genuine — sometimes even graphic — as possible to put us in the mindset of these life-saving characters. There are a variety of different ways that crew members can use to produce blood and other body tissues, but Grey's Anatomy's methods are... extreme, to say the least. Specifically, according to actress Sarah Drew, who played Dr. April Kepner, Grey's Anatomy uses cow organs and red jello mixed with blood and chicken fat to make these surgery scenes look like the real deal. Drew claims the smell is "repulsive," like "burning flesh." Sounds pretty gross! Suffice to say, working on this set isn't always a blast.
Shonda Rhimes Claims Grey's Anatomy Will Stay On TV Until Ellen Pompeo Decides To Quit
At sixteen seasons and counting, Grey's Anatomy is a staple in ABC's line-up. The show that paved the way for Shonda Rhimes to be one of the biggest TV producers in the business today, the drama series has been around for 15-plus years. And, according to Rhimes, it won't end until Ellen Pompeo decides it's time to call it quits. As the producer noted to E! News, Rhimes has "a pact" with Pompeo where she'll keep Grey's Anatomy up-and-running as long as the actress wants to do it. Once she decides she's done, that'll be it. If Pompeo is done, the long-running show is done too. While there were back-up plans in place if Pompeo left earlier on, this makes sense. After all, how can you have Grey's Anatomy with Meredith Gray?
There Was A Real-Life Wedding Registry For Meredith And Derek (It Went To Charity)
When you watch two characters fall in love over the course of an extended series, it can feel as though you practically know them. You watch them through their triumphs and failures, successes and difficulties, and you watch them grow or change over time. For many folks, when it came time for Meredith and Derek to tie the knot, it felt like their long-known friends with finally getting hitched. Therefore, there was a registry set up in their honor. That's right, in 2009, as it was reported by People, the fictional couple had a real wedding registry on The Knot. Fans could donate to organizations like the American Academy of Neurology Foundation and Alzheimer's Association in the character's honor. Thankfully, these efforts were for good causes.
Ellen Pompeo Makes $20 Million A Year For Grey's Anatomy
Throughout the majority of Grey's Anatomy's run, Ellen Pompeo has remained a crucial part of the show's continued narrative. With the show staying on television for sixteen-plus seasons, Pompeo has remained firmly committed to the popular series, and that certainly pays off in the long, long run. Specifically, Pompeo is now considered the highest-paid actress on a primetime drama. As it was reported by THR, the actress is making $575,000 per episode, which means that she's making over $20 million a year, factoring in her episode salary, signing bonuses and backend deals. That's certainly a whole lot of moolah. Since she has remained a staple of Grey's Anatomy long-running success, that's certainly understandable. She has stuck with the show through thick-and-thin. Also, as we noted earlier, there wouldn't be a show without her. So, she's making top dollars.
Did you know these behind-the-scenes trivia facts? What are your favorite insider details from the hit medical series? Let us know in the comments!
Your Daily Blend of Entertainment News
Will is an entertainment writer based in Pittsburgh, PA. His writing can also be found in The Playlist, Cut Print Film, We Got This Covered, The Young Folks, Slate and other outlets. He also co-hosts the weekly film/TV podcast Cinemaholics with Jon Negroni and he likes to think he's a professional Garfield enthusiast.