6 Killing Eve Questions I Still Have After The Season 3 Finale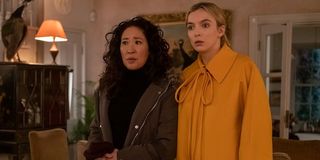 Spoilers ahead for Killing Eve's Season 3 finale, called "Are You Leading or Am I?"
The Killing Eve Season 3 finale was full of twists, suspense, and tension. It was finally revealed what happened the day Kenny died, Konstantin survived his heart attack, and Carolyn killed Paul, a member of both The Twelve and MI6. At the end of it all, Jodie Comer's Villanelle and Sandra Oh's Eve Polastri were left hanging, not knowing what to do or what came next.
Now, as much as Killing Eve Season 3 worked to tie up some of the open-ended storylines, there are still plenty of unanswered questions that remain. Here are six questions I still have after the Killing Eve Season 3 finale.
6. Who Are The Twelve And What Do They Want?
Killing Eve has teased The Twelve, a deadly and mysterious organization that hires assassins to kill powerful people, since Season 1. However, there hasn't been a lot of forward movement since then.
Season 3 revealed that Paul Bradwell, Carolyn Marten's MI6 boss, was secretly working for The Twelve, but she shot him in a surprise move to avoid killing Konstantin. Eve was angry with Carolyn's actions because she knew Paul was one of the only people who could give them intel about The Twelve. As it stands, what the organization wants and why they're hiring assassins remains unclear.
5. Will Eve and Villanelle Stay Together This Time?
Eve and Villanelle have been caught in a game of cat-and-mouse for a long time now. Season 1 and Season 2 both ended with one leaving the other behind, rather violently, I might add. That said, Season 3 was very close to ending the season in a similar way, with Eve and Villanelle walking away from each other. However, at the very last moment, they turned to face each other right before the credits rolled.
I might be reaching, but it sure looks like the pair will actually stick together this time instead of going their separate ways. I'm admittedly very interested to see how that works out. Eve and Villanelle are, after all, incredibly different people who want different things. However, Villanelle seems to want out of the assassin lifestyle, so it's a start. While it's hard to imagine that a long-term relationship would work out between them, time will tell whether or not they stay together.
4. What Is Carolyn Really Up To?
Season 3 finally answered the big question of what Carolyn offered Villanelle back in Season 1. However, Carolyn's true intentions have been rather vague for most of Killing Eve's run. She previously allowed Eve to investigate, but has also pushed back against how far Eve could actually go. Carolyn then shot Paul without getting answers.
So, what's Carolyn's deal? She has been in close proximity to Konstantin for a long time and doesn't seem all that interested in attempting to take down The Twelve. She even went so far as to kill Paul and told Eve to let her investigation go. It's possible Carolyn is a member of The Twelve and that's why she wanted Villanelle to work with her. Either way, she's looking mighty shady right now.
3. Will Konstantin's Daughter Become An Assassin?
Konstantin often used his daughter Irina as a cover up for his actions in Season 3. If anyone asked what he was up to, the answer was usually that he was buying a gift for his daughter. But, while Konstantin was scheming, Irina was showcasing Villanelle-like tendencies.
Instead of working out any issues she might have had with her stepfather, Irina ran him over several times with absolutely no remorse. In fact, she said she'd do it again. Now that she's been arrested, it's possible The Twelve might get a hold of her and train her to become an assassin, just like Villanelle. That would be an interesting twist.
2. Will Eve Resolve Things With Niko?
Villanelle got a chance to go back to Russia and confront (and kill) her mother, who believed she had died in an orphanage fire. Meanwhile, Eve's deteriorating relationship with husband Niko came to a screeching halt after Dasha, Villanelle's assassin teacher, tried to kill him. They had already been estranged by that point and Eve had gone to see him. After visiting him in the hospital, all Niko had to say was "piss off forever." Ouch.
That was ostensibly the end of their relationship, but I don't think it's a good thing if Eve carries on with her life without at least getting to say her piece to Niko. He naturally wanted nothing to do with her new lifestyle and connection with Villanelle. However, if the assassin got to face her past, Eve should be given the chance to do the same as well.
1. Did Konstantin Really Kill Kenny?
That is the million-dollar question. For all that Konstantin swore that he didn't push Kenny off the roof when he went to see him at his job, it's hard to take his words at face value. That's especially true when I think about how he didn't tell Carolyn that he'd been by to see Kenny at all. Why hide the truth?
Now, Konstantin claimed that he was only there because he knew Kenny was getting closer to uncovering The Twelve. But, what if Konstantin pushed Kenny off the roof to save him from finding out about Carolyn's own dealings? And, if he was truly interested in saving Kenny or having him join The Twelve, surely they could've found another place to talk besides a rooftop.
Viewers will have to wait a while to find out what happens. On the plus side, some of the questions might get answers in Killing Eve Season 4. All of the characters are now in uncharted territory after the Season 3 finale, so it'll be interesting to see where they all go from here.
Killing Eve has been renewed for Season 4, though AMC has not yet scheduled a premiere date. The first two seasons of the series are available to stream on Hulu. Stay tuned to CinemaBlend for updates. In the meantime, be sure to check out our 2020 summer TV premiere guide for more on what to watch.
Your Daily Blend of Entertainment News