What The Hannibal TV Show Cast Is Doing Now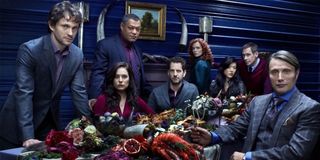 There has never been, nor will there ever be a show like Hannibal. A total of 39 episodes aired between April 2013 and August 2015, and each one is both elegantly beautifully and also nightmarishly horrific – to the point where you unanswerably question how any of it managed to find its way on to network television. It's a remarkable work of art that ended far too soon on NBC, but thankfully it is now finding a whole new audience thanks to the fact that it is streaming on Netflix.
Much of Hannibal's greatness derived from the special vision of showrunner Bryan Fuller, his awesome team of writers, and the excellent directors employed, but it also has a stellar cast that has continued to do amazing work in the years since the show ended. So what exactly are they up to? We've put together this feature to dig into that very question, and we'll begin with the series' titular monster:
Mads Mikkelsen (Dr. Hannibal Lecter)
Anthony Hopkins starred in a trilogy of films as Dr. Hannibal Lecter, his performance in the first one earning him an Academy Award, and many believed that he perfectly defined the role and that nobody could ever put on a comparable iconic turn. Then Mads Mikkelsen came along and totally redefined the sociopathic, cannibalistic serial killer for a new generation. Since then, his excellent work has continued in a high profile way, playing characters in the 2016 blockbusters Doctor Strange and Rogue One: A Star Wars Story. Switching things up in terms of medium, he plays a key role in the 2019 video game Death Stranding, and while also making films in his native Denmark, he has a supporting role in the upcoming Chaos Walking starring Tom Holland and Daisy Ridley.
Hugh Dancy (Will Graham)
In a television age full of investigator characters who have the ability to solve cases in non-traditional ways, Hugh Dancy's Will Graham still managed to stand out as a remarkable character in Hannibal – both when operating as his serial killer friend's puppet, and as his hunter. In the years since the show ended Dancy has done some feature work, namely starring opposite Mindy Kaling and Emma Thompson in 2019's Late Night, but he has primarily stuck to the small screen. His time playing John Zabel on the Showtime thriller Homeland came to an end in April, but he now has a recurring role on CBS All Access' The Good Fight.
Laurence Fishburne (Jack Crawford)
At the start of Hannibal, Laurence Fishburne was definitely the biggest name in the cast, having played roles in film and television going back to the late 1970s, and his career has in no way slowed since the end of the NBC drama series.
In addition to being one of the few major actors to have a role in both the Marvel Cinematic Universe and the DC Extended Universe (as Dr. Bill Foster and Perry White, respectively), he is also part of the John Wick franchise (expected to return in the developing John Wick: Chapter 4), and still has his recurring role on ABC's Black-ish. Quibi subscribers can see some of his most recent work on the series #Freerayshawn, and he has a number of features in the works – including The Ice Road with Liam Neeson, The Blacksmith with Nick Jonas, and Crimson Blues with Tom Jane.
Caroline Dhavernas (Dr. Alana Bloom)
Caroline Dhavernas went into Hannibal as a Bryan Fuller veteran, having played the lead role in Fuller's Niagara Falls-set comedy Wonderfalls from 2004, and as Dr. Alana Bloom she plays one of the most complex and vital roles in the show – really becoming a totally different person from who we meet in the pilot to who she is at the end of Season 3. Since 2015 most of her work has been in the Great White North (where she comes from), including multiple Canadian shows such as Les Beaux Malaises, Blue Moon, and Mary Kills People (which Hannibal fans should note appropriately features Dhavernas as the titular Mary – though the series isn't really what you think).
Scott Thompson (Jimmy Price)
The Kids In The Hall fans were extremely well-aware of Scott Thompson long before his time playing crime scene investigator Jimmy Price, and by extension he provided a bit of comfort with his affable spirit in Hannibal, as his light energy helped balance the true nightmares of the show. Since the end of the crime serial drama he has had a few recurring roles on series like What Would Sal Do? and The Simpsons, but most of his work has been doing single episode spots on a variety of shows. His most exciting upcoming project is a revitalization of The Kids In The Hall, which will reunite him with old cohorts Dave Foley, Bruce McCulloch, Kevin McDonald, and Mark McKinney.
Aaron Abrams (Brian Zeller)
Looking at Aaron Abrams' filmography, he's very clearly a "no gaps in the resume" kind of guy. Hannibal fans will best remember him as Brian Zeller, the fellow crime scene investigator who provided plenty of excellent banter with Jimmy, but he has had plenty of roles in the last few years including on TV shows like Masters of Sex and Grey's Anatomy, and in movies like The Open House starring Dylan Minnette and The Lovebirds with Kumail Nanjiani and Issa Rae. He can presently be seen playing Congressman Matthew Weitz on ABC's Blindspot, which is a role he has been playing on and off since Season 1 of the show in 2016.
Gillian Anderson (Dr. Bedelia Du Maurier)
Dr. Bedelia Du Maurier was a particular standout on Hannibal because she was one of the few original characters created for the show – and Gillian Anderson played the part to perfection, particularly her drive to survive under horrifying circumstances, and the duplicitousness that emerges as a result. Having already been a genre legend prior to the NBC horror series, Anderson's career didn't really take much of a hit with the cancellation, as she has kept very busy – her work including a return to the role of Dana Scully for two new seasons of The X-Files.
More recently she has become a big presence on Netflix, as she not only has a major part on the comedy series Sex Education, but will also be playing Prime Minister Margaret Thatcher in the upcoming season of The Crown.
Hettienne Park (Beverly Katz)
Few major Hannibal characters faced a grisly end quite like that experienced by Beverly Katz, who was cut into slices by the titular killer and displayed on a series of glass slides. It was both gruesome and sad to see, given that Hettienne Park was a wonderful presence on the show, and she has continued to get steady small screen work since. Like Aaron Abrams, Park also plays a recurring role on Blindspot, and also has episodes of The Blacklist and Prodigal Son on her resume. In 2020 she played the role of Tamika Collins on the HBO Stephen King adaptation series The Outsider (it remains unclear if it will be getting a Season 2, or will simply exist as a miniseries).
Kacey Rohl (Abigail Hobbs)
The life of Abigail Hobbs in Hannibal is an exclusively tragic one, as she went from being forced to help her father murder young women so that he wouldn't murder her, to helping Hannibal Lecter cover up his crimes after presenting himself as an ally. Kacey Rohl does excellent work in the role, and has picked up a number of significant parts in notable projects in recent years. She's played recurring characters on shows including Wayward Pines, Arrow, and Fortunate Son, and can now be seen playing Marina Andrieski on SyFy's The Magicians.
Lara Jean Chorostecki (Freddie Lounds)
The Freddie Lounds depicted in Hannibal by Lara Jean Chorostecki is quite different than the one in the book and previous adaptations, starting with the fact that she is written as a woman instead of a man, but what remains consistent is that the actress, like Stephen Lang in Manhunter and Philip Seymour Hoffman in Red Dragon before her, put on a memorable turn as the journalist. Between 2015 and 2017 Chorostecki starred in two television shows, ABC's Designated Survivor and CBC's X Company, and most recently she has appeared on two episodes of Condor on the Audience Network.
Raul Esparza (Dr. Frederick Chilton)
It seems fitting to follow Freddie Lounds with Dr. Frederick Chilton, as the moral-less psychiatrist notably winds up facing the fate in Hannibal that Lounds experiences in Thomas Harris' Red Dragon novel (which is to say disfigured by Francis Dolarhyde and set on fire).
As Chilton, Raul Esparza makes you grind your teeth, but that's just proof that he does his job perfectly. The actor, who was also a Bryan Fuller veteran prior to the NBC show thanks to a pair of Pushing Daisies episodes, has mostly kept to the small screen in the last few years, with recurring roles on Hulu's The Path and Netflix's Bojack Horseman. He's also continued to play Rafael Barba on Law & Order: Special Victims Unit (a character he has been playing since 2012), and he recently did an episode of The Good Fight (reuniting him with Hugh Dancy).
Once you are all done checking out everything that the Hannibal cast is currently up to, head back to Netflix to catch Seasons 1 through 3 of the show again, and join us in keeping our fingers tightly crossed hoping that someday Bryan Fuller will get to continue the show and execute his own vision for Thomas Harris' The Silence of The Lambs.
Assistant Managing Editor
NJ native who calls LA home and lives in a Dreamatorium. A decade-plus CinemaBlend veteran who is endlessly enthusiastic about the career he's dreamt of since seventh grade.
Your Daily Blend of Entertainment News
Thank you for signing up to CinemaBlend. You will receive a verification email shortly.
There was a problem. Please refresh the page and try again.