Hannibal Fans Are Hyped About Major Change To The Show On Netflix, So What's Next?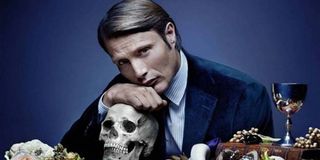 Hannibal debuted back in 2013 as a thriller with so much dark subject matter and so many graphic deaths that it was difficult to believe that it released on NBC. Unfortunately for Hannibal fans, the show was cancelled in 2015 after only three seasons, and hopes for a fourth season have so far come to nothing. Now, however, the show has a new streaming home, and Fannibals are hyped about a major change now that Hannibal is on Netflix.
All three seasons of Hannibal are now streaming on Netflix, and the show's themes and subject matter are as dark as they ever were on NBC. Where Hannibal isn't so dark on its new streaming home is quite literally in the light. According to Fannibals who have watched and rewatched the series as it was available in its original form and when it was streaming on Amazon, Netflix has updated Hannibal to make it brighter and a lot easier to see.
Hannibal fans who caught the change took to social media to celebrate, and to congratulate new fans on the brighter version of the dark show:
The darkness of Hannibal's original run that made it hard to see didn't keep the show from amassing a devoted following, but those longtime fans who noticed the brightness were pretty excited. Shows like Hannibal and The Walking Dead and Game of Thrones in its day can lose some of their impact when viewers quite literally can't see what's happening.
Fans aren't just celebrating the increased brightness; they're also expressing their gratitude. The change is, in a way, presenting a new way to watch a show that fans have already watched and possibly rewatched, so no wonder Netflix is getting some thanks! Of course, being able to actually see more of what's happening on Hannibal hasn't erased the memory of watching scenes that were too dark to decipher.
Let it not be said that Hannibal didn't have a distinctive color scheme when it originally aired on NBC, and likely even now in its brightened state on Netflix. Despite how the change opens Hannibal up to some jokes about the darkness in the first place, the brightening courtesy of the streamer has given some fans hope for what could come next.
Adding light to the Hannibal darkness has reignited hopes that the show could return for a fourth season, and star Mads Mikkelsen hyping the show's move to Netflix certainly doesn't hurt. After all, Mikkelsen was vocal in the wake of Hannibal's cancellation about wanting to return for more. In fact, back in 2016, Mikkelsen suggested to The Sunday Express that showrunner Bryan Fuller and the Hannibal team "could pick it up, say, four years later. If Bryan is up for it, we will all go for it."
How perfect would it be if news broke of Hannibal Season 4 coming four years after Mikkelsen's comment? The show was also cancelled in the first place due to piracy rather than a lack of passion for the project, so a Netflix revival could be ideal. A potential Netflix revival might also let Hannibal get away with what couldn't happen on NBC, like certain sex references and the one death Hannibal wasn't allowed to do.
Fannibals can only hope that the increased awareness of Hannibal that comes along with the increased brightness on Netflix results in another season of the show, or even a comeback as a miniseries like showrunner Bryan Fuller suggested. Enough time has passed, after all!
For now, all three current seasons of Hannibal are available streaming on Netflix, along with a plethora of other options. If you're in the mood for some non-streaming TV, check out our 2020 summer premiere schedule!
Resident of One Chicago, Bachelor Nation, and Cleveland. Has opinions about crossovers, Star Wars, and superheroes. Will not time travel.
Your Daily Blend of Entertainment News
Thank you for signing up to CinemaBlend. You will receive a verification email shortly.
There was a problem. Please refresh the page and try again.