How Kerry Washington, Aidy Bryant And More TV Actresses Feel About New Intimacy Coordinators On Set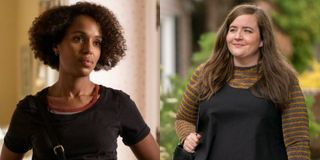 Hollywood has been implementing new tactics for sex scenes over the last few years. One of the key changes has happened behind the scenes, with the hiring of intimacy coordinators. Back in 2018, HBO execs began hiring intimacy coordinators for all of their shows. The goal was to make sets more comfortable for actors filming sex scenes. Recently, Scandal vet Kerry Washington, Shrill's Aidy Bryant and more revealed how they felt about working with intimacy coordinators on set and how it intersected with their jobs as producers.
Kerry Washington, Insecure's Issa Rae, The Morning Show's Reese Witherspoon and a plethora of other actresses have added the job of producer to their already impressive resumes. As such, they were far more involved with the making of their shows than they would have been otherwise. These responsibilities included the hiring of intimacy coordinators and working with them as both actors and producers. When working on Hulu's Little Fires Everywhere, Washington explained why she felt it was important to bring on an intimacy coordinator. Here's what she told THR:
It sounds pertinent for any TV set to include a third party during sex scenes, if only to even the playing field and make it so everyone feels they have a voice in the matter. I'm sure sex scenes can be very awkward to film and it seems that having an intimacy coordinator makes for a better experience all around.
Meanwhile, actress and producer Aidy Bryant hired an intimacy coordinator for Shrill Season 2 to oversee sex scenes between Bryant and her co-star Luca Jones. The Saturday Night Live star says that she wouldn't have thought to do a sex scene at all without an intimacy coordinator and having the say of a producer. In her words:
Hiring an intimacy coordinator was also incredibly important to Issa Rae, whose first sex scene happened on Insecure, the HBO show where she serves as producer, creator, and lead actress. While she's happy that it happened "on her own terms," hiring an intimacy coordinator ensured that the sex scenes were up to the "standards" of the actors.
In addition, Dickinson's Hailee Steinfeld added that being an actor-turned-producer gave her the power to ensure that her fellow actors felt secure during sex scenes. Here's what she said:
Of course, not everyone is a fan of working with intimacy coordinators during sex scenes. Big Little Lies star Shailene Woodley has said that intimacy coordinators make her "uncomfortable." However, she did say that they were a "wonderful" resource for actors to "lean on to know they'll be protected." All that said, it's good that intimacy coordinators are becoming a normalized addition to TV and film sets.
Stay tuned to CinemaBlend for updates. In the meantime, be sure to check out our summer TV guide, as well as our complete 2020 Netflix schedule, to find out what's premiering soon.
Your Daily Blend of Entertainment News