Agents Of S.H.I.E.L.D. Stars Talk The Return Of Jiaying, Yo-Yo's Powers And More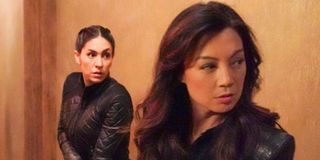 The seventh and final season of Agents of S.H.I.E.L.D. will finally give Natalia Cordova-Buckley's Yo-Yo the chance to bounce back with a trip to Afterlife, with Ming-Na Wen's May at her side. Still stuck in the 1980s in the July 15 episode, called "After, Before," Yo-Yo and May will enlist the help of none other than Season 2 antagonist Jiaying (Dichen Lachman) to try and restore Yo-Yo's powers to save the day while the Zephyr's time drive is critically malfunctioning. S.H.I.E.L.D. stars Natalia Cordova-Buckley and Ming-Na Wen chatted with CinemaBlend about the episode, the return of Jiaying, Yo-Yo's powers, and more.
Jiaying was the leader of the Inhuman community known as Afterlife back in Season 2. Despite the fact that she was Daisy's mother, she proved to be a villain unafraid to kill even her daughter to try and advance her cause. Fortunately, she failed to kill Daisy, and died herself before the end of Season 2. All bets are off now that S.H.I.E.L.D. has sent its agents traveling through time, and the '80s will evidently be just the time for Yo-Yo and May to drop by and ask for help.
Speaking with CinemaBlend, Ming-Na Wen and Natalia Cordova-Buckley shared what it was like to have Dichen Lachman on board as Jiaying for "After, Before." Wen shared how it was to have Lachman back on S.H.I.E.L.D., saying:
Agents of S.H.I.E.L.D. fans who saw Brett Dalton play new versions of Ward time and time again over the years already knew that dying doesn't necessarily mean gone for good in the Marvel Cinematic Universe, and the time travel elements of Season 7 mean that S.H.I.E.L.D. didn't even have to find a way to resurrect Jiaying in order to bring Dichen Lachman back. After all, Jiaying had the power to look young, so it works for Lachman to still be able to play the part of '80s Jiaying despite the decades between appearances.
Natalia Cordova-Buckley joined S.H.I.E.L.D. in Season 3, so Yo-Yo's encounter with Jiaying in "After, Before" will be the character's first. The actress shared how it felt to work with Dichen Lachman and become part of the Jiaying mythology:
Despite the many differences between May, Yo-Yo, and Jiaying in everything ranging from age to upbringing to abilities, they do all have a mothering element to them, even if that element is buried under a few layers of stoicism and reluctance to open up. Assuming the agents are still in the early '80s when "After, Before" picks up, Jiaying also may not be the same woman she was when she debuted in S.H.I.E.L.D. Season 2. She will have already gone through her torture at the hands of Daniel Whitehall in the 1940s, but she hasn't given birth to Daisy, and she hasn't been killed and stitched back together yet.
Natalia Cordova-Buckley commented on Jiaying's traumas that she brings to the equation with Yo-Yo and May, both of whom have traumas of their own:
While it's unfortunate for Yo-Yo that she lost her powers and needs to make the trip to Afterlife to try and get them back, both Ming-Na Wen and Natalia Cordova-Buckley clearly relished the experience of working together and with Dichen Lachman on the episode. Season 7 has been difficult for Yo-Yo from the outset, as she has continually been frustrated by her inability to use her speed and bounce back.
Natalia Cordova-Buckley shared the challenges and opportunities of playing Yo-Yo without her powers in Season 7, saying:
Although Yo-Yo has plenty of characteristics other than her status as an Inhuman with super-speed, she was only recruited by S.H.I.E.L.D. in the first place because of her powers. Not having to do as much running was evidently a nice break for Natalia Cordova-Buckley in Yo-Yo's boots of choice, but Yo-Yo wouldn't be going to Afterlife if she wasn't desperate to run at her Inhuman pace again!
While Yo-Yo has struggled with losing her powers in Season 7, May has struggled with gaining empathic abilities after briefly dying at the end of Season 6. Those abilities have come in very handy for the agents, with May identifying Chronicoms who otherwise were passing as humans. As the consummate S.H.I.E.L.D. agent, would May go back to the way she was before she picked up on everybody else's emotions? Ming-Na Wen weighed in, saying:
May certainly has come a long way from battling Enoch because she didn't understand what she was (or wasn't, as the case turned out to be) feeling, and her new abilities may come in handy once more with Yo-Yo struggling to regain her powers. Only time will tell if May will be able to go back to the way she was or if her empathic abilities are permanent. Wen has said that she thinks May will return to the MCU after the end of S.H.I.E.L.D., but May would surely be an asset to any team with or without the ability to sense feelings.
For now, you can look forward to Ming-Na Wen and Natalia Cordova-Buckley in the "After, Before" episode of Agents of S.H.I.E.L.D. that may or may not see Yo-Yo's powers restored courtesy of Jiaying on Wednesday, July 15 at 10 p.m. ET on ABC. For more viewing options now and in the coming weeks, be sure to swing by our 2020 summer TV premiere schedule!
Resident of One Chicago, Bachelor Nation, and Cleveland. Has opinions about crossovers, Star Wars, and superheroes. Will not time travel.
Your Daily Blend of Entertainment News
Thank you for signing up to CinemaBlend. You will receive a verification email shortly.
There was a problem. Please refresh the page and try again.