Buffy The Vampire Slayer's James Marsters Recalls Awkward Encounter With Joss Whedon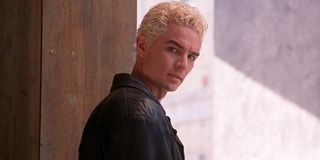 Joss Whedon hit headlines in a big way after Justice League star Ray Fisher accused him of "unprofessional" behavior during his time working on the film. These claims have led some to wonder about Whedon's conduct on some of his other productions. Of course, one of his most notable works is Buffy the Vampire Slayer, and one of the show's alums, James Marsters, recently recalled a weird confrontation between him and the writer/director.
On Buffy the Vampire Slayer, James Marsters played Spike, a vampire who was initially introduced as a villain during the second season before becoming an unlikely ally and love interest for Buffy Summers. Spike would quickly become a breakout character and would remain on the show far longer than intended.
However, James Marsters recently explained that Joss Whedon resented being asked to create the character due to the fact that he didn't want another "romantic vampire" like David Boreanaz's Angel. Apparently, Spike also contradicted Whedon's goal to steer away from the trope of having physically attractive vampires. With this, Marsden revealed to Michael Rosenbaum on his podcast -- Inside of You -- that Whedon confronted him about his character, leading to a rather awkward conversation:
Marsters would go on to say that Whdeon wasn't kidding and didn't apologize for the incident. But he also added that Whedon wasn't so much angry at him as he "was angry about the situation" that led to Marsters' character being created.
It's hard to deny that James Marsters' story is a bit odd, to say the least. It's one thing to be honest with your actor regarding the details of their role. But confronting him or her in that manner probably isn't the best course of action.
While this is definitely a strange story, it's far from the most controversial account of Joss Whedon's beheavior on the set of Buffy the Vampire Slayer. Recently, stunt coordinator Jeff Pruitt claimed that Whedon became difficult to work with as the show became successful. He also alleged that the writer caused him to lose employment opportunities later in his career.
All in all, James Marsters doesn't appear to hold any hard feelings against Joss Whedon. Though he says he's not keen on reprising his role as Spike, he did tell Michael Rosenbaum that he would work with the Avengers director again if he was asked. We'll see if the two reunite on a brand-new IP or on Whedon's upcoming Buffy reboot.
Buffy the Vampire Slayer is now available to stream on Hulu.
Your Daily Blend of Entertainment News
Covering superheroes, sci-fi, comedy, and almost anything else in film and TV. I eat more pizza than the Teenage Mutant Ninja Turtles.
Your Daily Blend of Entertainment News
Thank you for signing up to CinemaBlend. You will receive a verification email shortly.
There was a problem. Please refresh the page and try again.