Beauty And The Beast's Luke Evans Provides Update On Disney+'s Gaston and LeFou Spinoff Show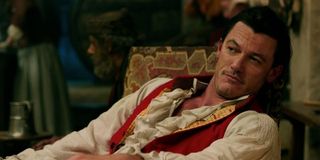 The live-action Beauty and the Beast brought even more focus to Gaston and LeFou's relationship, and Luke Evans and Josh Gad often stole the show in their scenes. The actors will be back to reprise their roles from the film for a Disney+ spinoff series about their characters. First announced in March, there isn't too much information about the untitled Gaston and LeFou show yet, but Evans recently provided an update on the upcoming Beauty and the Beast spinoff.
Luke Evans always seems excited to talk about playing the character and even regaled fans with how he and co-star Josh Gad nailed "Gaston" for Disney's viral sing-along in April. While promoting The Alienist: Angel of Darkness, Evans spilled some beans about the highly-anticipated Beauty and the Beast spinoff. Here's what he told Variety's The Big Ticket:
The fact that Alan Menken, the acclaimed composer who co-wrote Beauty and the Beast's original songs, will be back with new material for the spinoff is incredibly exciting. Luke Evans also confirms that at least three episodes have been written, so it sounds like the Gaston and LeFou spinoff is coming along quite nicely.
The actor, who will next appear in Hulu's Nine Perfect Strangers alongside Nicole Kidman, recalls how he and Josh Gad would discuss what Gaston and LeFou could get up to outside of Beauty and the Beast and now it's actually happening. Here's how Luke Evans puts it:
Luke Evans goes on to say that he and Josh Gad have been wanting to work together again for a long time. Now, they not only have this Gaston and LeFou spinoff, but they'll also be working together in the announced Netflix movie Super-Normal, which is also set to star Star Wars actress Daisy Ridley.
The actor didn't offer too many details about what the plot of the spinoff series would be. Would Gaston be getting his own backstory? Luke Evans was mum about that, but he did tease that viewers should expect some familiar faces to show up on the Disney+ show. In his words:
That's certainly interesting. I admit that I didn't think anyone else from Beauty and the Beast would show up in the spinoff series, so this is pretty exciting news. The Gaston and LeFou spinoff series will consist of six episodes. However, it does not yet have a scheduled premiere date.
Stay tuned to CinemaBlend for updates on the Disney+ show. For more on what to watch in the coming months, be sure to check out our 2020 fall TV premiere guide.
Your Daily Blend of Entertainment News