Wait, Steve Harvey's Name Isn't Really Steve Harvey?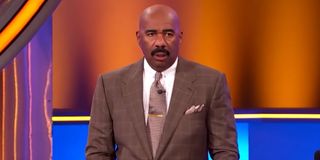 Stage names are pretty common in Hollywood and have been since the moving pictures were first becoming a thing in Tinseltown. However, there are some major stars who you may not have known have not been using their given names. This includes famous talk show host and game show personality Steve Harvey. As it turns out Steve is not actually a Steve.
In fact, when Steve Harvey was born back in 1957 (this makes him a sexagenarian, which seems like something the famous talk show host might raise his eyebrows at on Family Feud), he was not christened Steve or Steven. Instead, his parents named him Broderick Stephen Harvey—that's Stephen with a "ph" as his middle name and not his given name.
Brody seems like it would be a fairly popular name for a kid today, but Steve Harvey has never favored Broderick. By the time he was grown up and competing in the Johnnie Walker National Comedy Search and then signing on for Showtime at the Apollo, he was already going by Steve. He recounted when he got the Showtime gig:
So early in his TV career he was already a Steve and not a Broderick. Thus, through his whole career, the name thing has not been a huge deal, though Steve Harvey's background growing up in West Virginia has been much more notable. He's previously spoken about his tough beginnings, noting on Steve:
While Steve Harvey doesn't go by Broderick, he clearly has no ill will toward the name as he named his son Broderick Jr. However, it's not like his given name is particularly common knowledge even if he's not necessarily hiding it. I was today years old when I found out about Broderick, though tweets about this do pop up on occasion.
Steve Harvey can be added to a long and lengthy list of celebrities who don't go by their real names. Some of these celebrities are easy to spot. For example, I don't think most people thought John Legend's real name was John Legend, but how cool would it be to be born with a name like that? Likewise, Bruno Mars is really Peter Gene Hernandez.
A lot of celebs also like using the trick of sort of using their full name. Aaron Paul sounds real, but for example, he's actually Aaron Paul Sturtevant. That doesn't have nearly as nice of a ring does it? And he's not the only one. Oscar Isaac is actually Óscar Isaac Hernández Estrada and so on and so forth.
As for celebrities who are really going by their middle names, Steve Harvey also joins a pretty long list. There's Reese Witherspoon, whose real first name is really Laura Jeanne. There's Christopher Ashton Kutcher and Walter Bruce Willis. Brad Pitt's real first name is William and Will Ferrell's real first name is John. Rihanna only needs one name, though she's really Robyn Rihanna Fenty.
So again, it's not uncommon for a celebrity to swap some stuff around, but forever into the future when I see Steve Harvey, I feel like I'm going to be thinking about Broderick. As far as first names go, that one certainly sounds stuffier than Steve the comedian, but now that I've seen it it's all I'm thinking about.
Your Daily Blend of Entertainment News
Reality TV fan with a pinch of Disney fairy dust thrown in. Theme park junkie. If you've created a rom-com I've probably watched it.