Steve Harvey Killing It In A Pink Hat For His Kid's Birthday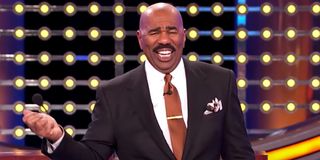 During his 30-year career, Steve Harvey has become many things to many people. To some, he's a stand-up comedian and game show host and, to others, he's a businessman and author. However, for a select few, he's also become something of a fashion icon. From his dapper suits to his iconic mustache, which he keeps neatly trimmed, Harvey's style has become incredibly recognizable. Now, it would appear that Harvey has added something new to his attire in the form of a pink hat, and it's a real attention grabber.
Steve Harvey's son, Broderick, recently celebrated his 29th birthday, and his famous father took to Instagram to mark the occasion. In addition to posting a sweet caption, Harvey also posted a photo that showed him wearing a pink hat while standing next to his son, and it's hard not to look at his headwear. Check it out below:
Now, that's a fashion statement if I ever saw one. The hat is definitely a unique piece, and it honestly suits Steve Harvey quite well. Steve Harvey has never been quiet about what he likes and, in the past, he has admitted that he has a love for big hats. Of course, some may have a few jokes about Harvey's lid. One Twitter user has already taken to Twitter to comment on it, saying it really belongs to Harvey's mother.
The hat may not be something that many of us would choose to wear but, ultimately, it falls in line with Steve Harvey's personal preference. So to each their own.
As mentioned, Steve Harvey takes fashion very seriously and is known for his distinct sense of style. He's even entered the fashion industry for himself with his own line of suits for men. In the past, he's even featured fashion designers on his talk show.
Despite Harvey's fashion antics, his actions as the host of Family Feud are what really get fans chatting. From amazed to totally disgusted, it's hard to predict just how Steve Harvey will react with given an answer by a contestant.
In one recent instance, he was actually left in awe. This moment came when a contestant correctly responded to a survey by saying that men should be neutered. On the other end of the spectrum, a Disney-related question caused the host to want to leave in the middle of the taping. After asking a question relating to Minnie Mouse, a contestant responded by mentioning Bugs Bunny, much to Steve Harvey's dismay.
Whether he's on or off camera, Steve Harvey gives the public plenty to joke and laugh about, and the comedian seems to take it in stride. This probably won't be the last time we see him take a fashion risk, and you can be sure we'll be waiting to see what he tries next. But what do you think of the hat? Let us know in the comments section below.
Covering superheroes, sci-fi, comedy, and almost anything else in film and TV. I eat more pizza than the Teenage Mutant Ninja Turtles.
Your Daily Blend of Entertainment News
Thank you for signing up to CinemaBlend. You will receive a verification email shortly.
There was a problem. Please refresh the page and try again.