The 10 Best Law And Order Episodes, Ranked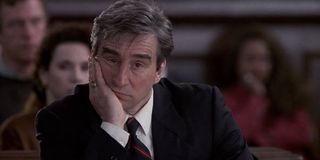 Over the course of its 20-year run on NBC, Dick Wolf's Law and Order became and remained one of the most popular series of all time, even if the show's spinoffs — most notably Law and Order: Special Victims Unit — and before-they-were-famous guest appearances seem to get more recognition. Along the way, the show gave viewers some of the best episodes of crime television that not only focused on the police who investigate crime, but also the district attorneys who prosecute the criminals, which shows audiences all angles to each story.
Deciding on which of the show's 456 episodes is the best is no easy task, but I think after spending most of my life watching Law and Order, either when new episodes premiered or when reruns played on practically every channel during the day, I have come up with a list of the top 10 episodes. Don't worry, there are plenty of great Jack McCoy moments and Lennie Briscoe one-liners to help move this one alone. These are those stories. Dun Dun.
10. Mayhem, Season 4, Episode 17
Law and Order didn't reach its peak until the start of Season 5, but that doesn't mean the show's first four seasons didn't feature some of the best stories. Take into consideration the Season 4 episode "Mayhem," which follows detectives Lennie Briscoe (Jerry Orbach) and Mike Logan (Chris Noth) on what can only be called the shift from hell. Over the course of a single day, the pair is faced with three unconnected homicides, which are inspired by the Lorena Bobbitt, Son of Sam, and Zodiac crime stories from the latter part of the 20th Century.
Not only does the episode include the "ripped from headlines" trope, it also includes some pretty great Lennie Briscoe lines as he tries to get through the day to see the Knicks play at the Garden.
9. Gunshow, Season 10, Episode 1
Law and Order was in the middle of its golden years when the Season 10 premiere episode "Gunshow" aired in September 1999. The episode starts with the mass murder of five female medical students in Central Park by a crazed gunman, but after it's discovered that a gun manufacturer didn't put preventative measures in place to prevent the gunman from making the semi-automatic weapon a fully automatic machine gun, Jack McCoy turns his attention to the company and charges them with mass murder. With plenty ups and downs and great Jack McCoy moments (opens in new tab) during the trial, there's plenty to sink your teeth into with this one. Just don't expect a happy ending.
8. Caviar Emptor, Season 14, Episode 23
There are episodes of Law and Order that focus on government conspiracies, corporate coverups, and the mass murder, and then there are old-fashioned whodunits involving a single murder and multiple suspects who all have something to gain from the victim's passing. The Season 14 finale "Caviar Emptor" falls into that category as it centers around the mysterious death of an elderly caviar importer the day after he marries a much younger woman.
This episode, while not as over-the-top and eye-catching as some later on in this list, is one of the best to use the tried and true method of building up different suspects as the story unfolds, leaving you guessing the whole time.
7. Old Friends, Season 4, Episode 22
During the first four seasons of Law and Order, Michael Moriarty portrayed Executive Assistant District Attorney Benjamin Stone before Sam Waterson and his character Jack McCoy came in and took over as the show's star prosecutor. Moriarty's run on the show ended with the Season 4 finale "Old Friends" which saw his version of Stone take on the Russian mafia after he linked the death of baby-food company accountant with the criminal enterprise. When Stone pushes a star witness (played by Allison Janney) to implicate the mob, things turn south, and lives are wrecked in the process. This one ends with one of those signature Law and Order quiet and contemplative endings that the show would use so well later on.
6. Second Opinion, Season 5, Episode 1
Fans of Law and Order had no idea what was coming their way when Season 5 got off to an amazing start with "Second Opinion" in the fall of 1994. Not only did this episode feature an engaging story centered around a woman being charged for providing dubious cancer treatments, it also marked the first episode in the Jack McCoy era of the show where Sam Waterson's dogged prosecutor brought new life to the series. The episode also marked the first of many Jack McCoy moments where Waterson's head looked like it was going to take off at any moment. Combine that with McCoy and Assistant District Attorney Clair Kincaid (Jill Hennessy) butting heads and you have the recipe for great television.
5. American Dream, Season 4, Episode 8
While most episodes of Law and Order are tight, self-contained stories, there are a few cases like the Season 4 episode "American Dream" that pull from a character's forgotten past. When a decomposed body is discovered and identified as the victim in a case that has already been tried, the man convicted in the killing is given a new trial, this time representing himself. If that's not bad enough, Benjamin Stone, who's still with the prosecutor's office at this point, is put into a tough situation when aspects of the initial trial begin to not match up. With great back-and-forth conversations between the alleged murderer and Stone, this episode is near the peak in terms of courtroom drama.
4. Pro Se, Season 6, Episode 21
By the time Season 6 of Law and Order came around, the show's cast and writing team were all firing at all cylinders, and one of the best examples of the great acting and superb writing is seen in the episode titled "Pro Se" where a schizophrenic refuses to take his meds, is accused of murdering multiple people, and then elects to represent himself in court. If that isn't crazy enough, the suspect also has a past with Assistant District Attorney Clair Kincaid, as she once agreed to a plea deal with him and is burdened by the guilt of letting him off easy before committing such a heinous act. This set up a lot of what was to come in the final episodes of Jill Hennessy's run as the junior prosecutor, but more on that later.
3. Burn Card, Season 18, Episode 14
Jesse Martin, who portrayed Detective Ed Green, was one of the most senior members of the Law and Order cast when he left the show with the Season 18 shocker "Burn Card." When an internal affairs investigation digs up pieces of Green's past that he wishes would have remained forgotten, the senior detective is forced to offer his resignation and move on with his life. Seeing such a vital member of the cast leave was hard to take, and honestly it's something I never really got over, no matter how much I loved the pairing of Cyrus Lupo (Jeremy Sisto) and Kevin Bernard (Anthony Anderson) in the show's final two seasons.
2. Rubber Room, Season 20, Episode 23
All good things have to come to an end, and that was true for Law and Order once the show entered its 20th and final season in the fall of 2009. Although just a shell of its former self, the show did have a pretty amazing final few episodes, including the series finale "Rubber Room." When detectives uncover a website hosting graphic photos of underage girls, things quickly go into overdrive when the anonymous blogger announces plans to blow up a school. Add in one of the final Jack McCoy moments and an emotional conclusion to Lieutenant Anita Van Buren's cancer scare, and you have a touching way of bringing the long-running show to an effective conclusion.
1. Aftershock, Season 6, Episode 23
And then there's the classic Season 6 finale "Aftershock," which as the title suggests, deals with Jack McCoy, Claire Kincaid, Lennie Briscoe, and Rey Curtis (Benjamin Bratt) dealing with the fallout of watching the execution of a convict they all were responsible for nabbing in the first place. Unlike pretty much every other episode of Law and Order, this one focuses less on a crime that has to be solved as much as it deals with the ramifications of the characters' actions. Sure, the criminal was guilty and received the punishment that was decided upon by a jury, but it still doesn't prevent the detectives and attorneys from feeling human with human emotions. The fallout of the execution also leads to Kincaid leaving the district attorney's office as she comes to terms with her role in the man's death.
Do you think "Aftershock" is Law and Order at its best or does another one of the more than 450 episodes deserve a spot at the top of this list? Make sure to let me know in comments and don't forget to share your favorite Jack McCoy meltdown, because who doesn't love watching Sam Waterson get upset with a combative witness?
This poll is no longer available.
Philip grew up in Louisiana (not New Orleans) before moving to St. Louis after graduating from Louisiana State University-Shreveport. When he's not writing about movies or television, Philip can be found being chased by his three kids, telling his dogs to stop yelling at the mailman, or yelling about professional wrestling to his wife. If the stars properly align, he will talk about For Love Of The Game being the best baseball movie of all time.
Your Daily Blend of Entertainment News
Thank you for signing up to CinemaBlend. You will receive a verification email shortly.
There was a problem. Please refresh the page and try again.