Whodunit? 7 Murder Mysteries Worth Streaming On Netflix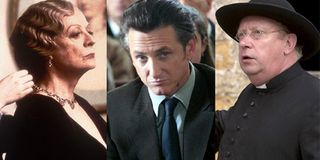 Not every great murder mystery is available to stream on Netflix, but the streamer does have some solid options for whodunit movies and TV series as of November 2019.
I grew up reading Agatha Christie mysteries with my mom and watching death-magnet Jessica Fletcher on Murder, She Wrote. I love a good whodunit, or even a mediocre one. Not fussy. Murder mysteries are more popular than ever, and Rian Johnson has a very well-reviewed one coming out November 27 in Knives Out. Kenneth Branagh is also continuing his own Agatha Christie adaptations by following Murder on the Orient Express with Death on the Nile, which is due in theaters October 9, 2020.
So here are (more than) seven murder mysteries worth streaming right now on Netlfix, and if you stream fast you can watch all of them before Knives Out arrives.
Gosford Park
There are countless reasons to love Gosford Park. Julian Fellowes' Oscar-winning script has so many layers, the brilliant murder mystery is almost an afterthought! You can see how Fellowes' Downton Abbey series was inspired by the 2001 film -- this is like Downton Abbey meets Agatha Christie plus everything else you get from a classic Robert Altman movie. And it's all scrumptious.
Stream Gosford Park on Netflix (opens in new tab).
Mystic River
Clint Eastwood's star-studded 2003 drama was nominated for six Oscars, including Best Picture, and gave Oscar wins to both Sean Penn and Tim Robbins. The murder mystery was based on Dennis Lehane's novel and widely praised for the performances -- including those from Kevin Bacon, Laura Linney, Marcia Gay Harden, and Laurence Fishburne. Lehane's Gone, Baby, Gone and Shutter Island were also adapted into movies, but neither is available on Netflix as of this writing.
Stream Mystic River on Netflix (opens in new tab).
A Kind of Murder
This 2016 movie had a limited release so I didn't catch it until it was available for home viewing. Patrick Wilson, Jessica Biel, Vincent Kartheiser, Haley Bennett, and Eddie Marsan star in the murder mystery, which was based on the Patricia Highsmith novel The Blunderer. Unlike Gosford Park or Mystic River, A Kind of Murder didn't get the best reviews, but it's worth a stream for the likable cast, if nothing else.
Stream A Kind of Murder on Netflix (opens in new tab).
Agatha and the Truth of Murder
Netflix doesn't currently have any Agatha Christie adaptations to stream, but you can watch this drama fictionalizing a story about crime writer Agatha Christie herself. The 2018 film is a British "alternative history drama" showing Agatha Christie investigate the murder of Florence Nightingale's goddaughter. The movie had a big audience in the U.K. when it first aired in December 2018, so check out Ruth Bradley as Christie herself in the 92-minute film.
Stream Agatha and the Truth of Murder on Netflix (opens in new tab).
Sherlock, Sherlock Holmes, & Mark Gatiss: A Study in Sherlock
A three-in-one Sherlock package -- it's elementary! Netflix has a wealth of Sherlock options at the moment, from Benedict Cumberbatch's four-season Sherlock TV show to Robert Downey Jr.'s first Sherlock Holmes movie. You can even watch Sherlock series co-creator/Mycroft actor Mark Gatiss' special discussing the show with the cast and crew. Will we get another new season? The eternal question. On the film side, don't forget that RDJ still plans to make Sherlock Holmes 3, and it looks like the movie might have a new director.
Stream the Sherlock series (opens in new tab) and Mark Gatiss: A Study in Sherlock (opens in new tab), and stream RDJ's first Sherlock Holmes movie (opens in new tab).
Father Brown
Most of these murder mystery suggestions are movies, but I'm quite fond of the British Father Brown TV series, which seems to be on PBS all the time. It has been airing on BBC One for seven seasons now, starring Mark Williams as crime-solving priest Father Brown. I love the theme song so much, I considered tracking it down as my ring tone. There's something Hitchcockian about it, but more than anything I just love the supporting characters around St. Mary's in the Cotswolds.
Stream the Father Brown series on Netflix (opens in new tab).
Murder Mystery
Yes, I confess: I liked this movie! I know a lot of other people didn't, but I also know I'm not alone in appreciating Adam Sandler and Jennifer Aniston's Nick and Audrey Spitz. I'm not confusing the Netflix movie with a classic, but Murder Mystery was easy breezy fun -- and I don't love Sandler in everything. I was happy to hear that Murder Mystery 2 would be happening, which wasn't really a shock considering the huge viewership Netflix was touting for the first movie. Here's hoping more stars sign along for the next ride, which may or may not pick up on that train at the end.
Stream Murder Mystery on Netflix (opens in new tab).
BONUS: Other Murder Mysteries Off Netflix
• Manhattan Murder Mystery - I wish Netflix had this Woody Allen film, but it doesn't. You can, however, pay $3 to rent it on Amazon Prime, or find it on Vudu, YouTube, iTunes, or Google Play.
• Clue - Shake, rattle, and roll with the 1985 murder mystery that managed to turn a board game into an all-time comedy classic. You can stream Clue on Showtime right now with subscription or pay for it on YouTube, Google Play, iTunes, or Vudu.
• Poirot - You can watch David Suchet's classic Hercule Poirot on BritBox (opens in new tab) or YouTube TV.
• Murder on the Orient Express - You can watch both the 1974 movie and the 2017 adaptation of Agatha Christie's classic on Amazon Prime, although only the 1974 one is included right now for free.
• And Then There Were None - Of the many Agatha Chrsitie adaptations out there, I was particularly impressed with this one from 2016. It's just a well-made thriller in every respect. Check it out on Amazon for $3.
• Agatha Raisin - Lately I have been binge-watching Ashley Jensen as Agatha Raisin in Acorn TV's murder mysteries, based on the bestselling books by M.C. Beaton. It's set in another quiet village in the Cotswolds and the scenery is almost as delicious as the characters. I watch Acorn TV through Amazon, and you can get BritBox the same way, or you can go straight to the source.
If you're looking for more streaming recommendations, check out these past features. The twist ending one toward the bottom might be a good companion to murder mysteries:
• 5 Excellent Keanu Reeves Roles Worth Streaming On Netflix And Amazon
• 5 Sci-Fi TV Shows To Watch On Netflix: Our Streaming Recommendations
• 5 Documentary Series To Watch On Netflix: Our Streaming Recommendations
• 5 British TV Comedies On Netflix You Should Bloody Well Watch: Our Streaming Recommendations
• 3%, Occupied, Harlots, and Other Streaming Recommendations
• 5 Robert Downey Jr. Movies To Love 3000 On Netflix
• 5 Chris Evans Movies Worth Streaming On Netflix And Amazon
• 5 Ryan Reynolds Roles Worth Streaming On Netflix And Amazon
• 5 Will Smith Movies Worth Streaming Right Now On Netflix And Beyond
• 5 Refreshingly Non-Toxic Reality TV Shows Worth Streaming On Netflix
• 5 Joaquin Phoenix Movies Worth Streaming On Netflix And Amazon Ahead Of Joker
• 5 Stripper Movies Worth Streaming In Honor Of Jennifer Lopez's Hustlers
• The 5 Best Space Movies To Stream In Honor Of Brad Pitt's Ad Astra
• 11 Unbelievable True Crime Series Worth Streaming On Netflix
• 8 Movies With 100 Percent Ratings Worth Streaming Before Netflix's The Irishman
• 7 Paul Rudd Movies Worth Streaming On Netflix Before Living With Yourself
• 8 Movies With Twist Endings Worth Streaming On Netflix After Fractured
• Where To Stream Firefly And 10 Other Great Shows Cancelled After One Season
What are your favorite murder mysteries to stream?
Gina grew up in Massachusetts and California in her own version of The Parent Trap. She went to three different middle schools, four high schools, and three universities -- including half a year in Perth, Western Australia. She currently lives in a small town in Maine, the kind Stephen King regularly sets terrible things in, so this may be the last you hear from her.