Law And Order: 11 Actors Who Appeared On The Show Before They Were Famous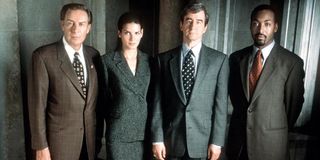 With 20 seasons, Law and Order is one of the longest running dramas of all-time. It spun several spin-offs, including--the still going strong--Law and Order: SVU. Law and Order helped make procedural dramas more popular and it made the cast very recognizable. It even launched the career of some very famous Hollywood names.
In September of 2020, Law and Order celebrates its 30-year premiere anniversary. Part of what made the series successful was its episodic nature. Each episode felt like a contained show, movie, or play. Turn on any Law and Order episode to enjoy actors bringing intense drama, stunning intrigue, and a dash of deception. With Law and Order: SVU still on the air and Dick Wolf's shows continuing to dominate television, Law and Order remains a coveted gig for up and coming actors.
Claire Danes
In 1992, two years before My So Called Life would air, Claire Danes landed her first major acting gig: an episode of Law and Order. Claire Danes' Law and Order episode was the Season 3 premiere. She was barely a teen on her Law and Order episode where she played a 15-year-old tied into a secret prostitution ring. Her displaying so much talent at such a young age likely helped Claire Danes' accelerate her acting career.
The short-lived My So Called Life gave Claire Danes' career a major boost. She then went on to star in many motion pictures, including Romeo + Juliet, The Hours, Terminator 3: Rise of the Machines, and Stardust. Danes gained even more recognition and praise in 2011 when she landed the lead role of Carrie Mathison in Homeland. But before all of that, she was on Law & Order.
Adam Driver
Adam Driver appeared in Law and Order in 2010, during Law and Order's final season (Season 20, Episode 15) "Brilliant Disguise." This Law and Order role came two years prior to him landing his breakout Girls role. Law and Order was one of Adam Driver's first screen roles. In his episode he played a lab technician accused of murdering a secret escort. He had theater roles before Law and Order, but he had only appeared on one TV show and a short film before the police drama. Appearing on such a massively popular show might have help give him the confidence to audition for even bigger roles.
Since 2009, Adam Driver has taken on a variety of stage and screen roles. He has blended big blockbuster performances, like his role as Kylo Ren in the new Star Wars trilogy, with an array of arthouse film projects like Frances Ha, BlacKkKlansman, and The Report. Adam Driver had a very successful 2019, appearing in the critically acclaimed Marriage Story, and receiving his first Best Lead Actor Academy Award nomination for the same film.
Sam Rockwell
Sam Rockwell played two different characters in multiple episodes of Law and Order. His first episode was Season 2's "Intolerance," and his second episode was Season 3" 21st episode, "Manhood." in "Manhood," Rockwell plays an officer who doesn't show up when a fellow officer needs him. This leads to that officer's death and accusations of homophobia on their police force. In "Intolerance," he plays a member of a family accused of murdering a Chinese-American student to help one of the boys win a science award. Sam Rockwell had at least a dozen screen roles before appearing in Law and Order. However, it was still quite early in his career. Rockwell had only been consistently booking gigs for four years when he had his Law and Order premiere.
Since the early '90s, Sam Rockwell has forged a very diverse acting career--appearing in major motion pictures like The Green Mile, Charlie's Angels, Iron Man 2, and Seven Psychopaths. In 2018, Sam Rockwell won the Academy Award for Best Supporting Actor for his role in Three Billboards Outside Ebbing, Missouri. He has also appeared in three recent Academy Award nominated movies, Vice, Richard Jewell, and Jojo Rabbit. In 2019, Sam Rockwell also appeared in the limited series Fosse/Verdon.
Sebastian Stan
Sebastian Stan had only appeared in one thing prior to his Law and Order debut in 2003. He appeared in Season 13's "Sheltered." In the episode, Stan played a boy abducted and raised by his abuser. Modern Family's Ty Burrell played his abuser. This role led to a steady stream of small roles until he landed his 2007 Gossip Girl role.
Sebastian Stan appeared in the hit TV series Gossip Girl and Once Upon a Time. However, most people know him for his roles in the Marvel movie franchise. Sebastian Stan plays Bucky Barnes aka The Winter Soldier. He's been playing Bucky Barnes in the Marvel franchise since 2011, and later this year he'll have his own Disney+ and Marvel series, The Falcon and the Winter Soldier.
Samuel L. Jackson
Samuel L. Jackson appeared on Law and Order Season 1, Episode 14, "The Violence of Summer" as Defense Attorney Louis Taggert. He had only made limited television appearances before his Law and Order episode. However, he had already been appearing in films for nearly 20 years before the show. Samuel L Jackson at least appeared in over fifteen films from 1972 to 1992, including films like Do The Right Thing, Coming to America, and Jungle Fever. It was definitely not a career-making role, but it was before Samuel L. Jackson became one of the most recognized names in cinema.
Samuel L. Jackson has appeared in nearly 200 films and television shows. His most famous work includes the Marvel movies, The Incredibles, the Star Wars prequels, Kill Bill II, The Long Kiss Goodnight, Pulp Fiction, and School Daze.
Sarah Paulson
In 1994, Law and Order was Sarah Paulson's first screen acting gig. She appeared in Season 5, Episode 4, "Family Values." Sarah Paulson played a teen who claimed that she was having an affair with her murdered mother's new husband. A year later, she landed a series regular role on American Gothic.
Sarah Paulson appeared in Bird Box, Ocean's Eight, The Goldfinch, and Glass, but most people know her from her work with Ryan Murphy. Sarah Paulson has appeared in most seasons of American Horror Story and a few seasons of American Crime Story. Ryan Murphy and Paulson also will team up once again for a Netflix series about the infamous One Flew Over the Cuckoo's Nest character Nurse Ratched.
Ellen Pompeo
Law and Order was Ellen Pompeo's first TV gig. She appeared in Season 6, Episode 16, "Savior" and Season 10's "Fools for Love." The first episode involved a case about a man being accused of murdering his wife and son. The Season 10 episode involved a man accused of killing and raping his girlfriend's sister and another victim. Prior to her first Law and Order episode, Ellen Pompeo had only appeared in one short film. She had a few movies and TV roles before her 2000 return to Law and Order.
Grey's Anatomy fans best know Ellen Pompeo for her lead role as Dr. Meredith Grey. She has also appeared in Life of the Party, Friends, and Catch Me If You Can.
Allison Janney
Allison Janney had appeared on As the World Turns and Morton & Hayes along with a few movies before making her Law and Order appearances. She appeared in 1992 and 1994. The first episode Season 2, Episode 12, "Star Struck," and the second episode was Season 4's "Old Friends." In "Old Friends," Allison Janney plays a character scared to testify about a murder because it could lead to dangerous consequences for her. In "Star Struck," she plays someone interviewed about a murdered soap opera actress.
Allison Janney is an Academy Award and Emmy winning actress. She has appeared on hit series and critically acclaimed movies; her list of work includes 10 Things I Hate About You, The Hours, Finding Nemo, The West Wing, Masters of Sex, I, Tonya, and Mom.
Emmy Rossum
Emmy Rossum appeared on Law and Order when she was only a preteen. She played a young girl who became the target of a female circumcision. This Law and Order episode, "Ritual," aired during Season 8. This was Emmy Rossum's first TV acting gig, but the following year she would appear in several screen projects.
Emmy Rossum is best known for her role as Fiona Gallagher in Shameless. She has also appeared in the films Mystic River, The Day After Tomorrow, and The Phantom of the Opera.
Vera Farmiga
Vera Farmiga appeared in Law and Order Season 8, Episode 12, "Expert." She plays a character accused of trying to murder an expert witness in her father's case. Prior to Law and Order, Farmiga had only appeared in two other on-screen things. One was a short lived TV show starring Heath Ledger called Roar and the other a TV movie called Rose Hill.
Vera Farmiga is an Academy Award nominated actress, best known for her role as Nora Bates in Bates Motel. Vera Farmiga has also appeared in Up in the Air, The Conjuring series, When They See Us, and The Departed.
Philip Seymour Hoffman
Philip Seymour Hoffman made his screen debut with Law and Order. He appeared in Season 1, Episode 14, "The Violence of Summer." He plays one of the men involved in a rape case. Samuel L. Jackson also appeared in this episode.
Philip Seymour Hoffman was an Academy Award winning actor who appeared in The Hunger Games movies, The Master, Almost Famous, Doubt, and Capote. He won his Best Lead Actor Academy Award for his role in Capote, and he received three Best Supporting Actor nominations for The Master, Doubt, and Charlie Wilson's War.
Law and Order is available to rent or buy on most major streaming platforms, including Amazon Prime Video (opens in new tab). Law and Order's most successful spin-off, Law and Order: SVU, is currently airing season 21 on NBC. Hulu has all seasons of Law and Order: SVU available to stream. Stream it HERE (opens in new tab).
Spent most of my life in various parts of Illinois, including attending college in Evanston. I have been a life long lover of pop culture, especially television, turned that passion into writing about all things entertainment related. When I'm not writing about pop culture, I can be found channeling Gordon Ramsay by kicking people out the kitchen.
Your Daily Blend of Entertainment News
Thank you for signing up to CinemaBlend. You will receive a verification email shortly.
There was a problem. Please refresh the page and try again.