Jeopardy's Alex Trebek Clarifies Memoir Comments About Possibly Ending Cancer Treatments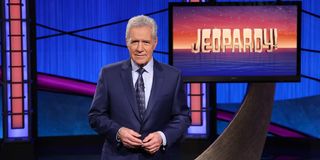 Jeopardy!'s Alex Trebek has been battling stage four pancreatic cancer for some time now. In his recently released memoir, titled The Answer Is...: Reflections on My Life, the long-time game show host revealed that he would end all cancer treatment if his immunotherapy didn't work out. However, Trebek has since clarified his memoir comments about possibly terminating his treatment.
Alex Trebek has been open about his health, often providing updates regarding his chemotherapy and how he's been feeling since his cancer diagnosis. He's even discussed how he'd like to say goodbye to Jeopardy! So, it's no surprise that Trebek got candid in his memoir, stating that he would "probably stop treatment" if things don't go well with his experimental immunotherapy treatment. However, Trebek posted a statement to Twitter to clear up any confusion about what he wrote in his book. Here's what he said:
That's incredibly good to hear. The game show host has been a staple of Jeopardy! since 1984 and fans are especially protective of him in the wake of his cancer diagnosis. If the responses to Alex Trebek's statement are anything to go by, then many are quite relieved that the game show host hasn't given up on treatment altogether.
In fairness, however, the quoted text from The Answer Is...: Reflections on My Life did indeed make it sound like Alex Trebek would cease all treatment. He also wrote about telling his family of the decision he'd made. Here's what Trebek wrote in his memoir (via THR):
The Jeopardy! host has definitely lived a "good, full life." Above all, though, he wants to be remembered as a "good and loving husband and father." At the end of the day, Alex Trebek has been pretty courageous despite all he's been through and I sincerely hope that he does get to have grandchildren. (No pressure on his kids, though!)
Jeopardy! airs in syndication, so check your local listings for more information. In the meantime, be sure to check out our 2020 fall TV premiere schedule for more on what to watch.
Your Daily Blend of Entertainment News