A Scrubs Star Wants To Play The Arrowverse's Green Lantern, And I'm Down For It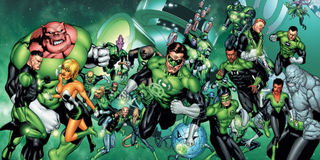 In the series finale of Arrow, David Ramsey's John Diggle opened a mysterious box that saw a bright green light shining from it. Of course, many speculated that Diggle had finally nabbed the iconic Green Lantern ring. However, the Arrowverse is still without a Green Lantern. Enter Scrubs vet Donald Faison, who says that he'd be up for playing the role of the beloved superhero, and I'm down for it.
Donald Faison is ready to suit up for a role in the Arrowverse. In a recent episode of "Fake Doctors, Real Friends," the podcast Faison co-hosts with Scrubs co-star Zach Braff, the actors joked with The Flash's Tom Cavanagh about calling mega producer Greg Berlanti. Braff and Faison wanted to convince Berlanti to hire them for roles in the Arrowverse. When it came to deciding which character he would play, Faison already had an answer. Here's what he said:
I'm not opposed to this at all. I think Donald Faison would actually make a great Green Lantern. Maybe this will prompt Tom Cavanagh to introduce Faison to Greg Berlanti and get the ball rolling. There are several members of the Green Lantern Corps, so Faison could play the John Stewart Lantern, or someone else. Either way, he'd make a fantastic addition to the Arrowverse.
The Scrubs actor does point out that Arrow introduced the idea, but left it open-ended. Meanwhile, Stargirl has also teased Green Lantern. Not to mention the fact that Oa, the planet where the Green Lantern Corps is headquartered, made a cameo appearance in the Arrowverse crossover, "Crisis on Infinite Earths." With the groundwork having already been laid, it's definitely possible for Donald Faison to become one of the ring-wearing superheroes.
While it's unclear if or when Green Lantern will finally appear in the Arrowverse, Greg Berlanti is developing a Green Lantern series for HBO Max. Details about the show are relatively scarce, but it has been revealed that the superhero adventure will be "going to space" and that it will also be focused on two Green Lanterns. Honestly, I think there's room for the character on both HBO Max and The CW. Here's hoping Donald Faison makes that call.
The Arrowverse shows are currently on a longer-than-usual hiatus, but The Flash, Batwoman, Superman & Lois, and Black Lightning are expected to return in January 2021. Meanwhile, you can watch Donald Faison in Scrubs, which is currently streaming on Hulu. For more on what to watch, be sure to check out our 2020 fall TV premiere schedule.
Your Daily Blend of Entertainment News
Thank you for signing up to CinemaBlend. You will receive a verification email shortly.
There was a problem. Please refresh the page and try again.