Arrow's David Ramsey Says Green Lantern Answers Are Coming In Finale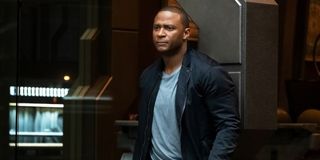 David Ramsey has played Arrow's John Diggle for eight seasons, and viewers have wondered for almost as long if Diggle would ever become a member of the Green Lantern Corps. Now that the Arrow-verse crossover "Crisis on Infinite Earths" confirmed the existence of the Corps (not to mention a Green Lantern series being greenlit for HBO Max), Ramsey says Green Lantern answers are finally coming in Arrow's series finale.
Plenty of Green Lantern-esque clues have popped up over the years, leading fans to believe a big reveal would be coming at one point or another. Here's what David Ramsey had to say about Arrow's swan song:
It's about damn time! While Arrow has yet to confirm Diggle's fate in 2040 — he's the only Team Arrow member unaccounted for in the future — there have been a lot of clues sprinkled throughout the series that Diggle's ultimate fate may not be Earthbound at all.
The Green Lantern teases have dropped on several occasions throughout the past eight seasons. During the "Elseworlds" crossover, for instance The Flash from Earth-90 asked Diggle why he wasn't wearing his ring. Viewers took that to mean the famous Green Lantern ring worn by Corps members, since Flash probably wouldn't be too worried about Diggle's married life.
In addition, Arrow Season 7 introduced Ernie Hudson as Diggle's stepdad. His name? General Roy Stewart. As fans know, John Stewart is the name of one of the most famous DC Comics characters to take on the Green Lantern mantle. Stewart is also the surname of Black Lightning's Lynn, so there might be an untapped connection there as well, made more pertinent now that B.L. has been folded into the Arrow-verse.
With Arrow's end on the horizon, it's high time that fans got some answers about the possible connections Diggle has to Green Lantern. I wouldn't be surprised if he's called upon by the Green Lantern Corps at the end of the series finale, changing his name to Stewart in the process. At the very least, the reveal that he's gone on an off-planet mission would help explain his absence from Arrow's future timeline.
Could Diggle join the untitled Green Lantern series coming to HBO Max? Speaking with TVLine, David Ramsey expressed his excitement for the upcoming series, which will include the origin story of two Green Lanterns, but didn't confirm whether he'd be a part of that venture. In his words:
While there's no telling what Diggle's future holds or what kind of Green Lantern answers fans will get by the end of Arrow's series finale, David Ramsey will reprise his role in an upcoming episode of The Flash, though he doesn't look too Lantern-y in the first-look pics. Here's hoping there'll be more information about Diggle by then.
Arrow's series finale airs Tuesday, January 28 at 9 p.m. ET on The CW. A special presentation will precede the episode at 8 p.m. ET. For more on what to watch, be sure to check out our 2020 midseason schedule for updated premiere dates and times.
Your Daily Blend of Entertainment News
Your Daily Blend of Entertainment News
Thank you for signing up to CinemaBlend. You will receive a verification email shortly.
There was a problem. Please refresh the page and try again.