Superstore: 6 Fun Behind-The-Scenes Stories From Comic-Con 2020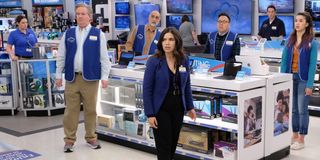 NBC has a proven track record of making funny, charming work-related comedies. The network has continued its winning formula with Superstore, a comedy series about the employees of a superstore called Cloud 9. Most of Superstore's success comes from the cast chemistry, witty writing, and sometimes accuracy of life working and dealing with customers in a superstore. Recently, Superstore had a Comic-Con panel that dove deeper int the cast's relationships with each other and past, present, and future plans for the series.
Superstore had its abrupt Season 5 finale this past April. Earlier this year it was announced that America Ferrara planned to leave the hit series. With the coronavirus delaying or halting production on many movies and series, Superstore wasn't able to nicely wrap up Amy (America Ferrara)'s time on the show, but it set the groundwork to explain Amy's eventual absence from Cloud 9.
During the Superstore virtual Comic-Con panel, a few of the main cast members and crew talked about their experience on the show and hopes for the future of the series and their characters. In the almost 45-minute panel, viewers were treated to some behind the scenes exclusives, like some interesting stories from filming Superstore.
The Inspiration For The Racoons in Superstore
Superstore often references a raccoon problem that haunts Cloud 9. Showrunner Gabe Miller shared that the raccoons that Superstore has on the sound stage inspired the show's raccoon infestation. He said that sometimes they'll film a scene and see a raccoon looking over watching them, which just sounds terrifying. However, Miller said that "it was kind of cute."
Colton Dunn (who plays Garrett) and Ben Feldman (who plays Jonah) then added that they believed the raccoons have probably taken over now.
How The Physical Set Works
The Superstore panel accepted questions from fans through social media and one fan asked, "what was everyone's favorite place to fake work at?" Kaliko Kauahi (who plays Sandra) shared that last season was her first time working at the checkout section of Cloud 9. She shared her amazement with how it worked:
She said it was her new favorite place to fake work. Colton Dunn and Nico Santos (who plays Mateo) said their favorite area was the electronics area because it was the place that most felt like a real store. Santos added that he also likes the houseware section for the same reason, but added that these are also his favorite spots because he likes to browse the new products and then ask the crew for extra items to keep. Lauren Ash (who plays Dina) then added that everyone has gotten something from the set but her. She's only received a Christmas mug.
Ben Feldman said that he just likes the areas where he gets to sit and work, like the Cloud 9 cafe.
The Problems The Cast And Crew Encountered While Filming During COVID-19
Lauren Ash mentioned how it was "wild" thinking back to the last week of filming Superstore Season 5 because initially, she didn't believe that the coronavirus would be as serious as it became. Now she said she's more shocked that the cast and crew filmed so long. Ben Feldman said now he can only associate Season 5 with the last week and a half of filming.
He remembers how the news transitioned and how he began to worry about filming on set for so long. He then talked about filming the last scenes with America Ferrara (adding a joking R.I.P America)
Nico Santos discussed cleaning out his trailer with his boyfriend Zeke Smith and how even celebrities felt the toilet paper shortage. He found some in his trailer and asked to take it home. He also asked if there was anymore on set, but he was told that that toilet paper had all already been taken. Mark McKinney (who plays Glenn) added that he was the first to panic and tried to warn the cast and crew to get toilet paper and hand sanitizer.
Showrunner Jonathan Green also shared that they were down to the wire figuring things out, like filming a huge crowd scene which they had to scrape from their plans, and eventually they found out they wouldn't be able to shoot the finale episode at all.
Mark McKinny's Improvisation Skills
A Superstore fan asked whether there was a lot of improvisation involved with filming and the favorite improvised lines. Ash quickly turned the question to Mark McKinny because she said that he improvises for his character Glenn a lot. He said that the first improvised line between Ash and him during the first episode was one of his favorites because it got a big reaction from the crew.
Feldman added that McKinney improvised a lot of the songs that Glenn sings on the show. He said "the finger of the devil is poking through the phone" song gets a lot of attention and he hears that people ask about it a lot.
He also said that he really enjoys improv singing, and then proceeded to make up a song for the Comic-Con panel.
Things That Almost Made The Show
Showrunners Jonathan Green and Gabe Miller decided to share some tidbits about things that almost made the series, but were taken out of their plans for one reason or another. The juiciest bit was a planned twist at the end of Superstore Season 1 with Jonah revealing in a scene from the finale that he was really a spy for corporate, and took a job there to report on union activity. Another idea was Glenn loving Dippin Dots so much that he pays for one-day tickets to Six Flags just to get this ice cream treat. Another possibility was a bald Sandra at her wedding and Carol (Irene White) singing "Satisfied" from Hamilton to sabotage Sandra's wedding.
This sounds hilarious, but Lauren Ash joked (which is probably accurate) that Superstore could never afford the rights to use a Hamilton song in an episode.
The Casts' First Comic-Con Memories
Despite Superstore going into their sixth season, last year was the first time they attended Comic-Con as a show. Lauren Ash asked them to share some of their memories from that experience. Ben Feldman and Colton Dunn discussed wearing masks while walking the floor of Comic-Con. Dunn wore a The Mask mask and Feldman apparently had a terrible The Flash one.
Ash said that she enjoyed it when everyone else mentioned Barry as the show they geeked out about the most, but she sang the Supernatural theme song, and the crowd went wild.
It'll be interesting to see what Superstore Season 6 looks like with the major changes coming to the show, but we can't wait to see it and hear more great stories from the set during Comic-Con 2021.
Your Daily Blend of Entertainment News
Spent most of my life in various parts of Illinois, including attending college in Evanston. I have been a life long lover of pop culture, especially television, turned that passion into writing about all things entertainment related. When I'm not writing about pop culture, I can be found channeling Gordon Ramsay by kicking people out the kitchen.
Your Daily Blend of Entertainment News
Thank you for signing up to CinemaBlend. You will receive a verification email shortly.
There was a problem. Please refresh the page and try again.