More Details Come to Light About FBI Raid On YouTube Star Jake Paul's Home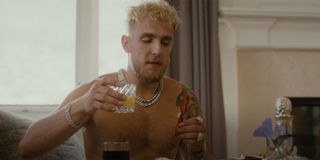 Yesterday morning, the FBI caused a stir when a unit showed up to YouTube star Jake Paul's home with armored cars and full gear. Jake Paul's lawyer Richard Schonfeld later confirmed the star was not in residence as law enforcement executed a warrant, but now at least a few more details have come to light about the raid and why it may have come about.
First and foremost, reporters on the scene yesterday saw that as part of the warrant execution, officers in tactical gear on the scene retrieved and confiscated several weapons on the property, including multiple guns. Similar-looking guns had previously shown up in a YouTube prank video filmed on the property, though may not be the real reason the FBI targeted Jake Paul's home.
In fact, the FBI finally did confirm that the raid itself was in relation to Jake Paul's reported involvement in trespassing and looting in Scottsdale last month. The FBI released a statement to TMZ noting that it was about Scottsdale. Here's what the FBI said:
Initially, Jake Paul was charged for Criminal Trespass & Unlawful Assembly – a misdemeanor -- after cameras reportedly caught him on the scene at the looting event that followed peaceful George Floyd protests in Scottsdale. (For his part, Paul said he was documenting and not engaging.) The City Attorney was handling that case, but reports indicate it got dropped. And now it seems as if the original charges may have been dropped in favor of whatever the FBI currently has brewing.
It's also worth pointing out that a second raid in Los Vegas similar to the Calabasas raid was undergone in a home owned by Jake Paul's pal Armani Izadi, who was also arrested in Scottsdale along with Paul. During this second raid at the Graffiti Mansion, two arrests were made. Though, currently neither Jake Paul nor Armani Izadi seem to have been arrested and the FBI told ABC that "no arrests were planned" for that day, making the whole thing even more mysterious.
Jake Paul's laid low on social media recently, but his aforementioned lawyer Richard Schonfeld also told TMZ that Jake Paul is "out of state" but he does plan to "cooperate with the investigation" as more information comes in. Obviously, given the huge raid and the still-unclear nature around what happened, there's a lot of interest in Jake Paul right now. Presumably, we'll get some more concrete information in the coming days.
Meanwhile, at least we know the arrest wasn't related to Jake Paul pissing off the local mayor after throwing a huge rager with numerous people not social distancing a few days ago. Initially it was unclear what the warrant was about and there was some speculation that Calabasas Mayor Alicia Weintraub's notable "outrage" over Jake Paul's actions may have had something to do with the raid, though that wouldn't really have explained the FBI presence. We'll keep you updated as more on this story breaks.
Your Daily Blend of Entertainment News
Reality TV fan with a pinch of Disney fairy dust thrown in. Theme park junkie. If you've created a rom-com I've probably watched it.
Your Daily Blend of Entertainment News
Thank you for signing up to CinemaBlend. You will receive a verification email shortly.
There was a problem. Please refresh the page and try again.