Khloe Kardashian Celebrates Her Name Change With The Perfect Cake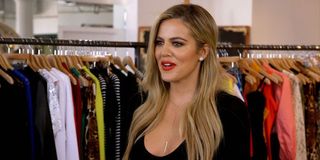 Khloe Kardashian is officially a Kardashian once again after dropping the surname Odom following her recent divorce, and she celebrated her name change with the perfect cake.
After getting her name changed on her passport back from Khloe Kardashian Odom to just Khloe Kardashian, the reality star's assistants surprised her with an amazingly elaborate drivers license cake showing off her official new name. Khloe's big sister Kim Kardashian was there to capture the cake on her Snapchat story. Kim fills her fans in on why her sister is celebrating while she gives us a view of the full cake, saying that Khloe had just gotten her passport updated to her new last name.
Clearly Khloe and Kim Kardashian were both loving the creative cake, but it actually caused a bit of a stir online when fans thought that Kim had just broadcast Khloe's home address to her millions of followers. Next to address on the cake is emblazoned "13 Freedom Lane, Calabasas, CA." As inquiries about the address came flooding in, Kim tweeted out a clarification that the address wasn't real --- it was meant as a joke, referencing that Khloe is now free of Lamar Odom after an exhausting divorce process.
And Kim Kardashian also pointed out another little joke on the license plate cake: Khloe Kardashian's weight is listed as "Skinny Bitch," as a reference to her dramatic weight loss and her new weight loss reality show Revenge Body.
Though Khloe Kardashian and Lamar Odom have been separated for over three years, their divorce was only just finalized a few months ago in October. They married a month after meeting back in 2009, and Kardashian took his last name of Odom and replaced her former middle name of Alexandra with Kardashian, becoming Khloe Kardashian Odom.
Their wild romance was captured on numerous seasons of Keeping Up With the Kardashians as well as their own spin-off series Khloe & Lamar, but they wound up separating around 2013 and at the end of that year Kardashian filed for divorce, although the papers didn't get signed until 2015. A few months after finally signing the divorce papers, Kardashian dropped the divorce when she learned that Odom had fallen into a coma in order to legally make medical decisions for him as his spouse. After his recovery, Kardashian re-filed the divorce papers and they are now finalized. She's now dating NBA star Tristan Thompson.
It sounds like things are going great for Khloe as a newly minted Kardashian!
Your Daily Blend of Entertainment News
Your Daily Blend of Entertainment News
Thank you for signing up to CinemaBlend. You will receive a verification email shortly.
There was a problem. Please refresh the page and try again.