Star Trek: Lower Decks Used A Wild Deep Cut Reference From The Original Series For A Throwaway Joke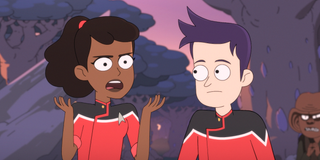 CinemaBlend participates in affiliate programs with various companies. We may earn a commission when you click on or make purchases via links.
After a looooong absence from our TV screens, Trekkies have seen a wondrous expansion of the Star Trek canon since 2017's Star Trek: Discovery blew the doors wide open. Earlier this year, we were treated to long-awaited new adventures from Patrick Stewart's fan-favorite captain in Star Trek: Picard, and now we're getting a lighter take on the franchise with Star Trek: Lower Decks. The animated series just debuted on CBS All Access, but it's already offered up a wild deep cut reference for fans who've been tuning in since the pilot of The Original Series began boldly going where no man had gone before.
According to SyFy Wire, this meta, deep cut reference to TOS (and for a throwaway joke, no less) in the premiere of Lower Decks is the first time any Trek series has referenced the events of the pilot episode which (basically) started it all. So, let's get to it. Who among you remembers Gary Mitchell? OK, I see two hands up in the back. Let's dive into what happened in the series opener of Lower Decks, then discuss.
Star Trek fans come in all types, but many are either very causal fans who remember little of the specifics of each series / plotline or are those who have each and every bit of info about every show committed to memory. Lower Decks points to that with two characters, Ensign Beckett Mariner (Tawny Newsome) and Ensign Brad Boimler (Jack Quaid), who fit those descriptions. Mariner is quite the Trek historian, knowing even the tiniest details about the people and missions which have come before, while Boimler only knows the big events and their main participants.
At the end of the premiere, once the ensigns are now best buds, Mariner begins to rattle off odd facts and throw names around, which range from Spock to Worf, and Kirk to Troi. With her new friend not giving much indication that he fully knows what she's talking about, Mariner asks Boimler if he's heard of Gary Mitchell, to which he replies, "I'm sure I could look him up!" This might not seem like a big deal, but the reference actually works on several levels, as those of you who recognize the name will know.
Gary Mitchell (Gary Lockwood) only appeared in one episode of TOS, "Where No Man Has Gone Before," which was the second pilot done for the series, and, as you might imagine, poor Gary did not fair well in that episode. The helmsman was stunned by weird energy when the Enterprise broke the galactic barrier to search for a ship which had been missing for nearly 200 years. After that, Gary developed a wide range of god-like psionic powers such as telepathy, telekinesis and even the ability to materialize and dematerialize all matter.
Gary did not handle the change well, and became increasingly cruel, ruthless and convinced that he was the absolute bomb, making Kirk's former good Starfleet friend very dangerous and leading to Kirk having to kill Gary by collapsing an entire hill on the man.
Now, with all of that, it might seem like Boimler should know about what happened to Gary Mitchell. But, here's the thing, at the end of that fateful episode, Kirk leaves another captain's log entry, but only says that Mitchell died in the line of duty, without any mention of his powers or the fact that Kirk had to kill him dead. So, in the in-world canon of Star Trek, the career of Gary Mitchell was without any particularly extraordinary aspects which would lead anyone who didn't work with him to know about him at all. The joke is that Boimler could look him up, but the record won't say much of note.
Mariner even bringing Gary Mitchell up to Boimler is a sign that she's trying to test his knowledge, because that not-the-whole-truth captain's log means that she shouldn't really know who Gary is, either. Mentioning a deep-cut character like Gary is a way that anyone who's intensely devoted to knowing everything about their favorite franchise would use to test the knowledge of anybody who claims to be a fan. So, Mariner is really just poking at Boimler's wide-ranging ignorance here, because if the man doesn't know Worf, he ain't gonna know Gary.
And, because this second pilot of TOS is not very well liked by many fans (due to several big differences from what would go on to be that show's canon), Gary has never really gotten much notice from Trekkies, either, so the nod in Lower Decks is very true to life in that way.
Star Trek: Lower Decks seems to be on the way to some very layered storytelling that may lead to fans learning even more about their favorite franchise along with having some laughs, and there's nothing wrong with that.
You can check out Star Trek: Lower Decks right now on CBS All Access, and for more on what to watch in the coming weeks, be sure to check out our summer premiere list and guide to fall TV!
Your Daily Blend of Entertainment News
Yennefer's apprentice, Gilmore Girl; will Vulcan nerve pinch pretty much anyone if prompted with cheese...Yes, even Jamie Fraser.
Your Daily Blend of Entertainment News
Thank you for signing up to CinemaBlend. You will receive a verification email shortly.
There was a problem. Please refresh the page and try again.