Two Great Comedy Series You Should Check Out If You Love An American Pickle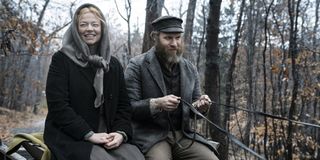 Seth Rogen is justifiably getting a lot of acclaim for the excellent An American Pickle, given that he both helped bring it into existence as a producer and also pulls off a fantastic dual performance, but not to be totally overshadowed are the contributions by writer Simon Rich. He scripted the movie based on a four-part novella that was published in the New Yorker, and he injects the world around Rogen's characters with a unique and hilarious energy that makes the film feel different from any mainstream comedy we've seen in recent years.
What makes the work even more impressive is that it is the first feature screenplay by Rich that has been produced – however, you shouldn't fret about not being able to see more of his work. In the last decade he created a nice home for himself on the small screen, starting with a long run behind-the-scenes at Saturday Night Live. The reason I'm writing this feature, though, is to specifically shine a light on two series that he personally created: Man Seeking Woman and Miracle Workers. If you enjoyed An American Pickle, you should most definitely seek them out, for all of the reasons outlined below:
Man Seeking Woman
In 2015, Simon Rich teamed up with FX to turn his book of short stories, The Last Girlfriend on Earth, into a television show. Armed with an outstanding, brilliant cast including Jay Baruchel, Eric Andre, Britt Lower, and Maya Erskine, Man Seeking Woman began with a simple baseline premise – following an awkward guy in his late 20s (Baruchel) who finds himself newly single following the end of a long-term relationship. But what makes it particularly special is that it all comes paired with a special surrealist vision.
It's an approach with many dimensions, but the best way to describe it is that the series exists in a world without metaphor. When Baruchel's Josh Greenberg learns that his ex-girlfriend is dating somebody new, it turns out to be Adolf Hitler. When it's time to try and text a girl he meets on the train, the planning requires a Dr. Strangelove-esque war room. When he's being forced to attend a wedding, it's literally in hell.
An American Pickle doesn't go quite that far, but a simple reflection on the HBO Max film reveals commonality in their voices. The perfect example is the complete lack of explanation regarding how the pickle brine was able to keep Herschel Greenbaum alive for a century, but the same kind of tone is also struck in the quickness with which Herschel is able to get his business up and running, and even become a potential political candidate.
On its own terms, Man Seeking Woman is also just a wonderful series that never got as much love and attention as it deserved, though fortunately did still manage to pull off a solid three season run. The sharp and weird writing combined with the talent of the central cast has exactly the results you expect, and what elevates the show even further is the way that it successfully evolves and continues to have something to say. It starts in its first season by being about the perils of dating in the modern world, but by Season 3 he is in a committed relationship, and the presence of Katie Findlay's Lucy adds a whole new dimension to the series.
What it comes down to is Simon Rich's ability to paint well with a broad brush. He doesn't go for meticulous detail or symbolism, but instead blunt, fantastical allegory – which is further sculpted to get huge laughs. Man Seeking Woman goes even broader than American Pickle, but it's just as clever and smart.
All three seasons of Man Seeking Woman are now streaming on Hulu (opens in new tab).
Miracle Workers
Man Seeking Woman came to an end in 2017, but Simon Rich didn't wait long to find a new home for a new show. Collaborating with TBS, Rich has made the still-running Miracle Workers – which is shaping up as a kind of anthology show that has each season tell a wholly new story. With a central cast including Daniel Radcliffe, Geraldine Viswanathan, Steve Buscemi, Lolly Adefope, and Jon Bass, the first run of episodes is set in Heaven two weeks before God plans on destroying the Earth, and the second follows a young woman during the Middle Ages as she finds endless frustration with the functioning of society.
If you particularly clicked with the dark humor and perspective on value systems in An American Pickle, it's an absolutely must-watch.
Offering audiences a balance of the light and the dark, the HBO Max release possesses extreme notes of both cynicism and optimism in regards to humanity and society, and while the movie gets that across with the characters of Herschel and Ben Greenbaum, Miracle Workers finds different ways to tackle similar themes through its different stories. In Season 1 it falls to the responsibility of two angels (Radcliffe and Viswanathan) to convince a totally checked-out God (Buscemi) that existence on Earth is worth saving – which is another instance of blunt, fantastical allegory that examines how we all presently live our lives.
Season 2, which sports the apt subtitle Miracle Workers: Dark Ages, arguably has an even closer comparison to An American Pickle thanks to the film's opening sequence in the fake Eastern European country of Schlupsk (which isn't portrayed to be advanced much beyond the Dark Ages). Herschel Greenbaum starts as a ditch digger, and in the show Geraldine Viswanathan's Alexandra Shitshoveler is seemingly destined to follow in her father's footsteps and become… well, you know. Like Herschel, Al has aspirations of having a better, more substantial life, but discovers that there are not only endless, needless all-too-familiar obstacles, but also a kind of eternal struggle.
Clearly Miracle Workers is a totally different show than Man Seeking Woman, but Simon Rich's particular voice screams through both – and it's a voice that will be recognizable to all who have seen and enjoyed An American Pickle.
Miracle Workers: Dark Ages is now available to stream on TBS.com with a cable subscription, and is also available through Hulu + Live TV (opens in new tab) and on Sling TV (opens in new tab). Season 1 is available for digital purchase at major retailers.
An American Pickle is now available for all HBO Max (opens in new tab) subscribers.
Assistant Managing Editor
NJ native who calls LA home and lives in a Dreamatorium. A decade-plus CinemaBlend veteran who is endlessly enthusiastic about the career he's dreamt of since seventh grade.