Why One Popular Major Episode Of The Office Probably Wouldn't Be Made Today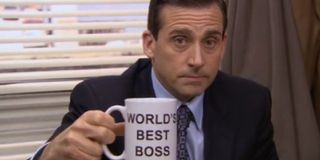 The Office practically served as a blueprint for what not to do in an office, or pretty much any environment. While the NBC series and its sense of humor have remained intact in its shift to syndicated reruns and Netflix, a scene from the "Dwight's Christmas" episode was edited out for its use of blackface. More recently, The Office guest star and The Daily Show vet Larry Wilmore explained why he thinks a mega popular episode of the sitcom probably wouldn't be made today.
Hardcore The Office fans will remember the episode "Diversity Day." In the second episode of Season 1, Larry Wilmore's Mr. Brown was tasked with giving a diversity training seminar to the Dunder Mifflin staff. Naturally, it did not go well and was often derailed by insensitive and offensive remarks about race, gender, and more.
Suffice it to say that all of Mr. Brown's lessons about the topic went in one ear and out the other. During a Television Critics Association panel, Wilmore was blunt about how "Diversity Day" would be received now vs. in 2005. Here's what he said (via Collider):
Larry Wilmore may be onto something. I don't think that episode would be made today, either. The Office writers seemed to know that certain things were inappropriate, and I'd argue that that was the point (though that's up to interpretation). I also don't think anyone would describe Michael as being the world's best boss, despite what he would have us believe.
Led by an inappropriate boss like Steve Carell's Michael Scott, you can see where anything could go wrong (and often did) at Dunder Mifflin, and it was a big part of its comedy schtick. All that said, a workplace sitcom produced in 2020 would surely look very different than it did in 2005. Real-life growth and change help to evolve the world of make believe.
We're already beginning to see major changes in the world of television, with white actors stepping down from voicing characters of color and conversations about police depictions on TV. A character pretending to have an Indian accent and a plethora of other offensive things that showed up in "Diversity Day" would certainly be received differently now, as it should. I'll be interested to see how comedies will tackle any and all topics moving forward.
All nine seasons of The Office are currently streaming on Netflix, and the show will be moving to NBCUniversal's Peacock next year. For more on what to watch, be sure to check out our 2020 fall TV premiere guide.
Your Daily Blend of Entertainment News
Thank you for signing up to CinemaBlend. You will receive a verification email shortly.
There was a problem. Please refresh the page and try again.