How The Office Will Give Fans Something New For Peacock Streaming Debut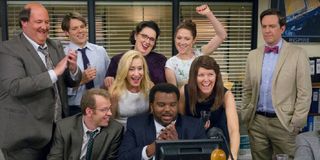 The Office ended seven years ago, but reruns on cable television and Netflix subscribers' ability to stream all nine seasons have kept the comedy series popular in the years since. However, with The Office leaving Netflix for Peacock in January, chairman of Peacock and NBCUniversal Digital Enterprises Matt Strauss revealed fans will have new reasons to rewatch the episodes when the show debuts on the streaming service.
The Office will have a new streaming home for 2021, and Peacock will be adding in some new-to-fans content to go along with it. NBC will be adding in previously unseen footage from the show once it changes services. So if you thought you've seen all the shenanigans from the Dunder-Mifflin employees, think again. Here's what Matt Strauss told Bloomberg about what fans can expect:
When The Office originally aired on NBC, the sitcom was edited down to the traditional 22 minutes (give or take) to better fit alongside commercial breaks in the 30-minute time slot allotted. The runtime didn't change when the show went to Netflix, though it's no secret that certain series get chopped down even more when airing in syndication. That said, we'll have to wait a bit longer to find out what these new "elements" will entail.
I can only imagine that Matt Strauss is alluding to deleted or extended scenes and other such footage that got left on the cutting room floor for time's sake. And hey, maybe there'll even be some behind-the-scenes content from the cast, and/or extra bloopers thrown into the mix. But maybe that's more of a personal wish than anything else.
Regardless of what the additional content will turn out to be, The Office's arrival on Peacock is a big deal. The streaming service reportedly has racked up 10 million subscribers at the moment. Will the arrival of all nine seasons of The Office boost those numbers even more? It's definitely possible, and fans can probably expect to see the show's ensemble promoting that arrival, too. Either way, enticing fans of the beloved sitcom with elements of the show that didn't make it to air is definitely a good way to pique people's interest in Peacock, especially those who may not have been interested in signing up otherwise.
Besides The Office, Peacock has a lot of other TV shows and movies to offer subscribers. That includes original scripted series like Brave New World, the animated series Cleopatra in Space, as well as the upcoming Saved by the Bell revival. Meanwhile, beloved NBC series like Parks and Recreation, 30 Rock, Friday Night Lights,and Saturday Night Live are all currently available to stream on the service.
For now, all nine seasons of The Office are currently available to stream on Netflix, with the comedy series headed to NBCUniversal's Peacock in January 2021. For more on what to watch elsewhere, be sure to check out our 2020 Fall TV premiere guide.
Your Daily Blend of Entertainment News
Your Daily Blend of Entertainment News
Thank you for signing up to CinemaBlend. You will receive a verification email shortly.
There was a problem. Please refresh the page and try again.