9 The Office Inside Jokes That Are Still Completely Brilliant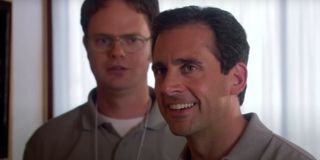 Michael Scott once said that he loved inside jokes and would one day love to be a part of one. As fans of NBC's US remake of The Office at least know, Steve Carell's oafish manager of Dunder Mifflin's Scranton branch was surrounded by them.
As with any great sitcom, especially one like The Office that took time to really find its footing, the comedy is not always "situational," but comes from one amusing quirk that soon evolves into something ingrained into the series' DNA. In particular, this characteristic tends to be something only a committed viewer would notice as it reoccurs, or can qualify as one subtle tribute to a related, or even non-related, additional work of certain cultural significance). Hence the name "inside jokes."
Some of the more iconic recurring gags of The Office, particularly Jim Halpert's (John Krasinski) pranks at the expense of Dwight Schrute (Rainn Wilson) or Michael Scott's repeated, inappropriate use of the previously relevant phrase "That's what she said," unfortunately would not qualify under the true definition of inside jokes. However, as fans who have undergone innumerable binges of all nine seasons will know, the series is still chock full of plenty that do. These are nine of the most cleverly hilarious examples.
Michael's Infatuation With Ryan
From the moment Ryan Howard (B.J. Novak) came through the door of Dunder Mifflin, initially as just a temp, Michael Scott could barely ever leave him alone. The manager's relationship with the shady employee has a unique quality that ranges from endearing (thinking of him as a surrogate son), to desperate (copying his facial hair), and, most often, downright creepy (calling Ryan "hot" both in his personal journal and aloud in a failed attempt to mock him). All I can say is that I am glad Michael eventually met Holly Flax (Amy Ryan) or else this seeming case of unrequited love might have been his most significant relationship on The Office, if not for his even more dysfunctional time with Jan (Melora Hardin).
Bob Vance, Vance Refrigeration
One relationship on The Office that proved to be thoroughly endearing was Phyllis (Phyllis Smith) and Bob Vance (Robert R. Shafer), from Vance Refrigeration, whose occupation I feel compelled to mention here as he does the same when introducing himself to anyone, whether he had already known them or not. What seems like an odd character trait just for laughs is actually one of the more clever examples of meta humor on the series, which is framed as a documentary. The reason he repeats the name of his company so often is because he sees the surrounding cameras rolling as an opportunity for free publicity.
Stanley's Incomparable Lack Of Enthusiasm
Of course, not every character on The Office was particularly concerned about the camera crew invading Dunder Mifflin on a daily basis. In fact, unless it was Pretzel Day, Stanley Hudson (Leslie David Baker) rarely gave much of a damn about anything going on around him, save his crossword puzzles. This joke reached its peak in a Season 7 episode in which employees put the paper salesman's well-understood characteristic to the ultimate test with increasingly elaborate attempts to see what might get his attention.
Michael's Alternative Vocabulary
On the other hand, Michael Scott never got enough of the cameras and always took advantage of interviews on The Office, much to his own downfall, however. Sometimes the problem was not what he said (although it would often tend to be that), but his choice of words as many of them were used incorrectly or not real words at all, whether he realized it or not. Highlights of this include him explaining that a dead employee's "capa was detated from his head," describing wine as having an "oaky afterbirth," or claiming to not be superstitious, but a "little stitious."
Dwight's Junior Salesman Interviewees
Sometimes a subtle or easily overlooked joke for the The Office is enhanced when it becomes a central theme of an episode. It has the potential to be even better when it is several jokes taking the spotlight, such as in Season 9's "Junior Salesman," in which Dwight conducts interviews for Jim's replacement that turns into a who's who of the former Assistant to the Regional Manager's friends, family, or associates. The reunites Dwight with his cousin Mose (The Office writer Michael Schur), friend and inept assassin Trevor (Broad City's Chris Gethard), and his former babysitter turned "strictly carnal" lover, Melvina (Beth Grant).
Threat Level Midnight
Probably the greatest example of an inside joke from The Office that became the hilarious central plot of an episode was when Threat Level Midnight was made into a feature film. This espionage thriller from the mind of Michael Scott was first introduced in Season 2 when the Dunder Mifflin staff accidentally discovered the script and was paid subtle reference to in "Product Recall" when Michael uses the title to describe the trouble an inappropriate watermark has gotten them into. The finished product of Threat Level Midnight itself contains plenty of inside jokes as well, either from the series or in pop culture, most famously an odd reference to a scene between Ben Affleck and Liv Tyler in Armageddon.
The Neverending Mystery Of Creed Bratton
We never did, however, get an episode of The Office that focused primarily on Creed Bratton, portrayed by the actor of the same name, and that might be the best case scenario. Whatever brief insights we received into the Dunder Mifflin employee's private life were as equally funny as they were deeply unsettling, such as references to his experience with various cults, his insistence that the camera crew pretend to talk to him until police leave the premises, and noting his showing up on Halloween covered in blood as "really good timing." The truth behind Creed Bratton, or whatever his real name was, may never be revealed, but who knows how well we would take it?
The True Identity Of The Scranton Strangler
Another one of The Office's most enduring mysteries is the case of the Scranton Strangler, whom many people believe is actually Toby Flenderson (writer and one-time showrunner Paul Lieberstein). The theory, commonly speculated by many fans, is supported by such clues as certain incriminating comments the HR manager has made in passing, his absence when the staff watches a live police stand-off with the criminal from his desk, and his guilty confession that George Howard Skub, the man whose jury Toby served on convicted him of the murder, may be innocent. The only reason I would have to doubt the theory is that if Toby was really going to snap on someone, it probably would have Michael first.
Michael Meets David Brent
The Office is not without its striking cameos, such as Will Ferrell as Michael Scott's replacement, Kathy Bates as Sabre CEO Jo Bennet, or a pre-Oscar nominee Amy Adams as a woman selling purses. The most brilliant and deserving appearance, however, has to be Ricky Gervais as David Brent, the central character of the original British version of the series, which the comedian also co-created with Stephen Merchant. Watching Michael Scott interact with his UK counterpart in his final season, if only for a brief moment, was a momentous occasion years in the making with Gervais finally receiving recognition for the US hit in the most hilariously meta way possible.
What do you think? Do these inside jokes make you laugh each time you rewatch The Office or, do you still not get them? Let us know in the comments and be sure to check back for more updates and information about the beloved mockumentary series here on CinemaBlend.
Jason has been writing since he was able to pick up a washable marker, with which he wrote his debut illustrated children's story, later transitioning to a short-lived comic book series and (very) amateur filmmaking before finally settling on pursuing a career in writing about movies in lieu of making them. Look for his name in just about any article related to Batman.
Your Daily Blend of Entertainment News
Thank you for signing up to CinemaBlend. You will receive a verification email shortly.
There was a problem. Please refresh the page and try again.