Ted Danson: 8 Things You Might Not Know About The Good Place And Cheers Star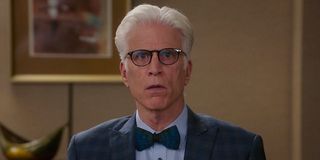 Ted Danson is, without a doubt, one the of the most fascinating actors in Hollywood. Over the course of his career he's played a former baseball player who opens a bar where everybody knows your name, portrayed a quirky magazine editor with a New York penthouse full of issues, and the architect of a seemingly picturesque afterlife. But the two-time Emmy winner's life when he's not standing in front of the camera is just as interesting.
From his days as a failed basketball player to standing up for a number of worthwhile causes, and yes, some kookiness in between, here are eight things you might not know about The Good Place and Cheers star.
Ted Danson Originally Wanted To Play Basketball Before Getting Into Acting
Ted Danson is most known for his portrayal of a washed-up relief pitcher who left the game behind to open a bar on Cheers, but having a character who transitioned from sports to a new line of work is something close to home for the veteran television actor because he originally wanted to play basketball before finding his passion in acting while a freshman at Stanford. During a 2015 conversation with INFORUM regarding the FX series Fargo, Danson revealed that while one dream came to an abrupt end that first year at college, he found another — acting — which he believes is not too far off from playing a team sport, especially when dealing with the large ensemble casts he's been a part of over the years.
Ted Danson Didn't Think He Was Cut Out For Sam Malone After Watching The Cheers Pilot
Anyone who has watched even part of an episode of Cheers knows that Sam Malone (Ted Danson) is one cool character, perhaps one of the coolest in the history of television. But Danson revealed during a 2018 conversation on The Off Camera Show that he initially didn't think he was cut out for the role after watching the pilot and still didn't feel comfortable in the role for at least a year before coming to terms with it, revealing:
The Cheers star eventually came around and quit being terrified anytime anyone would say that Sam Malone was this sexy man and learned to just keep his mouth shut while he faked it.
Ted Danson Has A Rather Simple, Yet Amazing Way Of Getting Jobs
Since first becoming a massive star with Cheers, Ted Danson has remained relevant with major roles in a number of different shows like Becker and CSI, as well his most recent role as Michael on The Good Place. But you might be wondering, what's Danson's secret and how does he get so many great gigs? Well, here's what the award-winning actor told Variety in 2018:
No wonder Ted Danson has worked with some of the funniest showrunners in modern television with phenomenal runs on HBO shows like Bored To Death and Curb Your Enthusiasm. Speaking of which…
Ted Danson Agreed To Do Curb Your Enthusiasm Because He Felt Sorry For Larry David
Although he's not in every episode of Curb Your Enthusiasm, Ted Danson (or at least the fictionalized version of himself) is one of the best things about Larry David's anxiety-ridden yet highly entertaining comedy series. But as Danson revealed in a 2015 conversation the AV Club, the actor agreed to help out on the show because he felt sorry for how people responded to a private screening of the show's pilot. The Cheers veteran said he approached David after the screening and said that if he could ever be of any help he would be willing to do so. A year later, Danson said he got the call and has been making the show's version of the Seinfeld creator's life a living hell ever since. And he's pretty, pretty good at it too.
The Bored To Death Star Once Got So High He Forgot His Lines
For three seasons, Ted Danson portrayed George Christopher, the editor of a made-up New York magazine and friend Jonathan Ames (Jason Schwartzman) on the HBO comedy series Bored to Death, and during that time played one of the most unique potheads in the history of stoner comedies. But according to the show's creator and executive producer Jonathan Ames (the real one), Danson once got so high with members of the cast the night before reshoots that the veteran actor forgot his lines the next day. Ames explained during Vulturefest (via Vulture) that this was the first time in the show's history that Danson had forgotten his lines, and the showrunner felt awful for messing with what he called a machine.
The Cheers Star Had A Hard Time Getting Behind The Bar For An Episode Of The Good Place
The Season 2 finale of The Good Place might have featured one of the most clever and appreciate callbacks to Ted Danson's role of Same Malone on Cheers, but the veteran actor was horrified when he first learned that his character, Michael, would be stepping behind the bar, something Danson hadn't done on television in than 25 years. Here's what Danson had to say about the experience during a 2018 conversation with EW:
Michael's job behind the bar went on to be well-received by viewers of the Season 2 finale, but who can blame them, it was awesome seeing Sam Malone, or at least the guy who brought him to life all those years ago, tending bar once again.
Ted Danson Can Do A Really Gross Party Trick With A Swedish Fish
Ted Danson seems like a good time wherever he goes, but his fellow actors on The Good Place were shown the lengths the actor was willing to go to get a good laugh out of people on set. In a 2018 interview with Vulture, Manny Jacinto, who portrayed Jason Mendoza on the NBC comedy series, revealed that Danson once showed everyone what sounds like the grossest party trick imaginable, stating:
The Good Place star said that Ted Danson's trick left everyone in a state of shock and disgust and that several members of the cast freaked out and ran across the stage after seeing something no one will surely ever forget.
Ted Danson Has A Pretty Amazing Passion For The Natural World
Ted Danson has made a name for himself as a funny man in film and on television over the years, but if there is one thing that The Good Place star is serious about it is the environment. Whether it be having a role in the 2011 environmental drama Big Miracle or getting arrested at a climate change rally in 2019, the actor takes his love of the natural world very seriously. One of Danson's biggest contributions to the field of conservation was the creation of the American Oceans Campaign, which merged with Oceana, a nonprofit ocean conservation organization, where the actor serves as vice chair. Danson even wrote a book on his efforts in 2011 called "Oceana: Our Endangered Oceans and What We Can Do To Save Them."
See, Ted Danson is more than just a funny, confident guy he has played on television all these years. Look behind the roles and you find a sensitive, passionate, and yes still hilarious human being with a lot of love for the world and those living on it.
Your Daily Blend of Entertainment News
Philip grew up in Louisiana (not New Orleans) before moving to St. Louis after graduating from Louisiana State University-Shreveport. When he's not writing about movies or television, Philip can be found being chased by his three kids, telling his dogs to stop yelling at the mailman, or yelling about professional wrestling to his wife. If the stars properly align, he will talk about For Love Of The Game being the best baseball movie of all time.
Your Daily Blend of Entertainment News
Thank you for signing up to CinemaBlend. You will receive a verification email shortly.
There was a problem. Please refresh the page and try again.