What To Know About The Black-ish Episode That Was Originally Banned From Airing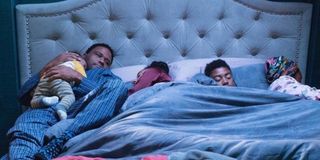 Earlier this month, following years of speculation and backstage disagreements, ABC finally released 2018's banned black-ish episode online. Titled "Please, Baby, Please," this half-hour Season 4 storyline — co-written and directed by creator Kenya Barris — followed the Johnson family as they grappled with the state of the nation one year after President Donald Trump's election. A pensive and undeniably political installment in the acclaimed sitcom, ABC decided not to air it, for reasons left unclear at the time. Now that it's available to stream, TV lovers can determine for themselves whether or not the controversy was truly warranted. But for those of you left unfamiliar with the backstory behind this once-shelved black-ish episode, here's what you should know.
The Episode Reflects On Trump's Presidency One Year After His Election, Framed Around Dre's Attempt To Calm His Infant Son
In this previously-unseen episode of black-ish, we follow patriarch Dre (Anthony Anderson) as his frantic mind wrestles with a fractured country led by President Donald Trump, who is referred to exclusively as the "Shady King." While contemplating what's become of our nation one year after the 2016 election, Dre fights off sleep when his infant son wails through a thunderstorm. While matriarch Rainbow (Tracee Ellis Ross) stays in bed, Dre soothes his restless child by reading a children's book. Specifically, Please, Baby, Please by Spike Lee and Tonya Lewis Lee, with narration from Spike Lee heard through an animated illustration of the text. From there, Dre talks to his son about his worries and frustrations, and the conversation continues with other family members discussing Black history and hot-button topics.
ABC Pulled The Episode in 2018 Over 'Creative Differences'
Originally set to air on February 27th, 2018, ABC announced that "Please, Baby, Please" would be shelved indefinitely over "creative differences [they] were unable to resolve" between these executives and show creator Kenya Barris. While black-ish has tackled politically heavy topics in the past, the station wasn't willing to air this particular episode, for reasons that were left unclear in this press release. Barris noted at the time that it was a "mutual" agreement between himself and ABC, as neither were "happy with the direction of the episode." Speculation ranged from the episode's discussions on Colin Kaepernick and Donald Trump, as well as the situation surrounding Roseanne. Earlier this year, during an appearance on The Daily Show with Trevor Noah, Barris provided a little more clarity about the situation and some insight about what ultimately happened behind-the-scenes.
The Dust-Up With 'Please, Baby, Please' Preceded Show Creator Kenya Barris Signing A Multi-Million Dollar Contract With Netflix Later That Year
Evidently, the conflict over this controversial episode caused a rift between the station and the showrunner. While the details surrounding the shelving of "Please, Baby, Please" remain vague, Kenya Barris was clearly disappointed about ABC's decision to not broadcast his thoughtful and explicitly political episode. Later in 2018, it was announced that Barris ended his deal with ABC and signed a reportedly $100 million contract with Netflix. The timing of this news shortly after the well-reported contentions found from this banned episode wasn't coincidental.
The frustrating creative toll of this once-lost episode definitely weighed on Barris as he left ABC to work with Netflix, and the showrunner even later noted in a frank interview that if he was going to "step out," he wanted it to be somewhere where he could "take off all the straps and and really hang out of the plane," and be "loud, bold and unapologetic."
In 2020, Kenya Barris Asked ABC To Make This Episode Available, Notably After Re-Airing Two Episodes Related To Race Relations
Earlier this year, after some time had passed from the debacle and the dust started to settle, Kenya Barris returned to ABC and asked if it would be possible to finally make "Please, Baby, Please" available to the public. On Twitter, Barris noted that the station recently re-aired Season 2's "Hope" and Season 4's "Juneteeth," both of which deal with race relations, so the showrunner wanted to know if the American Broadcasting Company would also consider putting this hotly-contentious episode out for public consumption. According to Barris, ABC recognized the importance of this moment and therefore "listened and agreed." Shortly thereafter, ABC released the episode through Hulu, which is also under the Disney corporate umbrella.
Amid The Black Lives Matter Movement, The Episode Is Finally Available To Stream
The Black Lives Matter movement was founded in 2013 to advocate non-violent civil disobedience in protest against police brutality and other racially motivated violence. With the tragic deaths of George Floyd and Breonna Taylor by the police earlier this year, interest in the movement has increased significantly in the last few months, sparking a new civil rights movement amid heavily-publicized protests across the nation. With the focus of the Black Lives Matter movement renewed in the public's eye, this episode's internet debut notably comes at a time when the media is highlighting Black narratives, Black perspectives, and Black artists. The dialogue heard throughout this episode often mirrors many conversations Americans are having at this present moment in our nation's history. It makes sense that ABC wants this relevant and emotional episode to be seen and discussed now.
Some Fans Have Called Out ABC For Shelving 'Please, Baby, Please' In The First Place
Once the episode became publicly available, many black-ish fans went to social media to express their thoughts and feelings on this once-sidelined episode. The conscious on the episode itself appears to be positive, though many viewers were critical of ABC for shelving it in the first place. Here are some examples of fans calling out ABC for refusing to air this episode back in 2018 as it was originally intended, and you can read more here.
Kenya Barris Hopes The Episode Will Inspire Some 'Much-Needed Conversation'
Now that the episode is finally available to the public via Hulu, Kenya Barris hopes that all the time, hassle, and conflict that ensued behind the scenes proves worthwhile. While it was an arduous process to get it out there, Barris notes that he's "incredibly proud" of the work and he ultimately hopes that all the feelings he poured out writing and directing this contentious 22-minute block of television provide viewers at home with ample, worthwhile reflection and conversation both now and moving forward. He's also thankful for the continued dedication of black-ish's cast and crew for helping him create his vision through this episode and several others. Here's what Barris posted on Twitter as he announced the episode's streaming debut:
"Please, Baby, Please" is now available to stream on Hulu here.
Your Daily Blend of Entertainment News
Will is an entertainment writer based in Pittsburgh, PA. His writing can also be found in The Playlist, Cut Print Film, We Got This Covered, The Young Folks, Slate and other outlets. He also co-hosts the weekly film/TV podcast Cinemaholics with Jon Negroni and he likes to think he's a professional Garfield enthusiast.