Kenya Barris Has Some Blunt Thoughts About The Critiques Of His Shows Including #BlackAF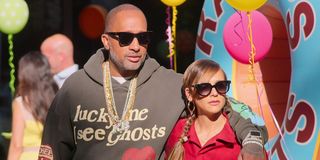 Over the past several years, Kenya Barris has found mainstream success with black-ish and the spinoffs that followed. However, the shows haven't been without their share of critics, and this has especially been true when it comes to his latest offering, #blackAF. Barris is well aware of the criticism aimed at his new Netflix series and was brutally honest when addressing it. Now, he's going in even deeper on the critiques he receives and, just like before, he isn't mincing words.
At this point, Kenya Barris seems to have experienced all sorts of criticism but, for the TV writer and producer, some of it feels a bit personal. But as frustrating as it gets for him, Barris says he aims to take the high road when faced with it:
It certainly be said that Kenya Barris didn't hold back when he appeared on THR's Comedy Showrunner Roundtable. While his work has never been universally praised, it could be argued that his work has never drawn such a polarizing response from audiences. When black-ish first premiered in 2014, the show quickly became a hit for ABC and became somewhat of a critical darling during its early seasons.
But #blackAF, on the other hand, has definitely had a different kind of debut. Unlike Barris' previous projects, the Netflix comedy actually centers on Barris, who plays a fictionalized version of himself. In the show, he and his wife, played by Rashida Jones, attempt to raise their family in the midst of the Hollywood scene. Although the show has struck a chord with a portion of viewers, many others haven't been as enthused. This mostly stems from the show's similarities to black-ish.
Barris is aware of this particular critique and has argued that other creatives also tell the same kinds of stories in different projects. He also says that he uses these storytelling methods because he believes doing so will normalize certain Black stories.
It should be said that while criticism can be harsh at times, especially from general audiences, it does come with the territory of being a high-profile creative in Hollywood. Interestingly, one episode of #blackAF was even devoted to the topic of critiquing others' content.
Even though some of the responses to #blackAF have been less than desirable for Kenya Barris, he still seems to be enjoying the overall experience. He's even referred to the show as one of the most rewarding creative experiences he's ever been through. With this, one can only imagine that Barris will likely stick to his guns when #blackAF returns for its second season on Netflix.
Covering superheroes, sci-fi, comedy, and almost anything else in film and TV. I eat more pizza than the Teenage Mutant Ninja Turtles.
Your Daily Blend of Entertainment News
Thank you for signing up to CinemaBlend. You will receive a verification email shortly.
There was a problem. Please refresh the page and try again.