Comedy Central Is Cancelling Shows Left And Right, But What About The Daily Show?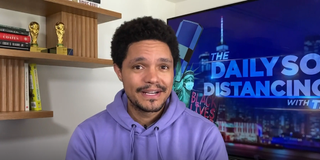 Comedy Central has been cancelling shows left and right as of late. After being renewed for four seasons back in January, Tosh.0 was recently cancelled and will end after its upcoming twelfth season. The news came a day after it was confirmed that the Emmy-nominated series Drunk History was also getting the axe. With the network's live-action series on the chopping block, does this mean bad news for The Daily Show?
Comedy Central is dropping its live-action shows as parent company ViacomCBS is moving toward developing more adult animated series. For years now, South Park has been a huge draw for Comedy Central and the network has already given the go-ahead for reboots of Beavis and Butt-Head, The Ren and Stimpy Show, and the Daria spinoff Jodie.
Per The Hollywood Reporter, ViacomCBS, along with host and comedian Daniel Tosh, will be looking to potentially find a home for Tosh.0 at another network. That said, it's reportedly unlikely that it will go to CBS All Access. The move was still shocking, to say the least, especially considering that the show had just been renewed for several seasons a few short months ago.
What's more, over the last few months, Comedy Central has been shifting most of its scripted series to HBO Max, including the comedies South Side and The Other Two. The only scripted original left on Comedy Central is currently Awkwafina Is Nora From Queens, which will continue airing on the network for its second season. So, with the network shaking up most of its format (and so quickly), should viewers expect for The Daily Show to be the next to get cancelled?
Luckily, that doesn't seem to be the case. Beyond adult animation, Comedy Central will also be focusing its line-up on topical series like The Daily Show, while also developing TV movies. Phew! That's a relief, because the show has been a staple for nearly three decades, beginning with host Craig Kilborn before being hosted by Jon Stewart for 16 years. Stewart passed on the baton to current host Trevor Noah in 2015.
I think the Comedy Central show that got it the worst is Drunk History. The beloved series had already begun filming its seventh season, but had to stop due to Hollywood-wide production shutdowns in March. The series will not carry on with any more episodes, capping off its run with Season 6. Meanwhile, Tosh.0 will air its twelfth and final season on Comedy Central beginning in September, with its series finale airing on November 24.
How are you feeling about Comedy Central's new focus on adult animation? Let us know in the poll below!
This poll is no longer available.
Stay tuned to CinemaBlend for more updates. In the meantime, be sure to check out our 2020 fall TV premiere guide for more viewing options.
Your Daily Blend of Entertainment News
Thank you for signing up to CinemaBlend. You will receive a verification email shortly.
There was a problem. Please refresh the page and try again.