Beavis And Butt-Head And 8 Other Great Cartoons That MTV Gave Us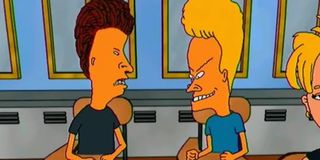 Who would (uh, huh-huh, you said "wood") have thought that MTV's dumbass duo would be making yet another return to television, this time to Comedy Central? Probably the most popular cartoon from MTV, Beavis and Butt-Head is a welcome return to the small screen, and I can't wait to see how their immature antics will parallel our current generation of Millennials and Gen-Z'ers.
But MTV had a lot of other great cartoons back in the '90s and 2000s, too. Some were comedic, while others were more adult. But all of them were distinctly MTV and fit the platform they appeared on. How many of these great cartoons do you remember?
Beavis and Butt-Head
It's kind of crazy to think about how big Beavis and Butt-Head got in the '90s. They started out on Liquid Television (more on that in a few) with their segment of "Frog Baseball" and then got their own show in 1993. From there, they ran for seven seasons, got their own movie, and then had a revival in 2011 for Season 8.
That said, what is it about Beavis and Butt-Head that people love so much? They go on little stupid adventures together, constantly trying to score, and in-between these antics, they sit on the couch and riff on music videos. But it's hilarious every time. It's always been a much smarter show than one would think given the subject matter, and this upcoming version has a lot of material to work with given today's generation, so that will be fun.
Liquid Television
Without Liquid Television, there would be no Beavis and Butt-Head. Or Aeon Flux for that matter (more on HER in a moment). Hell, there probably wouldn't even be an Office Space without Liquid Television since Mike Judge first introduced Milton to the world on this segmented program.
In a nutshell, Liquid Television, which ran from 1991 to 1995, was basically a series of short cartoons from indie artists that were jam-packed into 30 minutes episodes. Unfortunately, because of the music videos in many of the episodes, you really can't find reruns of the show due to copyright issues. So it's one of those, you kind of had to be their shows. A pity, really. There was some great stuff on there.
Aeon Flux
Again, the world has Liquid Television to thank for Aeon Flux, which was a sexy, sci-fi action thriller starring a protagonist in revealing leather. The story, which began on Liquid Television in 1991 before she got her own show, which ended in 1995, takes place in the year of 7698 after an environmental disaster. There was a story nestled in there about a dystopian future, but the real draw was Aeon Flux herself, who was acrobatic and deadly.
There was a disappointing movie starring Charlize Theron made about the show, but it couldn't match the distinct look and assuredness of the MTV original.
The Head
Appearing on MTV's Oddities series from 1994 to 1996, The Head is a story about a man named Jim whose head becomes the new home for an alien named Roy (though, the alien's actual name sounds like a record played backward). And yes, even though the show is several years old, that plot still sounds absolutely bonkers to me.
The Head was the kind of show that only MTV would pick up, and it was paired with my favorite cartoon series of all time, The Maxx. What a time to be alive.
The Maxx
As mentioned, The Maxx, which was originally a comic book series from Sam Kieth, was a part of the Oddities series alongside The Head, but it only lasted for one year in 1995. The story is about a homeless man wearing a costume who has these terrible headaches that send him to a strange world called the Outback where he protects a jungle queen (who happens to be a social worker in the real world).
Following the first 11 issues of the comic, The Maxx was destined to be a cult classic from its very first episode, and it's still looked back upon fondly today.
Daria
A spin-off of Beavis and Butt-Head (though Mike Judge had nothing to do with the show), Daria was different in every way. Running from 1997 to 2002, rather than focusing on the dumbest kids in school, it focused on the smartest, most jaded kid at school instead. It was also much more high school-focused, often poking fun at the absurdity of teen spirit and high school in general.
Daria ran for five seasons, and Jodie, who was pretty much the only black girl at Lawndale High School, is also getting her own spin-off show, so that's exciting (said in Daria's sarcastic tone. But seriously, I can't wait!)
Celebrity Deathmatch
Silly, irreverent, and completed dated now, Celebrity Deathmatch pitted then-famous celebrities against each other, such as Mike Tyson vs. Evander Holyfield. Or Mick Jagger vs. Steven Tyler. It was stop-motion Claymation, so really, anything went.
There would be multiple matches per episode, and the battles would sometimes be connected by names alone (like Mariah Carey vs. Jim Carrey? Uh… ok?). It had two runs, one from 1998 to 2002, and a second on MTV2 from 2006 to 2007. It lasted for 6 seasons and was fun while it lasted.
Clone High
A show so controversial that it ignited a hunger strike (because of its portrayal of Gandhi), Clone High has the distinction of being created by Cloudy with a Chance of Meatballs and The Lego Movie writers and directors, Phil Lord and Christopher Miller, as well as Scrubs creator, Bill Lawrence.
Having only 13 episodes and running from 2002 to 2003, Clone High was weird. It's about a high school populated by the clones for the purpose of using their strengths and abilities for the military… or for creating a theme park called Cloney Island. Abe Lincoln, JFK, Gandhi, Joan of Arc, and Cleopatra make up the main cast of clones. It was kind of shrugged off back when it aired, but it's become a cult classic ever since. And who knows? It might come back. A reboot was announced just this month.
Wonder Showzen
Kids show, kids show, oh, my God, it's a kid's show. Actually, Wonder Showzen, which ran from 2005 to 2006 on MTV2, was the farthest thing from it. While it did have a few animated segments, it was more like a warped and disturbing version of Sesame Street, with rude puppets and everything.
With its super dark humor and political commentary, Wonder Showzen is probably my favorite MTV show ever. Patience! Patience. Patience! Patience.
MTV is often remembered for its music videos and reality TV, but its animation was second to none. Hopefully, Comedy Central can do Beavis and Butt-Head justice and continue its MTV legacy.
This poll is no longer available.
Your Daily Blend of Entertainment News
Rich is a Jersey boy, through and through. He graduated from Rutgers University (Go, R.U.!), and thinks the Garden State is the best state in the country. That said, he'll take Chicago Deep Dish pizza over a New York slice any day of the week. Don't hate. When he's not watching his two kids, he's usually working on a novel, watching vintage movies, or reading some obscure book.