The Bachelor's Nick Viall Reveals The Season 21 Date That Made Him 'Really Uncomfortable'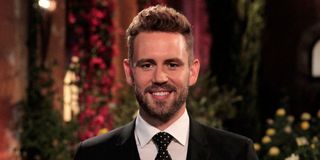 Spoilers ahead for Nick Viall's episode of The Bachelor: The Greatest Seasons Ever on ABC.
The Bachelor: The Greatest Seasons Ever went on a blast to the Season 21 past to revisit Nick Viall's infamous 2017 season as he looked for love for the fourth time on ABC. After two failed stints during two different seasons of The Bachelorette and one relationship that ran out of steam on Bachelor in Paradise, The Bachelor gave him the chance to be at the center and choose from 30 women who were just there for him. Nick himself appeared for an interview with host Chris Harrison before the end of the Greatest Seasons Ever episode to answer some questions, and he spilled on the date that made him uncomfortable.
Chris Harrison asked if there were any group dates that stood out for Nick Viall, and the former Bachelor wasted no time in delivering his answer:
As Bachelor Nation fans who watched Nick Viall's season of The Bachelor live as well as those just tuning in for The Greatest Seasons Ever knew by that point, Nick's first big date was indeed all the women dressed in various versions of wedding dresses for wedding photoshoots with him. There was the expected princess-esque dress, but also a shotgun wedding dress, an '80s wedding dress, and some significantly skimpier garments that barely even qualify as "outfits," and the result was an awkward encounter with Corinne Olympios.
Corinne Olympios was in a bikini ensemble, and she was not happy when she saw that the woman who went before her in the photoshoot got a kiss with Nick Viall. Not to be outdone, Corinne got right into the pool, pulled Nick in with her, and proceeded to take her top off and use Nick's hands to kinda sorta cover her, before just going ahead and showing everything. Nick went along with it, but he seemed pretty uncertain and, yes, uncomfortable even at the time.
So were all of the women watching, and probably many of the viewers! I know I was cringing. Who would have guessed that the most awkward encounter from the wedding photoshoot would involve anybody other than Brittany Farrar, whose wedding look consisted of bikini bottom made out of leaves (and no top) for an "Eve" look to go with Nick Viall as Adam? All of this said, Nick went on about Corinne Olympios to make it clear that he doesn't hold any hard feelings, saying:
Corinne Olympios was indeed sent home before the final three, coming in behind future Bachelorette leading lady Rachel Lindsay, runner up Raven Gates, and eventual winner Vanessa Grimaldi. Unfortunately for Nick Viall, fourth time was not the charm, and he is still single despite four tries at finding lasting love in Bachelor Nation. Corinne also returned to Bachelor Nation to try and find love on reality TV again as part of the Bachelor in Paradise Season 4 cast.
Season 4 of Bachelor in Paradise was far from conventional, however, as a sexual encounter between Corinne Olympios and DeMario Jackson in which Corinne was seemingly highly intoxicated resulted in an investigation and production shutdown. The season did eventually restart production, and Corinne made it clear that she didn't blame DeMario for anything, but she also only appeared in one episode of Bachelor in Paradise.
That said, Corinne Olympios has seemingly found love (as well as a recipe for cheese pasta that she can handle) in the years since she moved on from Bachelor Nation, but she still wasn't about to apologize to Taylor Nolan after their feud! As Nick Viall said, Corinne has a big personality. Of course, Rachel Lindsay was the one of Nick Viall's hopeful ladies who would go on to become Bachelorette, make Bachelor Nation history, and stand as one of the surprisingly few Bachelor Nation leads to get the happily-ever-after following their season as star.
The next episode of The Bachelor: The Greatest Seasons Ever will focus on somebody considerably less popular: Juan Pablo Galavis, who is arguably the most hated Bachelor in Bachelor Nation history (although Arie Luyendyk could give him a run for his money) but whose run as Bachelor also launched future Bachelorette Clare Crawley into the spotlight. Tune in to his episode on Monday, September 7 at 8 p.m. ET on ABC to relive his journey!
Resident of One Chicago, Bachelor Nation, and Cleveland. Has opinions about crossovers, Star Wars, and superheroes. Will not time travel.
Your Daily Blend of Entertainment News
Thank you for signing up to CinemaBlend. You will receive a verification email shortly.
There was a problem. Please refresh the page and try again.