The Bachelor Finale Watch: Juan Pablo Galavis Is The Worst, The End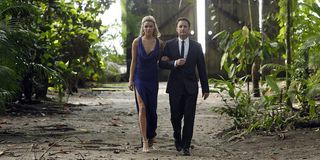 You guys, we did it. By some miracle of science, some inexplicable phenomenon we have all survived Juan Pablo Galavis' turn as ABC's The Bachelor without suffering some sort of brain aneurysm due to his general incompetence as a human able to function outside of his own thoughts and feelings. I'm tired, you guys. I'm real tired. Can you tell? It's been a long, hard, terrible, annoying, and exasperating trip. One that I've decided I will never take again (sorry, next Bachelorette Andi. It's not you, it's me). That's right, Juan Pablo. You've made it so I'd rather not make money than get paid to write and watch this stuff. But since I'm a completionist and we do have to talk about it now, let's cut right to the chase.
Much like last week's untelling Women Tell All episode, we went into the final two pairing — arch enemies Clare and Nikki — knowing it wouldn't go well. And no one needs to tell you this journey's been weird! And so, too, was the 3 hour streeeeeetchathon that was the finale. We saw JP get rid of his One True Perfect Match (and no that is not a compliment, just a fact stated) Clare in favor of Nikki.
Which: Nikki. Oh Nikki. She's just so awesome and thinks Juan Pablo's so awesome and thought his his bizarre relationship proposal (not an engagement) based on doing what he wants when he wants it and how it wants it — with all the uneven affections, power dynamics, and respect that entails — was awesome. If they ever get married (hahahahahahahahahahaha. Ha ha), "Everything Is Awesome!" will be their wedding song.
But back to Clare, because while it was incredibly bizarre spectacle to see — like pulling teeth to get this girl to say anything honestly — her affections for Juan Pablo did change (after a brief douchetour, which is like a detour but for assholes) when he said to her off-camera in the helicopter that he didn't know her but he looooved fucking her (her words, and we 100% believe them). During her douchetour she did allow herself to get pulled back into his web of bullshittery and, I don't know, I guess we can call that talking? He was uttering words — it is what it is, ess okay. I can't even muster up the energy to make the jokes or even add the italics html to "ess okay." It's exhausting at this point and not even funny but rather just sort of pathetic and anger-baiting at this point. And sure, Clare did stand up for herself a little bit when he told her she was going home, but ugh. She is so one of those people who's blind to the fact that their insecurity is at the wheel, and it's plowing towards a significant other — literally any significant other. Any one will do — in order to define who they are as a person ("my other half," a common phrase you might hear them utter).
And what about Nikki, huh? Don't you sort of feel bad for her, but also not? At 26 and a nurse, she's not some young naïve thing but she sorta came across as such, at least in regards to love and relationships. I mean, really, she probably is, though. How else could one put up with Juan Pablo? I question (read: judge) any person that can as a rule. Nikki's going to leave JP and be so embarrassed that she could sit there and not only take, but defend, his shit. Like, that's going to be hard to look back on with any sort of sense of pride.
Shit, even JP's family was all "he runs away from relationships, you have to be the one to hold on, he's difficult, he's not an easy guy!" Throwing up red flags left and right, practically pointing at them and begging the girls to run away. To be fair to JP though, they did come across just as clueless (apple, tree). Example: when Nikki (or was it Clare? Gah I don't even know-slash-care anymore) asked his mother to tell her something she may not know about her son, she said he was "hyperactive."
So, moral of the story: Juanie Pebbles, worst Bachelor ever (you're off the hook, Jake Pavelka). Even Chris Harrison was openly hating on him the entire time, railing into him for being the Dumb Bro's Version of The Truman Show. I'm fine with being of those mean computer peoples, making things hard for him on the Internet by calling out the fact that he will not take responsibility for himself or his words or his actions. It's my cross to bare. Ess okay!
Your Daily Blend of Entertainment News
Thank you for signing up to CinemaBlend. You will receive a verification email shortly.
There was a problem. Please refresh the page and try again.