New Arrowverse Trailer Reveals Superman And Lois' Return To Smallville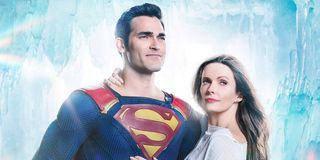 The new spinoff Superman & Lois is officially joining the Arrowverse next year, and the cast is back in Vancouver to begin filming in earnest on the first season. The newest CW superhero series would have had some new footage to share by now, but production shutdowns earlier this year halted filming on its pilot. However, a new Arrowverse trailer was released that provided fans the first glimpse of Superman & Lois' characters returning to Smallville, the hometown of Clark Kent.
While the trailer serves to highlight the entire Arrowverse, and its evolution from one show to a full slate of dramas (including The Flash, Supergirl, Black Lightning, and more), the final minute is dedicated to the introduction of Superman & Lois, the seventh superhero show to join The CW's slate. (Not counting Stargirl.) Emmanuelle Chriqui's Lana Lang can be heard welcoming Clark back to Smallville via voice-over, and it's pointed out that the Kents need Smallville as much as the world needs Superman. Check out the trailer below!
It's pretty cool, right? It doesn't exactly offer much in the way of season-long plots, but it gives enough information to spark interest. I found it particularly intriguing that Tyler Hoechlin's Clark is questioning whether this is the life he and Lois were meant to have after the "Crisis on Infinite Earths" crossover. Clark sounds unsure about their current state of affairs, which is understandable, considering how "Crisis" turned everything upside down.
Near the very end of "Crisis on Infinite Earths," Lois called on Clark and urged him to return to Metropolis, citing "It's the boys," as her reasoning. He was momentarily confused, considering that he had but one infant son before joining the superheroes in their fight against the Anti-Monitor. This new trailer revisits that moment as a reminder that the famous superhero couple now have two sons in a post-Crisis world.
It's unclear whose idea it will be to move back to Smallville, but Clark is heard telling his sons that Lois is "planning a trip." To me, that just might indicate that it will be Lois' grand plan to return to the Kent farm, but it's also possible that Clark gets overtaken by nostalgia when he goes back, leading them both to decide to settle there instead of Metropolis. "Crisis on Infinite Earths" was a lot to handle, after all, and they could just want some peace and quiet for a while.
That said, Lois and Clark's lives together have never been all that quiet or peaceful, and their arrival in Smallville will likely set off a chain of events that will see Superman eventually battling a new big bad. The fact that they're now parents to two teenage sons will most certainly keep them on their toes as well.
This poll is no longer available.
Superman & Lois Season 1 is scheduled to debut in January 2021 on The CW. In the meantime, be sure to check out our 2020 fall TV premiere guide for more viewing options.
Your Daily Blend of Entertainment News
Your Daily Blend of Entertainment News
Thank you for signing up to CinemaBlend. You will receive a verification email shortly.
There was a problem. Please refresh the page and try again.