Superman And Lois Stars Tyler Hoechlin And Elizabeth Tulloch Celebrate Arrow-verse Spinoff News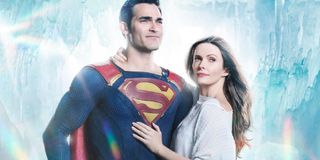 The Arrow-verse just keeps getting bigger and bigger. With the Arrow-specific spinoff Green Arrow and the Canaries on the way, The CW has also announced that they're developing a new spinoff series called Superman and Lois. The project, which will be headed up by former The Flash showrunner Todd Helbing, will star Tyler Hoechlin and Elizabeth "Bitsie" Tulloch as Superman and Lois Lane, respectively.
Tyler Hoechlin is no stranger to the Arrow-verse, having appeared in several episodes of Supergirl since Season 2. Meanwhile, Elizabeth Tulloch made her debut as Lois Lane in last year's Arrow-verse crossover, "Elseworlds," which saw Stephen Amell's Oliver Queen and Grant Gustin's Barry Allen switching places for a while. Both Tyler Hoechlin and Elizabeth Tulloch were previously announced to be reprising their roles as Lois and Clark in this year's crossover, "Crisis on Infinite Earths" and now they're getting their own show!
Taking to Instagram to share his excitement for the series, which will also include Lois and Clark's child, Tyler Hoechlin said this:
Next to his caption, Tyler Hoechlin posted an old photo of Christopher Reeves and Margot Kidder as Superman and Lois Lane from 1978's Superman. I believe the symbolism should be pretty clear.
Earlier this year, Tyler Hoechlin confirmed that he didn't really watch any previous Superman performances prior to taking on the role himself, because he didn't want it to inform his take on the character. But it looks like Christopher Reeve's Man of Steel can serve as the exception here. Speaking about the similarities between that image and the next pic of him and his co-star, Hoechline said:
Not to be one-up-upped by her new co-star, Elizabeth Tulloch also shared a lengthy post celebrating the announcement of Superman and Lois' development process.
Elizabeth Tulloch has not been shy about the admiration she has for Lois Lane. In "Crisis on Infinite Earths," she'll get to share the screen with Erica Durance's Lois Lane (Smallville), and Tulloch is super pumped about getting to play a journalist in our current climate.
Other Arrow-verse stars also chimed in with their celebratory tweets. The Flash's Candice Patton, who is giving Iris West-Allen a fun new look in Season 6, was thrilled for Elizabeth Tulloch in particular. Since both Iris and Lois are journalists married to superheroes, they should definitely get their fair share of interactions in the future. Hopefully, they'll get to meet in "Crisis on Infinite Earths" so that fans won't have to wait until Superman and Lois to get their fill.
Arrow star Stephen Amell, whose final bow as Oliver Queen is said to be a happy one, also took to Twitter to congratulate both Tyler Hoechlin and Elizabeth Tulloch. "Crisis on Infinite Earths" may be the final time Oliver gets to share scenes with Lois and Clark, which is a sad thought, but he seems ecstatic knowing the Arrow-verse will be in good hands.
The last we saw of the Arrow-verse's Clark Kent and Lois Lane they were getting engaged, expecting a baby, and going off to live in Argo City for a while. It's possible that the new series will bring them back to Earth, especially now that "Crisis" is looming large.
Superman and Lois is currently in development and has not yet been ordered to series, but it's a probable outcome. Stay tuned to CinemaBlend for more information about the show. In the meantime, you can watch the remainder of the Arrow-verse shows, which now includes Batwoman, on The CW.
Your Daily Blend of Entertainment News