Smallville's Kristin Kreuk Reacts To Lana Lang Joining The Arrowverse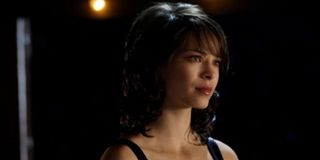 Smallville helped pave the way for The CW's slate of superhero shows collectively known as the Arrowverse, with the latest addition to the ever-growing lineup being Superman & Lois, starring Tyler Hoechlin and Elizabeth Tulloch as the titular characters. After seeing the announcement that Emmanuelle Chriqui is joining The CW show's cast as Lana Lang, Smallville's Kristin Kreuk reacted to the exciting news about her former character officially joining the Arrowverse.
Kristin Kreuk has since moved on from her Smallville days, but she played Lana Lang for seven seasons before leaving the show for good. She and Clark were a major "will they?/won't they?" couple for a long time, though she eventually and went on to start the Isis Foundation, which helps those infected by kryptonite. She also used it to spy on Lex Luthor after discovering how he'd manipulated her. There's a lot of history there and there's no telling what Lana's new backstory will be. However, Kreuk is pleased that Lana's legacy would live on in Superman & Lois. Here's what she told TVLine:
Now, Emmanuelle Chriqui will be taking up the mantle of Lana Lang. Chriqui will actually be playing an older version of Lana, who's now married to Erik Valdez's Kyle Cushing and has settled in Smallville as a loan officer. Clark's arrival in Smallville will rekindle his friendship with Lana during a turbulent time in her life.
Superman & Lois hasn't premiered yet, so it's hard to gauge what Emmanuelle Chriqui's Lana will be like. That said, Kristin Kreuk thinks Chriqui is "wonderful and very nice." That's good to hear! Kreuk is also looking forward to seeing how Lana will evolve in the Arrowverse. Here's how she puts it:
Kristin Kreuk added that it's "so fun" that Smallville gets to live on in some ways within the Arrowverse, and also stated that she'd be down to guest star on Superman & Lois. Depending on what the role entailed, of course. If Kreuk ever does drop in on the Arrowverse, she'd potentially be joining former co-stars Tom Welling and Erica Durance, both of whom reprised their Smallville roles during the "Crisis on Infinite Earths" crossover. Durance pulled double duty and also played Supergirl's mother.
Superman & Lois is scheduled to premiere in January 2021 and will air Tuesday nights after The Flash. For more on what to watch in the meantime, be sure to check out our 2020 summer TV premiere guide.
Your Daily Blend of Entertainment News