How Kate Winslet Made A Young Co-Star's Intimate Scene More Comfortable For New HBO Show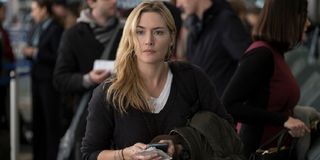 Filming intimate scenes is not without its challenges. While some productions have hired intimacy coordinators to aid in creating a safe working environment for actors, the support of a fellow actor might also prove helpful. In that vein, Kate Winslet recently described how she made a young co-star's intimate scene more comfortable on the set of her upcoming HBO series Mare of Easttown.
Kate Winslet has filmed her fair share of intimate scenes, be it full-blown sex scenes or just kissing. Winslet even helped choreograph and control the content of her intimate scenes with Ammonite co-star Saoirse Ronan. Asked if she's been discussing taking control over intimate scenes, Winslet relayed a story about how she did just that with Angourie Rice, her 19-year-old co-star for Mare of Easttown. Here's what Winslet told Vanity Fair:
Kate Winslet goes on to say that she didn't have a co-star look out for her in the same way when she was younger and first starting off in the film and TV industry. It's why the actress feels the need to protect a younger actress so "keenly" nowadays.
Of course, back then movies and television sets didn't employ intimacy coordinators. However, it's becoming quite the norm on sets in recent years. Kate Winslet concedes that, despite the scene with Angourie Rice not needing an intimacy coordinator, she still wanted to make the experience that much better for the actress. She went to great lengths to do it, too. Here's how Winslet explained it:
I can't be sure if this intimate scene was a first for Angourie Rice, but I can only imagine how anxious she might have been to film it. Kate Winslet being there for her, if only to sit in the trunk of a car and make sure she was comfortable, was an incredibly thoughtful gesture in my book. I think Winslet's actions were also important considering that it was a "potential trigger moment" for Rice.
Mare of Easttown also stars Evan Peters and Watchmen's Jean Smart, among several others. The limited series will consist of seven episodes, but does not yet have a scheduled premiere date. For more on what to watch in the meantime, be sure to check out our 2020 fall TV guide.
Your Daily Blend of Entertainment News
Thank you for signing up to CinemaBlend. You will receive a verification email shortly.
There was a problem. Please refresh the page and try again.