Could Simon Cowell Come Back For The AGT Finale? Here's What Heidi Klum Says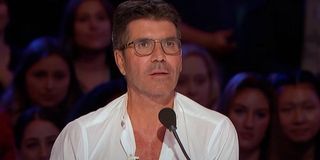 Simon Cowell has notably been missing from his America's Got Talent judge's chair since August. After breaking his back in an electric motorbike accident, Cowell underwent surgery and has been nearly completely absent from the public eye. With America's Got Talent headed into its finale this week, will Cowell return for an appearance? Heidi Klum may have the inside scoop.
The show has gone on without Simon Cowell in recent weeks, but America's Got Talent hasn't forgotten him in his absence. He got roasted by one former contestant, and during the Season 15 quarterfinals, judge Howie Mandel even paid tribute to him with a Cowell puppet. It was kinda weird, sure, but it served as a reminder that Cowell was still a part of the show in spirit. Though it's been weeks since anyone last saw Cowell on the show, Heidi Klum expected him to be back quite soon. Here's what she told Mirror.co.uk:
It's too late, the cat's out of the bag! Of course, Heidi Klum didn't elaborate on the details of his return, so it's hard to say whether Simon Cowell will actually show up to the America's Got Talent set in person, or if he'll just call into the show via video. It's also unclear if Cowell take part in judging for the finals at all.
But just in case that wasn't quite enough proof, fellow judge Howie Mandel also said he wouldn't "count out seeing" Cowell before the end of the season. So it certainly sounds like he'll at least be back in some capacity, though likely not to join in any acrobatic routines.
In the aftermath of his fall off of his electric vehicle, Simon Cowell made light of the situation and joked that anyone thinking of riding one should obviously read the manual first. The message indicated that Cowell was doing well mentally, all things considered. Following his surgery, Cowell was reportedly recovering at his home in Malibu.
However, a source allegedly implied that his back injury was more serious than we thought and that there was fear he will now continue to have issues with the three vertebrae he reportedly broke in the accident. I think it's possible that Simon Cowell will indeed appear during the America's Got Talent finals, if only to assure fans that he's still living and breathing.
While he's been recovering, American Idol alum Kelly Clarkson and Saturday Night Live's Kenan Thompson have filled in for him as judges. They did really well in their guest roles and even offered advice on how certain competitors could improve their acts. I think Clarkson and Thompson's stints on the show actually proved that the judging on America's Got Talent needed to change every once in a while.
The Season 15 finale of America's Got Talent will air on Tuesday, September 22 at 8:00 p.m. ET on NBC. For more on what to watch this fall, be sure to check out our 2020 TV premiere guide.