Why Ken Jeong's I Can See Your Voice Is The Ideal Competition Show For 2020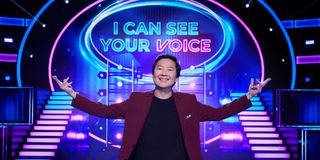 (Image credit: Fox)
Spoilers ahead for the series premiere of Ken Jeong's I Can See Your Voice on Fox.
A new reality competition show hit the airwaves this fall to pair with The Masked Singer, and host Ken Jeong's I Can See Your Voice is officially the ideal show for 2020, in my humble opinion. The premise of the show sounded somewhat unlikely ahead of the premiere, and more than a little bizarre even on a network with the bonkers Masked Singer as its mega-hit. That said, after the series premiere aired following The Masked Singer's Season 4 premiere, I'm more than ready to keep watching.
In the series premiere of I Can See Your Voice, contestant Shannon Davis was tasked with identifying good singers vs. bad singers from a group of six, based on no more than lip-syncing skills and some crazy clues, with a prize of $10,000 per correct guess. Full-time celebrity detectives actress Cheryl Hines and singer Adrienne Bailon-Houghton were joined by guest detectives in former boy-bander Nick Lachey, previous Masked Singer contestant Kelly Osbourne, and comedian Arsenio Hall to advise Shannon on her guesses.
Shannon left I Can See Your Voice with $100,000 after risking her $30,000 to see if the Stylist was a good enough singer to duet with Nick Lachey, and it made for a fun hour of television. So, now that I Can See Your Voice is positioned to potentially become Fox's next big unscripted hit, let's look at some reasons why it's the ideal show for this year.
The Premise Is Fun
On paper, the premise of I Can See Your Voice is pretty strange and a little hard to follow. Once the action began, however, it became clear that this is a show that can pack a lot of fun into one hour of primetime, and who doesn't need a little fun in 2020 with the pandemic and everything else? Whenever Shannon was correct, she won $10,000, and that was great! When Shannon was wrong, everybody got to hear a great performance! Win-win, right?
Ken Jeong As Host
The Masked Singer already proved that Ken Jeong is comfortable in front of the camera for a musical competition show, but he also shares the spotlight with three other judges and host Nick Cannon. With I Can See Your Voice, Ken Jeong serves as master of ceremonies and can do more than deliver the silly guesses on The Masked Singer. He genuine enthusiasm and hope for Shannon to win shone through, and his commentary was funny while also moving the game along and making the rules of the brand new game clear.
The Judges Are Enthusiastic
While Shannon didn't come out on top of every challenge, the judges were clearly on her side all along, with no mocking comments from the star-studded peanut gallery. They were enthusiastic and engaged, and they honestly looked completely invested in the game. These didn't seem like celebrity judges who were appearing just to promote themselves or their work, but to help Shannon and add some entertainment in the process. Cheryl Hines and Adrienne Bailon-Houghton are permanent members of the panel, so they can be counted on weekly. Honestly, what's not to love about watching stars do their best to help somebody play a game and win some money? And Nick Lachey even sang!
Audience Reactions
I Can See Your Voice filmed over the summer when a lot of television productions were still shut down due to the pandemic, so it was entirely possible that episodes wouldn't feature a lot in the way of audience interaction. It came as a pleasant surprise (to me, at least) that an audience cheering and laughing was part of the finished product, and a disclaimer at the end of the hour ran to reassure that the show did follow safety protocols. The disclaimer revealed that "visuals of audience featured in this episode included pre-taped shots, as well as shots from" other studio shows due to health restrictions.
We got an audience to help I Can See Your Voice feel like real escapism, and I for one am already waiting for the next episode. It's good, harmless fun involving some hijinks, twists, and turns. Sign me up for more! New episodes of I Can See Your Voice air on Wednesdays at 9 p.m. ET on Fox, following new episodes of The Masked Singer. For some additional viewing options now and in the coming weeks, check out our 2020 fall TV premiere schedule!
Resident of One Chicago, Bachelor Nation, and Cleveland. Has opinions about crossovers, Star Wars, and superheroes. Will not time travel.
Your Daily Blend of Entertainment News
Thank you for signing up to CinemaBlend. You will receive a verification email shortly.
There was a problem. Please refresh the page and try again.