Sebastian Stan Gave Falcon And Winter Soldier Co-Star Anthony Mackie The Most Adorable Birthday Message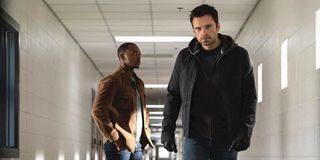 Sebastian Stan and Anthony Mackie have been birds of a feather ever since starring together in Captain America: The Winter Soldier. Anytime the pair hold joint interviews, there is always a lot of laughter and complimentary exchanges to go around and it's pretty easy to tell that their friendship is genuine. Now that The Falcon and the Winter Soldier has resumed filming, Mackie likely got to celebrate his September 23 birthday in the midst of production, allowing Stan to go above and beyond to write Mackie the most adorable birthday message ever.
The cast of The Falcon and the Winter Soldier is back at it in Atlanta to shoot the remaining episodes of the Disney+ series, which is definitely a gift of sorts to anxious fans. If there was ever a time for Anthony Mackie and Sebastian Stan to spend some more quality time together, it would be while filming this show, and it would humorously seem that Stan couldn't quite summarize what Mackie meant to him in a single Instagram story. And so he posted two of them for good measure, and his message was incredibly sweet. Enjoy Stan's birthday love for his co-star below:
Sam and Bucky forever! This may sound schmoopy, but my heart pretty much melted while reading Sebastian Stan's birthday message. I'm positive that his friendship with Anthony Mackie is one of best things to come out of the Marvel Cinematic Universe, and his purposefully flowery tribute pretty much sounds like a love letter to their friendship.
To take it a step further, Sebastian Stan added a couple of photos of Anthony Mackie to celebrate the always playful actor. Mackie is seen posing behind some random enlarged shapes, though I can't tell if he and Stan were just taking pictures there for fun, or if those were there for work. Either way, you can check out Mackie's warm smile and thoughtful brow below!
Now you see him. Now you don't! (Well, okay, you can still see most of him below.)
The Falcon and the Winter Soldier marks the fifth project the actors have worked on together in the MCU. However, I do think the Disney+ series is slated to explore Sam and Bucky's close-knit friendship a lot more than the films did, and I'm certainly excited to see how that will evolve.
Unfortunately, we'll have to wait until next year to see what's in store for the characters, considering production shutdowns in March delayed its original August premiere date. Until it gets here, though, we at least now have Sebastian Stan's beautiful birthday message to Anthony Mackie to help tide us over.
The Falcon and the Winter Soldier will be released on Disney+ at some point next year. Stay tuned to CinemaBlend for updates on the show. For more on what to watch in the coming months, be sure to check out our 2020 fall TV premiere guide.
Your Daily Blend of Entertainment News
Thank you for signing up to CinemaBlend. You will receive a verification email shortly.
There was a problem. Please refresh the page and try again.