An Unexpected Captain America Villain Will Likely Make A Return In The Falcon And The Winter Soldier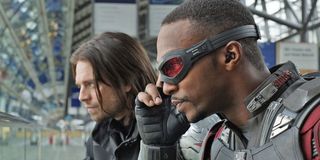 After six months of production shutdowns, The Falcon and the Winter Soldier has finally resumed filming in Atlanta. The pandemic shutdown wasn't the first setback that the Disney+ series faced this year, but I have to say it's refreshing to know the actors are back for some on-set action. In addition to potentially battling Baron Zemo, it would seem that Sam and Bucky may have their hands full with yet another Captain America villain who will likely return in The Falcon and the Winter Soldier.
The mercenary known as Georges Batroc will potentially return for another go-around in The Falcon and the Winter Soldier. Only this time it's possible he might fight Sebastian Stan's Bucky and Anthony Mackie's Sam instead of Chris Evans' Captain America. This appears to be the case due to former UFC champion and MMA legend Georges St-Pierre was spotted on the set of the upcoming Disney+ series (via Just Jared).
Of course, Georges St-Pierre's role in the Disney+ series wasn't officially confirmed previously, and still isn't, as far as we know. That said, there were previous rumors that he would be joining The Falcon and the Winter Soldier before the series had to shut down production in March. His arrival on set more or less implies his official return, because I doubt very much that he's just hanging around the set for fun. I mean, I would do that, but probably not GSP.
Based on the set photos, we can deduce that the actor has indeed returned to reprise his role as Batroc. Although not much info can be gleaned at this point, it's important to point out that Georges St-Pierre is wearing the same color jacket that he was wearing in Captain America: The Winter Soldier. However, the yellow stripes on the outside of the jacket are now on the inside. I think it's a nice upgrade to his costume while still honoring his appearance during The Winter Soldier.
Georges St-Pierre's first and only MCU appearance as Batroc was during Captain America: The Winter Soldier, so the Disney+ series would mark his second. In the movie, the mercenary (along with numerous pirates) hijacked a ship and held its crew and several S.H.I.E.L.D. agents hostage, though it didn't take long for Captain America and Black Widow to arrive on the scene to stop him. Batroc challenged Cap to a duel sans the iconic shield and it proved to be quite a well-choreographed action sequence. However, Batroc was ultimately defeated and taken into S.H.I.E.L.D. custody.
It's possible that at some point after being arrested by S.H.I.E.L.D., the character escaped and has returned to exact revenge. It's also possible that Batroc is actually working alongside Bucky and Sam to defeat Zemo or the Captain America rip-off character known as U.S. Agent. Honestly, I think any scenario is possible at this point considering how little we know about The Falcon and the Winter Soldier's plot.
Of course, there are those who have been hoping that Georges St-Pierre would come out of retirement and return to the UFC. However, I don't think the chances of that are very high. Besides, the former Welterweight Champion may be better off fake fighting with other actors and stunt people in my opinion, and he's likely to get plenty of fake punches in while filming The Falcon and the Winter Soldier.
The Falcon and the Winter Soldier no longer has a scheduled premiere date (it was originally supposed to air in August). With the cast and crews' return to filming, we should hopefully hear more about an official release date soon. Stay tuned to CinemaBlend for updates and be sure to check out our fall TV guide for more on what to watch.
Your Daily Blend of Entertainment News