Great British Bake Off Squirrel's Penis Is Now Causing Backlash, But It's Been Around Forever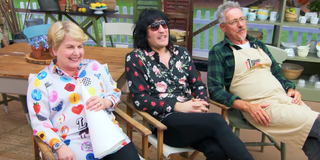 It think it's probably fair to say that it doesn't take much to get people's attention in 2020. While this has certainly led to some pop culture surprises, none may be so shocking as the way fans of The Great British Bake Off have reacted to a lovely little squirrel with, well, giant nuts, appearing in ads for the series. The popular baking competition recently returned for Season 11 to Channel 4 in England, but instead of all the buzz being about cakes and tarts, people are up in arms about that squirrel, even though he's been a part of the show forever.
The Great British Bake Off (better known as The Great British Baking Show in the U.S.) has been a television staple for many years now, with people all over the U.K. and in the states loving it for showing a competition that manages to serve up tasty-looking treats and contestants who actually value supporting one another in every episode. So, while fans the world over have been eagerly awaiting the new season, now that it's here, all that some of them have noticed is the prominent display of squirrel genitalia.
And, I can assure you, I never thought I'd have to type the phrase "squirrel genitalia" for this job, but I'm in it now, so let's just continue on with dignity. Here's what's causing the uproar:
Well, alrighty, then! According to The Sun, fans of the wholesomeness that is typically The Great British Baking Show are none too pleased with this image, which has been used to promote the new season. These posters advertising Season 11 went up in several cities across England, and the brightly pastel-colored illustration features cakes, baking tools and a couple of competitors happily shaking hands. But, resting above all of the things one would expect to see in such an advertisement is an image of a standing squirrel, who is proudly showing off not only his nuts, but also his bulging bolt.
Seeing as how The Great British Bake Off is seen as family entertainment, many people are complaining that the image, even though it is only an illustration, is completely inappropriate and, especially, shouldn't be connected with this show. But, here's the thing: this chipper squirrel and his joyful junk have been a part of the show (off and on) since way back in Season 2. Back then, it was actually a real squirrel instead of an illustration, which showed up in the finale at the park setting of the competition, and was then featured in the opening credits of the series for four whole seasons.
Even though one fan who saw the new ads dubbed the squirrel's presence "pornographic," a spokesperson for the network doesn't see a problem, and noted:
OK. So, the big question here isn't why The Great British Bake Off is using squirrel bits to promote the show, but why some fans seem to be angered by it? It's clear that this is a bit of a tradition for the series, albeit an admittedly odd one for a baking show. I suppose it's possible that some people have forgotten about our well-endowed tree-dwelling friend, seeing as how he hasn't been a part of the show since 2015.
Also, it's not impossible that newer fans who began watching after that time simply never saw him, and didn't know that this gentle baking contest had a "dark" side which involved squirrel peen. I can see anyone being at least a bit shocked by the inclusion of such a sight when they have no logical reason to expect it. I wouldn't go so far as to label it pornographic, though. After all, if you can't laugh at some squirrel twig-n-berry action, can you laugh at anything?
Season 11 of The Great British Bake Off can be streamed on Netflix every Friday, but for more to watch in the coming weeks, check out our fall premiere guide!
Your Daily Blend of Entertainment News
Yennefer's apprentice, Gilmore Girl; will Vulcan nerve pinch pretty much anyone if prompted with cheese...Yes, even Jamie Fraser.