Apparently I'm Not The Only One Dealing With Jack Ryan And Jack Reacher Confusion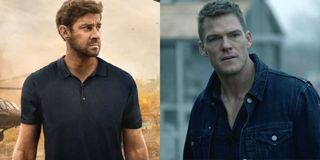 There's been a thing that has happened to me several times over the last few months and I'm not proud of it. I've been online reading about or scanning headlines related to Jack Reacher and every time without fail I've thought, 'Oh good, glad to see Jack Ryan Season 3 is finally moving forward.' As a critic and an avid reader I understand that Jack Ryan and Jack Reacher are different characters, but I'm still having some problems here. As it turns out, I'm not alone.
Here's the gist: Both Jack Ryan and Jack Reacher are white dudes known for physical fitness. Both have military backgrounds and both shows are set up on Amazon Prime. I hypothesize it's the latter that's the real problem, as when a person actually looks into casting and creative teams as well as the nitty gritty of the characters and stories there isn't much in common between the shows. But if the similarities between the names are fooling even someone like me, a person well-versed in the content that is upcoming and currently available, I get the feeling this could be problematic for others as well.
In fact, I know it is, because I'm not someone who wants to be the only person in the room making a mistake alone. So, I looked into it and plenty of people are just like me on the Internet. One poor soul even got a lot further along before realizing the mistake she'd made on Twitter:
Some people kind of seem to enjoy being willfully ignorant about Tom Clancy's Jack Ryan and Lee Child's Jack Reacher, however. Critic Angie Han also seems to have the same troubles I do, but also took a bit more of a comedic bent on Twitter:
The Twitter-verse can sometimes even be helpful about explaining the nuances between Jack Reacher and Jack Ryan. For example:
To clarify this point once and for all, Jack Ryan is the show that has already been on Amazon Prime for a while based on a character created by Tom Clancy that has also cropped up on the big screen multiple times. John Krasinski is in ridiculously good shape to play the titular role and he has a great on-screen partner in Wendell Pierce. Actually, it may be my favorite bromance on TV right now, which is why I feel particularly bad about continually thinking about the wrong TV series when the other show's name crops up.
Jack Reacher, on the other hand, is not a TV series that's out yet, though there are two Tom Cruise movies with that title that do exist in the universe. (Making things even weirder, Tom Cruise really isn't even the right size to play Jack Reacher, but I digress.) The Amazon series more recently cast Alan Ritchson in the role. He'll play the famous former U.S. Major that will be based on The Killing Floor, the first of Lee Child's books about the character. But nuances don't help calm some of the people in the world who are annoyed with all these Jack's, particularly given both are setup at Amazon.
And just in case you want to complicate things further, Michael B. Jordan also has a project setup at Amazon based on another of Tom Clancy's works, Without Remorse. In that one, Jordan won't play a Jack. But he will play a "John," U.S. Navy SEAL John Clark. Good luck keeping track of all of those, everyone.
Amazing Race & Top Chef superfan with a pinch of Disney fairy dust thrown in. If you've created a rom-com I've probably watched it.
Your Daily Blend of Entertainment News
Thank you for signing up to CinemaBlend. You will receive a verification email shortly.
There was a problem. Please refresh the page and try again.