The Julie And The Phantoms Season 1 Songs, Ranked By Catchiness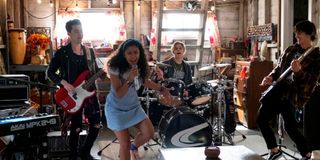 Julie and the Phantoms was a lovely surprise. I didn't expect the series to be so addictive and moving considering its premise. Based on a 2011 Brazilian show, Julie and the Phantoms follows the titular character as she rekindles her love of music and joins a band comprised of three ghosts — Luke, Alex, and Reggie. What makes the Netflix series a standout are the original songs, which are so well-performed you can't help but tap your feet.
From emotional ballads like "Unsaid Emily" to upbeat power anthems like "Stand Tall," Julie and the Phantoms keeps the story going with a variety of music that sets the right mood for every moment. The bonus is that the cast actually sings and plays their own instruments, which is awesome! It's too hard to pick the best song of the 15 on the soundtrack (it depends on the day of the week, really). However, I've ranked the Season 1 songs based on their level of catchiness. Here we go!
15. Wow
This song is kinda frustrating. It has pop music elements that, on the surface, would likely make it a hit. However, it's more grating than it is catchy and sounds like it's trying a bit too hard to be cool (much like the group Dirty Candy themselves). Beyond the word "wow," I honestly couldn't remember any of the lyrics off the top of my head.
14. All Eyes On Me
This song is catchy in the moment and even Julie and the Phantoms recognize that Dirty Candy is good while performing. That said, "All Eyes on Me" does not hold up as a catchy tune when listening to it without all the glitz and glam of the performance. It's also really conceited and that makes it hard to get attached, in my mind.
13. This Band is Back (Reggie's Jam)
This song is short and sweet. Sunset Curve had just performed with Julie for the first time in front of a crowd and they were pretty pumped about it, too. They had no explanation for why people could see them, but they were just happy to be playing again. The song's got a great beat and the tune is fun to hum around the house, too.
12. Now or Never
Julie and the Phantoms got me hooked immediately because of this song. Rarely do series begin with an intense musical performance, and the lyrics to "Now or Never" pretty much foreshadow what's to come for the band. It's also very catchy in that it's very, very '90s and gets to a high point that makes you feel like you're at a real concert event.
11. You Got Nothing to Lose
"You Got Nothing to Lose" has some pretty killer guitar riffs and is a glitzy, powerhouse jazz number that is fun, yet also scary. The intent is for Covington to control Luke, Alex, and Reggie, and that makes it a bit unsettling, but man is the energetic tempo exciting to listen to. Ultimately, however, the song is a shadow of the stupendous "The Other Side of Hollywood."
10. Unsaid Emily
This is a tearjerker song, if I'm being honest. Dedicated to Luke's mom, whom he left on bad terms before he died, "Unsaid Emily" is definitely the most emotional song of the bunch and Charlie Gillespie pours his heart and soul into it. It's catchy, but not in the way that would make you want to play it constantly lest the feels take over.
9. Perfect Harmony
"Perfect Harmony" happens at the height of the romantic tension between Madison Reyes' Julie and Charlie Gillespie's Luke. The song has a lovely and sweet melody and the actors' harmony is indeed perfect while singing it. The chorus is really what gets me every single time because it's the type to be stuck in my head on repeat.
8. Stand Tall
"Stand Tall" is probably the ultimate anthem in Julie and the Phantoms. It's also really easy to sing along to out loud, kind of like "This is Me" for The Greatest Showman. It's the final song on the soundtrack and it lives up to expectations in every way. It's a memorable and powerful song choice to wrap up Season 1.
7. Finally Free
Prior to "Finally Free," Julie and the Phantoms were playing inside and outside the garage and on stage at school. However, this song was the first time they played in front of a real audience and you can sense the change in the cast's vocal performance with this one. "Finally Free" is the big room concert song that keeps rocking on.
6. Wake Up
"Wake Up" is the first song on the Julie and the Phantoms soundtrack that I started to listen to. It was so upbeat, memorable, and stood out in so many ways, especially as it is the only solo song Madison Reyes has. It's also the first time Julie sings and plays piano after losing her mom and it makes for a beautiful and emotionally-charged song. It soars to new heights with its energy and asks you to look inward for strength. That's a beautiful message.
5. Bright
This is such a feel-good song. The lyrics and melody combination make for the kind of pop/rock song that you can blast through the speakers of your car (I certainly have). "Bright" slowly builds towards its chorus and then explodes with a vibrant intensity. With lyrics like "we will fight to shine together," the real question is who wouldn't be singing this song constantly?
4. The Other Side of Hollywood
Life is definitely good on the other side of Hollywood and this song certainly sells that idea. It is so hard to listen to this song without wanting to jump up and dance. It's a dazzling jazz number that is meant to liven up anyone listening, and it does so in a big way! Trumpets, piano, and the vibrant energy of Cheyenne Jackson's Covington really work to make this a magical, addictive number.
3. Flying Solo
How many musicals have songs about friendship? It's truly a rare thing, but Julie and Flynn's friendship is one of the cornerstones of Julie and the Phantoms. It's clear from the very first chords that "Flying Solo" would sound different from the songs that came before. It was certainly a nice change of pace, and the musical transitions from chorus to bridge are excellent.
2. I Got The Music
This song wasn't initially on my radar as much as some of the others, but the longer I've listened to it the catchier it gets. "I Got the Music" has pretty much everything: an upbeat tempo, a drumline playing, and Jadah Marie's Flynn finally gets to show off her rapping skills. Julie sings that she can't get the music out of her head and I can't get this song out of mine either.
1. Edge of Great
"Edge of Great" is amazing. It's a powerful and hopeful song that really gets to the heart of Julie and the Phantoms. The lyrics make everything seem possible in the moment. I also love that you can hear the piano playing throughout and the melody, paired with Madison Reyes' voice, makes it hard to shake. It's probably the song that I've replayed the most from the Season 1 soundtrack. The song really snuck up on me because, while it's not the most obviously catchy song from the show, it's soulful, meaningful, and easy to listen to no matter the time of day, mood, or location.
What are your picks for catchiest songs from Julie and the Phantoms? Let us know in the comments! In the meantime, you can watch (and rewatch) Julie and the Phantoms Season 1 on Netflix (opens in new tab). For more on what to watch, be sure to check out our 2020 fall TV premiere guide.
Your Daily Blend of Entertainment News
Your Daily Blend of Entertainment News
Thank you for signing up to CinemaBlend. You will receive a verification email shortly.
There was a problem. Please refresh the page and try again.