Will Andrew Lincoln's Rick Return For The Walking Dead's Final Season? Norman Reedus Has Thoughts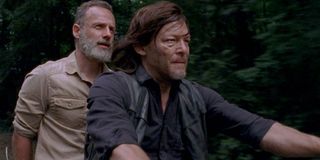 The Walking Dead has been missing Andrew Lincoln's Rick Grimes for a while now. He was last seen in the first half of Season 9 of the AMC series, though Lincoln is planning to reprise his role for the long-awaited Rick Grimes movie. With fans knowing that the character is still alive out there somewhere, the big question for TV fans is if Lincoln will return to the role for The Walking Dead's final season. Series star Norman Reedus has shared his thoughts on the possibility.
Though it's official that The Walking Dead is ending with Season 11, the good news is that Season 10 got extended beyond its original finale, with six new episodes set to air in 2021. The bad news, though, is that fans will be waiting until next fall for Season 11 to start up. While there's no word on whether Andrew Lincoln will actually be back for the show's two-part final season, co-star Norman Reedus has spoken with the actor about such a potential return. Here's what Reedus told RadioTimes.com and other media outlets:
I'm sure hardcore The Walking Dead fans would be thrilled if Andrew Lincoln returned as Rick, even if it's just for one episode in Season 11. I'm glad that Norman Reedus has been attempting to persuade him to come back, even though it sounds like Lincoln may not be married to the idea, given how much work needs to be done on the film side. That said, Season 11 is still a long ways away and anything could happen from now until the end of filming.
Rick Grimes was a staple of The Walking Dead from the beginning. But, after nine seasons, the AMC series bid farewell to the beloved character in an abrupt shift from the comic book narrative. Andrew Lincoln's departure was a big deal because he had been such an integral part of the show for so long. It was hard to imagine what The Walking Dead would look like without Rick. Suffice it to say that the series has moved on since then, and fans are generally happy with what showrunner Angela Kang has done with the past two seasons, but I'm positive that a Rick appearance would be a welcome sight.
Plus, Rick's exit in Season 9 left things open for a potential return. After taking out a group of Walkers by blowing them to smithereens with dynamite, Rick was nearly at death's door. However, he was saved by Jadis and flown away in one of the CRM helicopters to safety, at least in a manner of speaking. The Walking Dead movie, which has yet to begin filming, will explore where Rick ultimately ended up after being rescued, and what he's been up to during that time.
The Walking Dead is on hiatus once more, but Season 10 will return for the back six episodes in 2021. For more on what to watch in the meantime, be sure to check out our 2020 fall TV schedule.
Your Daily Blend of Entertainment News
Your Daily Blend of Entertainment News
Thank you for signing up to CinemaBlend. You will receive a verification email shortly.
There was a problem. Please refresh the page and try again.