Apparently, CSI Borrowed Its Now-Iconic Shot From A George Clooney Movie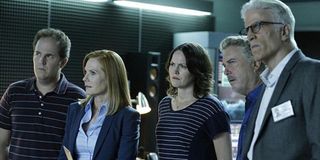 October 6 marked the 20th anniversary of CSI, the beloved crime drama that debuted in 2000 on CBS. The series was successful enough that it birthed three spinoffs, including CSI: Miami and CSI: New York, and popularized a shot that would follow bullets and other external murder methods through a victim's body. As it turns out, the iconic shot was actually borrowed from a George Clooney film. Who would've thought?
Sometimes, the best inspirations come from the most unexpected sources. CSI creator Anthony Zuiker recently spilled some secrets about the CBS drama, which ran for 15 seasons and ended in 2015. Dubbed the "CSI shot," a bullet's trip through the body, piercing organs and flesh, offered viewers the gruesome details of what a gunshot or swallowing poison could do to a person. Zuiker revealed that the shot was actually influenced by the 1999 David O. Russell movie Three Kings. Here's what Zuiker told Yahoo! Entertainment:
That's pretty cool, and I think it's a testament to Anthony Zuiker's creativity that he thought to do a "different point of view of a forensic show." CSI star Marg Helgenberger also believed that the iconic CSI shot was a fun way to present the science of the show instead of simply discussing it and that, in and of itself, was "revolutionary."
I think every TV show that we watch now was influenced or inspired by something that came before, so it's no surprise that the CSI shot is simply an inverted perspective that was impacted by Three Kings. Would we have gotten the CSI shot if Zuiker hadn't seen Three Kings? It's hard to say, but I'm glad he did watch it, either way.
Back in February, it was announced that CBS was reviving the original CSI as an event series called CSI: Vegas, which was originally expected to debut on the 20-year anniversary of the show's premiere. However, the series was delayed due to the Hollywood-wide shutdowns in March, and plans to have the revival ready in time for an October 6 premiere were disrupted by the ongoing pandemic.
The good news is that CSI leads William Petersen and Jorja Fox are reportedly reprising their roles as Gil Grissom and Sara Sidle in the potential revival. At this point, however, it's unclear when CSI: Vegas will premiere, though my guess would be at some point in 2021.
Stay tuned to CinemaBlend for updates on all things CSI and more. In the meantime, be sure to check out our 2020 fall TV premiere schedule for more on what to watch.
Your Daily Blend of Entertainment News