What The CSI Cast Is Doing Now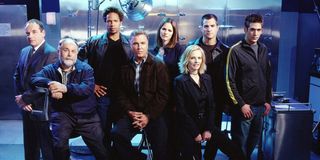 For 15 seasons and well over 300 episodes, CSI: Crime Scene Investigation became one of the most popular shows in CBS's history, resulting in a TV franchise that continued to expand and evolve over the course of this ongoing millennium. The show wrapped up in 2015, providing an end to a long-standing era of crime television, but what has the cast done since the show came to a close? A few actors have remained as busy as ever while others aren't working quite as consistently. Nevertheless, here's what the cast of CSI is doing now.
William Petersen (Gil Grissom)
As Gil Grissom, a forensic entomologist and CSI Level III Supervisor for the Las Vegas Police Department, William Petersen played the lead role in CSI for its first nine seasons. The actor won a Screen Actors Guild award for his performance, and he received several Emmy nominations as a producer on the show.
Prior to his role in CSI, Petersen was notably seen in Thief, To Live and Die in L.A., Manhunter, Young Guns II, Fear, Mulholland Falls, and Hard Promises, which he also produced. He also appeared in an episode of The Twilight Zone and the mini-series The Kennedys of Massachusetts. During his time in CSI, Petersen was also seen in The Contender, Detachment, Seeking a Friend for the End of the World, and Without a Trace.
Following his CSI tenure, William Petersen starred in WGN America's Manhattan. He also appeared in an episode of Blue.
Marg Helgenberger (Catherine Willows)
Playing the part of Catherine Willows, a CSI crime scene investigator, Marg Helgenberger provided an Emmy-nominated performance in CSI. As an actress, Helgenberger first gained notice for her role in the soap opera Ryan's House. She was then seen in China Beach, for which she won an Emmy for Best Supporting Actress. She also starred in Tootsie, Always, Bad Boys, Species I and II, Fire Down Below, and Erin Brockovich before she starred in this long-running drama series. During her time on CSI, Helgenberger also starred in In Good Company, Mr. Brooks, and Columbus Day.
When Marg Helgenberger left CSI, she became a series regular on Intelligence, which ran for 13 episodes. She was then a recurring character on Under the Dome. When CSI wrapped up in 2015, Helgenberger was seen in Almost Friends and A Dog's Journey. She currently plays a main character on All Rise.
Gary Dourdan (Warrick Brown)
In the role of Warrick Brown, an audiovisual specialist and crime scene investigator, Gary Dourdan played a main cast member for nine seasons on CSI. A musician as well as an actor, Dourdan has worked on both the stage and screen, notably in films like Weekend at Bernie's II, The Paper, and Alien: Resurrection, and TV shows like A Different World, Beggars and Choosers, Soul Food, and more.
Following his time in CSI, Dourdan appeared in Jumping the Broom, The Woods, The Last Letter, and Reversion. He also appeared in episodes of Kim Possible, Glee, Being Mary Jane, Power, Hawaii Five-0, and Mistresses. Most recently, Dourdan was seen in All She Wrote, Guns Guitars and a Badge, and this year's Influence. Up next, Dourdan can be seen in Righteous Villains and Redemption Day.
George Eads (Nick Stokes)
Playing Nick Stokes, a CSI Level II (then Level III), George Eads appeared in nearly every CSI episode. Prior to his role in this CBS series, Eads was seen in episodes of ER, Grapevine, and Savannah. During his time on CSI, Eads was also seen in an episode of Two and a Half Men and he was heard in Justice League Unlimited and Young Justice.
Following his role in CSI, George Eads took on a main role in CBS' MacGyver. The actor was also seen in Sex Ed and The Battle of Jangsari. He was also a star and executive producer in Gutshot Straight.
Paul Guilfoyle (Jim Brass)
In the role of Jim Bass, a CSI Shift Supervisor and Homicide Detective, Paul Guilfoyle was seen in all-but-one season of CSI. An actor of the stage and screen, Guilfoyle was a prominent stage performer in Boston and his resume includes film roles in Howard the Duck, Beverly Hills Cop II, Three Men and a Baby, Cadillac Man, Hoffa, Mrs. Doubtfire, Quiz Show, Wall Street, L.A. Confidential, Ransom, Primary Colors, Amistad, and Air Force One. He also had guest roles in shows like Miami Vice, Ally McBeal, and Law & Order.
During his time on CSI, Guilfoyle was also seen in Session 9, American Violet, and Company Man. Following CSI's conclusion, Guilfoyle appeared in Colony and The Good Fight. He was also seen in Spotlight, Pandemic, Turnover, and episodes of A Million Little Things, Blindspot, and The Morning Show. He'll next be seen in The Good House.
Eric Szmanda (Greg Sanders)
Playing Greg Sanders, a CSI technician, Eric Szmanda played a constant presence throughout CSI's long-standing run. Finding his start in the series The Net, Szmanda found his claim to fame through this extensive crime series. During his time on CSI, Szmanda was also seen in 100 Girls, Little Athens, True Vinyl, and The Rules of Attraction.
Following the series finale, Eric Szamanda was seen in 2018's Shangri-La: Near Extinction and Adverse, which was released earlier this year. He is also the executive producer of a new documentary, P.S. Burn This Letter Please. Additionally, in 2015, the actor appeared in a stage production of The Nerd.
Jorja Fox (Sara Sidle)
As Sara Sidle, a Crime Scene Investigator at the Las Vegas Crime Lab, Jorja Fox played a prominent role throughout the majority of CSI's run. The actress first came to prominence through her recurring role in ER. She followed up this success with a role in The West Wing. Beyond these parts in these three popular shows, Fox has also notably been seen in The Jerky Boys: The Movie, Velocity Trap, and Memento.
Following her time on CSI, Jorja Fox starred in last year's sci-fi film, 3022. She was also a producer on several documentaries, including Extinction Soup, Roll with Me, and most recently, The Animal People.
Robert David Hall (Al Robbins)
In the part of Al Robbins, a medical doctor involved with the CSI, Robert David Hall has been a prominent part of CSI since his introduction in Season 1. Prior to his time in this show, Hall was seen in episodes of The Littles, L.A. Law, Life Goes On, Beverly Hills 90210, Party of Five, The Practice, and The West Wing. He was also heard in G.I. Joe, Batman: The Animated Series, and Superman. He also had roles in Starship Troopers and The Negotiator.
Following his time on CSI, Robert David Hall starred in Rock Story. He's set to play a role in an episode of susaneLand and the sci-fi film Aaah! Roach!
Wallace Langham (David Hodges)
In the role of David Hodges, a lab technician for the Las Vegas Crime Lab, Wallace Langham became a reoccurring character in CSI's third season and eventually became a main character from Season 8 onward. Prior to his role in this popular CBS series, Langham was best known for his role in HBO's acclaimed The Larry Sanders Show. He also played roles in Weird Science, Michael, and The Invisible Kid. He was also a guest star on Murphy Brown, Sex and the City, Murder She Wrote, Medium, 21 Jump Street, and more. He also lent his voice to the series, Mission Hill.
During his time on CSI, Langham was also seen in Daddy Day Care, The Social Network, Hitchcock, and more. Following the show's conclusion, Langham has notably played roles in Taken 3, War Dogs, LBJ, Battle of the Sexes, The Darkest Minds, and Ford v. Ferrari.
Laurence Fishburne (Raymond Langston)
As Raymond Langston, the crime scene investigator who took over for Gil Grissom following his departure, Laurence Fishburne played the lead role in CSI from the midpoint of Season 9 through Season 11. An acclaimed actor of the stage and screen, Fishburne is often best known for his roles in The Matrix trilogy, Boyz in the Hood, Apocalypse Now, The Color Purple, School Daze, Event Horizon, Akeelah and the Bee, and What's Love Got To Do With It, for which he was Oscar-nominated. He's also Emmy-nominated for TriBeCa.
Following his time on CSI, Laurence Fishburne was notably seen in Contagion, Man of Steel, Batman v Superman: Dawn of Justice, John Wick Chapter 2 and Chapter 3 - Parabellum, Last Flag Flying, Ant-Man and the Wasp, The Mule, and Where'd You Go, Bernadette? He also appeared in several episodes of Hannibal. He can currently be seen on black-ish.
David Berman (David Phillips)
Playing David Phillips, an assistant coroner to Chief Medical Examiner Al Robbins, David Berman was a recurring presence for nine seasons of CSI before he became a main character from Season 10 onward. In addition to his work in front of the camera, Berman also served a head researcher on the show. During his time with CSI, Berman was also seen in episodes of Vanished, Drop Dead Diva, and Desperate Housewives.
Following his work with CSI, David Berman has most notably been seen on The Blacklist. He also appeared in episodes of Proven Innocent, Daybreak, and Bones. He was also given parts in Midnight Sex Run and Rebel in the Rye.
Ted Danson (D.B. Russell)
In the role of D.B. Russell, the CSI Level III Supervisor who took over for Laurence Fishburne's Raymond Langston, Ted Danson starred in the final four seasons of CSI. He eventually reprised his role in CSI: Cyber's second and final season. Best known for his work on Cheers, its spin-off series, Becker, Three Men and a Baby, and its sequel, Three Men and a Little Lady, Danson is a veteran actor with a great deal of experience in film and television. He is also known for his work in Damages, Bored to Death, Fargo Season 2, Curb Your Enthusiasm, Made in America, and more.
Following his time in CSI, Ted Danson has most notably been seen in The Good Place, which finished its run earlier this year. He also starred in Hearts Beat Loud and episodes of The Orville. Next, he'll star in the sitcom Mr. Mayor.
Elisabeth Shue (Julie Finlay)
As Julie Finlay, a blood splatter specialist, Elisabeth Shue played a series regular for four seasons of CSI. Best known for her film roles in the '80s and '90s, including The Karate Kid, Back to the Future Part II and III, Leaving Las Vegas, Soapdish, Cocktail, and Adventures in Babysitting, Shue is an Oscar-nominated actress with a wealth of experience. She is also known for her work in Hollow Man, Molly, Tuck Everlasting, Mysterious Skin, Piranha 3D, and Hamlet 2.
Most notably, Elisabeth Shue played a prominent role in Amazon Prime's The Boys, and she was also recently seen in 2018's Death Wish and this year's Greyhound. Next, we're hoping she'll reprise her role as Ali Mills in Cobra Kai's third season. Shue's also slated to join the series On the Verge.
Who is your favorite CSI actor? Let us know in the comment section below!
Your Daily Blend of Entertainment News
Will is an entertainment writer based in Pittsburgh, PA. His writing can also be found in The Playlist, Cut Print Film, We Got This Covered, The Young Folks, Slate and other outlets. He also co-hosts the weekly film/TV podcast Cinemaholics with Jon Negroni and he likes to think he's a professional Garfield enthusiast.